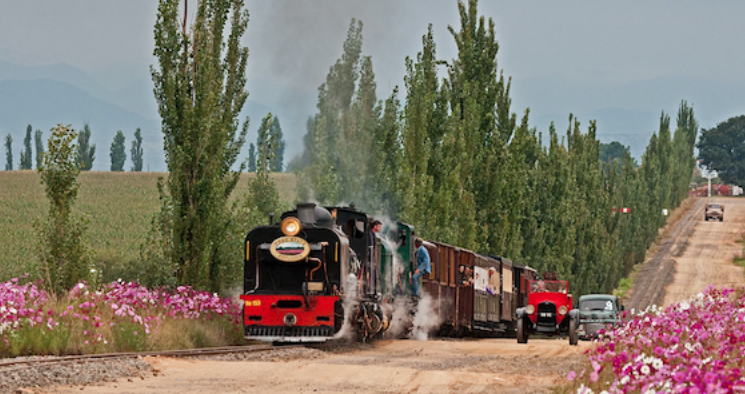 Disclaimer: Any views expressed by individuals and organisations are their own and do not in any way represent the views of The Heritage Portal. If you find any mistakes or historical inaccuracies, please contact the editor.
Tuesday, December 22, 2020 - 14:47
Even with Covid-19 still raging, Sandstone Estates was able to host a spring event from 19-22 November 2020, attended by hundreds of rail and transport enthusiasts, all wearing facemasks and practicing social distancing. This was a smaller event than the Stars of Sandstone event held in 2019, and which attracted visitors and specialists from all over the world. The Sandstone Heritage Trust, based near Ficksburg, has a large collection of working railway heritage (engines and coaches from different eras), working heritage farming vehicles, stationary engines, military vehicles, ox wagons, classic cars, traction engines and other less familiar items. Click here for more on the history of the Sandstone Estates collection.
'Grunter' on loan at the Stars of Sandstone event in April 2019. From the 'FS' number plate, this big boy works the roads of the Free  State province, South Africa.

The romance of steam
Steam is the main attraction at the Sandstone festivals, and visitors come from as far afield as the UK and USA to look at, photograph or even drive the various exhibits. For some reason, steam trains have a stirring effect on people. To be honest, it is really exciting when a steam train gives a vigorous blast of steam and begins to exert massive force to turn those huge iron wheels, with all the pistons straining to the task of moving a hundred tonnes of engine, coaches and happy tourists out of the station.  
Ex-SAR steam locomotive within the Hoekfontein Sheds, Sandstone Estate, Stars of Sandstone Festival, April 2019. Number 113, class NGG, wheel alignment 16 2-6-2+2-6-2 113; Builder Beyer Peacock; date made1939 and works number 6923, current locality Sandstone. (Sandstone Railway Stock List, December 2018)

What is the attraction of rail heritage and steam?
So, why are we are awed by steam trains? Why do we wish to remember the steam era and its iconic hardware? It's been such a long time since steam trains were common, now replaced by the more efficient diesel or electric engines – and the car. Many people alive today will never have seen a steam train in daily operation. In South Africa, Transnet discontinued daily steam operations in 1991. All around the world, steam traction has been relegated to history because of coal smoke pollution, the need for greater transport efficiency and the impact of the trucking industry. But judging from the number of steam preservation societies in the UK, USA and South Africa and thousands of tourists who visit steam restoration projects and go on steam 'runs' across the countryside,  there is a wider determination that this link with the past should not vanish or be forgotten.
Is this just nostalgia for the good old days or a mundane activity of creating a tourism asset – or something more complex that relates to what we remember and what we forget and how this relates to our own personal and national identities? Research has shown that heritage tourists want to be entertained and learn something new, but they also want authentic exhibits and to experience something with meaning. In fact, seeking meaning is major tourist motivation for visiting museums, battlefields and memorials, and often tourists select certain offerings or destinations because of what it means to them personally, and for the way it reinforces their sense of personal or group identity.
A relic of British agricultural past. One of the Sandstone Estates' heritage agricultural engines from their collection of early farm machinery. Stars of Sandstone, April 2019.

The nostalgia angle
For myself, I am not sure exactly why I admire trains of all kinds. The power of steam does indeed connect me to my 'Englishness', but I also find great beauty in all the shining metal, dripping oil and hissing steam. I do remember travelling by steam from Florida station on the West Rand into 'town' with my mother when I was four. Although I never lived in the UK, when listening to the heavy clank of coaches all taking up the strain and moving forward, I can almost imagine grey English skies, awful globbiting rain and a busy railway station shining with wetness. A steam train blows its whistle, ready to take its human cargo away on a misty journey, perhaps along with sacks of letters and Christmas hampers. Hey, the imagery worked for JK Rowling, Harry Potter and Hogwarts!
Author and family 2007 at Grosmont, North Yorkshire Moors Historical Railway Trust, next to the GWR 6619 in black livery.  This is a similar steam engine to that used for the Harry Potter films and the Hogwarts Express. The GWR 5600 Class is a class of 0-6-2T steam locomotive built between 1924 and 1928. No. 6619 was built in 1928 at Swindon locomotive works.
I will also admit to loving the deep heartbeat of diesel train engines when they start up, so perhaps it is not just the raw power of steam, but the raw power of any very large machine. The fascination must be something to do with the taming of such enormous might. Those big metal monsters, pressing down on the tracks with so much awesome weight, can seem fully alive. And yes, we do view these machines as 'alive' even though they are only lumps of engineered metal, driven by and coal and water. We now flinch at the huge amount of coal energy it must have taken to fire up furnaces just to cast the huge wheels, and then to get enough steam to turn those wheels on the track.
Perhaps the attraction is that we puny humans still can command this power and make it our own, forcing these metal 'stallions' to do our bidding and take us on a shopping trip into town or on a long distance journey across Asia. Colour definitely adds to the glamour of these big machines.
Spoornet diesel engine 91-010, undergoing a service in the Sandstone Estate sheds, November 2020.

Remembering, not forgetting
Queen Galadriel from the Lord of the Rings (JRR Tolkien) said:
And some things that should not have been forgotten were lost. History became legend. Legend became myth. And for two and a half thousand years, the ring passed out of all knowledge.
These solemn lines by JRR Tolkien highlight how history can be seen as a linear progress and while we may hope that things march relentlessly forward as progress, it is just as certain that things move relentlessly into forgotten. This process of loss and forgetting is happening with very many things of the industrial and modern era, and indeed, common things will be lost to memory and 'pass out of all knowledge'. Indeed, long ago, many perishable things vanished, rotted, rusted, burned, were discarded or the rats simply ate them. Other objects, perhaps more valuable, moved through time and different ownerships, perhaps ending up as rare accessioned objects in a museum collection. It is highly likely that almost everything today will end up in the landfill (where it could still be retrieved), or worse, melted down as scrap, as was the fate of many hundreds of retired steam engines around the world. In this way, we will lose thousands of ephemeral, yet tangible links with contemporary history until history will no longer have any form. The knowledge of actual objects and how they worked or were used for will pass out of interpretation and memory and be forgotten. Eventually, no one will remember what those red and white aluminium canisters with the curly writing were used for.
Imagine this image was of a fizzy beverage tin, found and photographed in an abandoned basement and no-one had seen one of these for generations.

The stress of being a museum curator
Museum curators and archivists can become very anxious about the impossibility of trying to save everything. They have to make terrible decisions about which items should be saved, and which will be discarded and lost. This is particularly important for everyday objects that may have no intrinsic value, but have value by association with particular eras, for example, Coca-Cola cans of the 20th century. The Scottish National Museums curators had this problem in that they could not decide which items from the recent past they should collect. In the end, they agreed to wait for items to be offered to them, so certain of their acquisitions have a somewhat random aspect. They only save what might emerge as a donation or a significant find by an expert and there is no systematic collecting. It just would not be possible to collect, say, of all electric automatic washing machine models made between 1902 and 2020 (which would need an airport hangar to store). And of course, this highlights the main problem for collections - the issue of quality storage. It's no good to have valuable old items in a basement when the basement is damp and items deteriorate.
What do we save, what do we let go?
At the Sandstone Estate, it seems that on one level, the museum collects every railway nut and bolt and old spanner that comes its way, but on the other hand, is rather selective about the larger items (ox wagons, steam trains, vintage cars, agricultural ploughs and tractors, and static steam engines) it acquires, as these items take up a lot of space to store, repair or display.  And even now, the many items in the collection are becoming disembodied relics, and although beautiful in their own right, soon no-one will remember what they were used for.
Smaller railway-era objects in storage at the Sandstone Heritage Trust collection, November 2020.

We are already in the act of remembering
Already, much engineering working knowledge and artefacts of the steam train industry and era have been lost. It is the self-nominated role of steam heritage specialists and railway preservationists to ensure that the knowledge of steam is passed on to younger persons. These skilled volunteers love to rescue rusting steam engines, coaches and station buildings and restore them to operating condition, and perhaps even drive them. Thank goodness they never quite get the engine oil out from under their finger nails!
A young coal stoker hard at work to get the SAR Steam loco number 88* NGG 16 ready for work, Stars of Sandstone Festival 2019.
About the author: Sue Taylor holds a PhD in Plant Biotechnology from the University of KwaZulu-Natal, South Africa, and has worked in the agricultural sector doing crop biotechnology research. She recently spent five years at the University of Pretoria, South Africa, coordinating an African mountain science network funded by the Swiss Agency for Development and Cooperation (SDC). Her current research interest is in creating climate-resilient cities in Africa and writing about the value of trees, parks and public open spaces. She is a Research Fellow at the Afromontane Research Unit, University of Free State (South Africa).