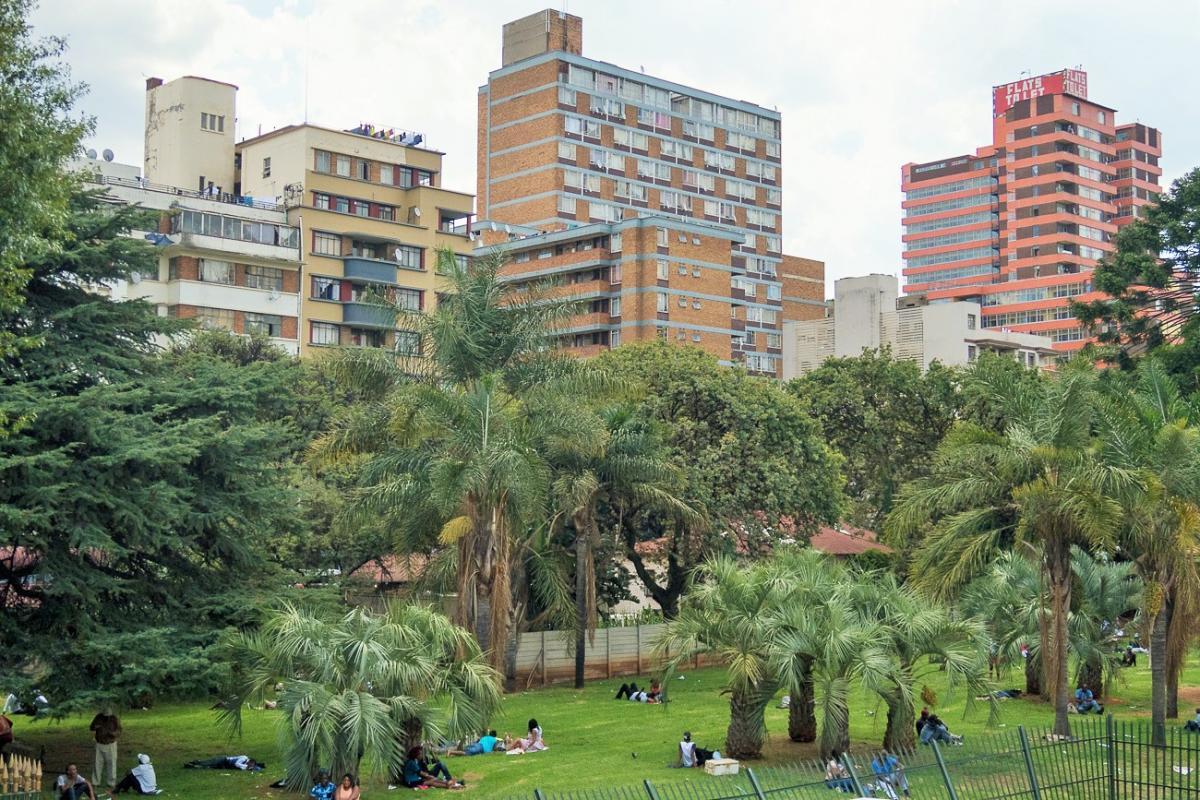 Sunday, March 13, 2016 - 18:04
A Joubert Park visit has been on my to do list for some time and here was the perfect opportunity. A few weekends ago, the Johannesburg Heritage Foundation (JHF) offered a talk on Joubert Park by Professor Louis Grundlingh of UJ, access to the wonderful Johannesburg Art Gallery and a guided walk around the Park. I had been nervous about visiting Joubert Park on my own but with safety in numbers one felt comfortable and at ease. Actually all my anxieties were groundless as the people of today's park were caring, welcoming and ready to engage in conversation. There was a hat trick win with a quick gallery visit (including warm welcome from Antoinette Murdoch the director of JAG), the lecture on the history and purpose of park making in the Edwardian era, and the walk about with Flo Bird and Diana Steele. It was a visit that again attested to the excellence of JHF tours and talks.
Professor Louis Grundlingh of UJ (Mark Straw)
Warm welcome from Antoinette Murdoch the Director of JAG (Mark Straw)
I have written an earlier piece about Joubert Park and its history in support of the petition to protest the conversion of the park into a temporary Taxi Rank by the Joburg Council. Joubert Park had fond nostalgic memories of my own Johannesburg childhood and my mother's salad days (click here to view).
Louis explained how and why Joubert Park became a public park, a place of promenade, an entertainment attraction and a recreational space and was redesigned in the Edwardian decade. There is an interesting theme around the role of the park in the vision of a "proper" colonial town, in British mould though Joubert Park has even earlier roots. The shape and structure of the park with beautifully designed iron gates, palisade fencing, symmetrical flower beds, a central fountain, shade giving trees, rose gardens, manicured lawns, a conservatory, demarcated paths and a bandstand were put into orderly place in this premier park from the earliest days. Joubert park has always been a feature of inner city life, a green oasis and a beautiful space. Edwardian parks were places of orderly and dignified enjoyment and Grundlingh sees the park as a social control mechanism for imbuing correct behavior in the citizens of the town. The Park was meant to be a "civilizing influence".
One hundred and thirty years later, Joubert Park is still a place for popular pleasure and needed now more than ever. Thousands of people pass through the park daily and at weekends the park is still a place for relaxation, a place to meet friends, play chess or draughts or just chill. The citizenry who enjoy the park are mainly black people who live in the tall apartment blocks surrounding the park. Our tour group, somewhat self-consciously white, set out to see how a park with an African flavour reflects the beat of the inner city. Flo leads our group with purposeful stride and we are given a 1970 map of plans for a new park layout. But plan does not tally with what we see today.
Relaxing in Joubert Park (Mark Straw)
The original idea was that the gallery would connect to the park and a prominent City Art Gallery was one important element to anchor the Park in the civic fabric. There was easy access to. Unfortunately Lutgens's Gallery front facade faced the railway cutting and his plans for a bridge over the railway line and to develop a garden that flowed from Joubert Park to the Union Grounds did not happen. The Meyer Pienaar extension of the mid 1980 turned the entrance towards the Park but now the entrance has reverted to the Lutyens front and there is a formidable fencing separating gallery from Park.
The Original Plan (Photographed by Mark Straw)
To get from Gallery (where we started) to Park one has to exit back onto King Geroge's St and then enter the Park at the gates close to the old Park Lodge.
One corner of Joubert Park is the meeting place for the metro police. We see a bevy of police officers but their poses are leisurely and there is no sign of an incipient riot. Music pulsates from a pavement dance performance. Taxis rev, hoot and move on. On the King George St side the broad sidewalk lined with old oaks (some are dying) is filled with informal trading stalls under gazebos and umbrellas. On a hot afternoon it's a carnival atmosphere. Here is a hairdresser braiding locks, there an old toothy woman adorned with an arm of silver bangles sells small fresh roasted peanut packets. Another hopeful trader had an array of trousers and shirts suspended from the canopy frame. You can linger at the enticing array of handmade copper or wood African trinkets, wooden crosses or metal pendants or ANC head gear. Two rival tables are recruiting in enthusiastic competitive spirit for voter registration for the EFF and the ANC. Two colourful nurses dressed in red approach me and start chatting and solicit my vote for the EFF, "trust me we are nurses, we need white people and welcome your support", I am given a leaflet and a phone number to call to discuss political issues of the day.
One of the many vendors around Joubert Park (Mark Straw)
We admire the original gates, carefully designed lampposts above the Victorian lodge of the Park keeper, remembering that the first Park Director was the renowned horticulturalist, Richard Adlam, whose son left a wonderful memoir of life on early Johannesburg. Electricity came early to Joubert Park and one could promenade in the early evening in the soft wonder of electrical lamps. There are no park wardens nor any sign of patrolling "bobbies on the beat". The mood is welcoming and easy.
The Original Gates (The Heritage Portal)
There are some impressively designed 1970s fountains, state of the art hydro engineering of the seventies, but no soothing water flows. The old Edwardian fountain with ornate statuary and water lilies has long since disappeared. But sadly the modern replacements add little. They are just empty fenced hollowed out shells. Come on Joburg you can do better than this, we could have our own Peterhof if there was some will power! The old notices setting out rules about not sitting on the grass are an anachronism with everyone Indeed enjoying the green spaces, spread about on the grass and why not.
Impressive fountains but no soothing water flows (The Heritage Portal)
I need to hurry along to catch up with our party. We headed to the old conservatory dating from the turn of the 20th century. It is one of those elaborate iron framed glass buildings. It was Johannesburg's equivalent of Kew gardens' hot house. Today there's hardly a glass pane intact but, with great hopes for restoration, a Green House project is working hard to bring green vegetable farming to the city. One can wander through another shell of what once was. In my minds eye I recall the ferns, fronds, orchids and primula and the smell of moist earth and humid air mixed with thriving nurtured greenery that I knew as a child. Where is the professional horticulturalist now? There is no longer a Joubert Park floral clock that delighted us as kids that flowers could tell the time!
The Old Conservatory (Mark Straw)
We found the weather rock in place. Here is a bit of fun where the simple state of the rock whether wet, warm, cold or dry will tell you the weather for the day! Four yellow uniformed park workers were happy to show off their work and pose for a picture.
The giant chess boards with pieces you lift up and walk to the next position, are popular with players and spectators. It is a quiet corner with graffiti art on the walls behind. We view more original cast iron gates and railings, on the Wolmarans St entrance, well set off against giant old Palm trees and hideous "Abi" advertising. Some ugly Clear Vu modern fencing protects the old beautiful palisade fencing and one is reminded that a Park becomes a defined space behind gates and of course is closed and locked up at night.
Playing Chess in Joubert Park (Mark Straw)
I am struck by the fact that over the years more community buildings or service structures have been inserted into the open spaces of the Park so there has been a significant loss of actual green park. Many of these buildings are locked. Perhaps they stand unused and inaccessible. Conlinea Health and Wellness centre is the liveliest. In another corner of the park is a medical clinic.
We encounter a large piece of artillery, a relic and survivor from World War 1, a field Howitzer gun (10.5cms dated 1898 captured by the South African forces in WW1 in the German South West African campaign at Otavifontein). It Moves on heavy large wooden and iron cased wheels, it required two men to operate this missile of war, but oddly it was already regarded as obsolete when put into battle in Africa. Today it is a Kodak moment and it remains as a surprising bit of history.
A 'Kodak Moment' (Kathy Munro)
On the Twist St side, inroads were made into Joubert Park to accommodate a wider main Street, there is a busy flow of traffic which includes the Rea Vaya BRT system.
Reaching the Twist Street end of the park we admire more wrought iron gates with the wording Joubert Park fashioned above. A hawker offers me a punnet of freshly washed purple grapes at R15. Delicious and refreshing. Another barrow has pears and plums at R1 and plum and R2 a pear and for spending R5 I am offered an extra luscious plum as a bonsella.
More wrought iron gates with the wording Joubert Park fashioned above (The Heritage Portal)
There is the nostalgic experience of having our photograph taken by a regular street photographer who prints the captured moment in a flash. There are dozens of park photographers. A posse of yellow uniformed park cleaners stand ready for group photographs, smiles a mile wide. The trees are perhaps the finest feature of the park. They are old, green, shady, established and bring the country to the city, there are even some rose gardens but it's no Regents Park.
A Joubert Park Photographer (Mark Straw)
Always ready for a photograph (Mark Straw)
The atmosphere of the park is cheerful, relaxed, friendly and fun. It's a good experience for me the suburban Joburger, to come back to the park of my childhood and talk to the people who now "own" the space. Of course I have bitter sweet memories and nostalgic ghosts of playground swings and roundabouts linger but overall it turned into a great tour and it is all part of the rich mosaic of life in Johannesburg today. Certainly the park promenaders of today do not need a taxi rank breaching the fences and planting themselves on the laws and in flower beds.
Note: Info on the artillery piece see Major Darrell Hall. German Guns of World War 1 in South Africa, the Military History Journal, vol 3, no 2, December 1974. Available online. 
Disclaimer: Any views expressed by individuals and organisations are their own and do not in any way represent the views of The Heritage Portal.