Goudkoppie Heritage Hill City of Matlosana (Klerksdorp)
Saturday, September 23, 2017 - 13:17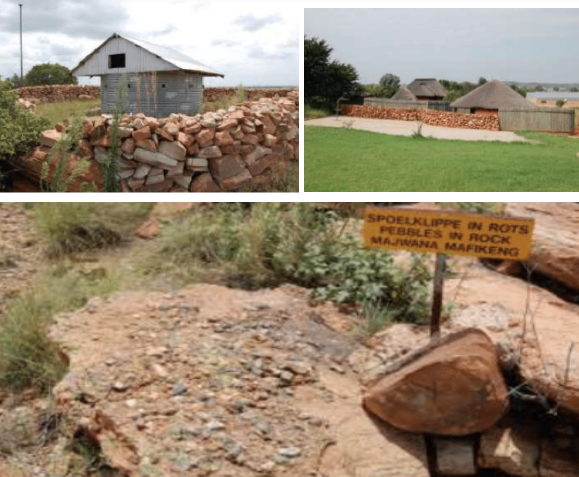 Thread Categories:
Endangered
2017 campaign nomination
2017 Top Ten Endangered Site
Thread Location:
North West
City of Matlosana (Klerksdorp)
Goudkoppie Hill is a Provincial Heritage Site containing a replica Iron Age village, original Khoesan rock art, Anglo Boer War blockhouse, Boer War era graffiti, Khoesan stone tools, remains of late 19th century gold mining activity and geological history connected with the gold deposits being mined around the City of Matlosana and Doctor Kenneth Kaunda District. Click here to view location on google maps.
Graffiti from the South African War at Goudkoppie Hill
Lack of financial assistance from the Provincial Department of Culture, Arts and Traditional Affairs for this declared site has prevented the stolen perimeter fence from being replaced and security staff from being deployed. This has led to vagrants being able to obtain unchecked access to the site and damage heritage resources as well as make fires that endanger resources even further. Littering  and human faecess all over the site make this a highly undesirable place for the public to visit. 
If funding could be obtained, a high-security perimeter fence could be erected and 24-hour security personnel could be appointed. Thereafter, a coordinated community drive will likely provide ample hands for a clean-up campaign of the site. A similar campaign a few years ago proved very successful but unfortunately all those efforts were in vain as unchecked access to the site soon led to littering, vandalism and fires again.
Source: 2017 Endangered Heritage Sites Nomination Form.
Please use this thread to add background and updates.
Comments will load below. If for any reason none appear click here for some troubleshooting tips. If you would like to post a comment and need assistance click here. Irrelevant and inappropriate comments will be removed by the moderator. Only add background and updates to the tracking threads.