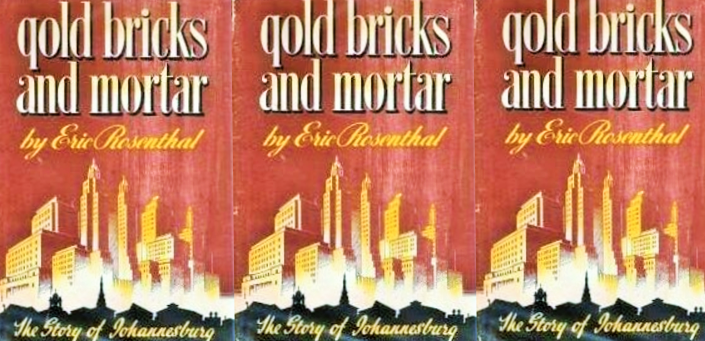 Eric Rosenthal was a prolific, popular writer and populist historian. His dates were 1905 to 1983 and during a long career as a journalist, researcher and historian he produced some fifty books. There is a useful bibliography of all his writing in the Wikipedia entry (click here to view) and a collection of 20th century Africana will probably contain a number of his works. As a collector, once I embark on finding an author, I am seldom content until I have gathered all of an author's writing. 
Rosenthal wrote many books and Johannesburg was a central interest. In 1948 he completed and published the Homes of the Golden City, following the passing of Alastair Macmillan. He wrote the South African Railways book on the 1947 Royal Visit. His busiest periods were the sixties and seventies, when the On Change through the Years (1968) told the story of the Johannesburg stock exchanges and share dealing, followed by Gold, Gold Gold, the Johannesburg Gold Rush (1970) and then came the delightful, Meet Me at the Carlton (1974) about the history of the Johannesburg Carlton Hotel. Another popular title is The Rand Rush 1886-1911, a pictorial history of Johannesburg's first 25 years. Rosenthal also wrote a number of company histories. He was a jobbing journalist cum historian who wrote on commission.
The old Carlton Hotel (1905 Johannesburg Guidebook)
His forte was early Johannesburg written in a popular readable style. Hence it was with mild delight that I came across this rare early Rosenthal book earlier this month. Gold Bricks and Mortar is a slender little volume. I don't think it was ever republished beyond the first edition, which appears in 1946 (and in fact did not deserve to be). It was one of his least prepossessing and minor of books but because it is a Johannesburg title it was "a must add to my collection" book. I see my library catalogue shows that I have 33 Rosenthal titles.
In 1946 Johannesburg was a mere 60 years old and this must have been a commemorative effort to take advantage of souvenir fever. The book sets out to tell the story of Johannesburg and the Witwatersrand Gold Fields by talking to people who shaped Johannesburg in its earliest years. That is the rarity of the book, as in 1946 Rosenthal was able to personally meet and interview surviving rand pioneers who had shaped Johannesburg's journey from mining camp to rooted town and then complex mega city. Rosenthal writes up his conversations with some of the weathered, hardy Rand characters. He was still able to talk to Godfray Lys, Julius Jeppe, Henry Nourse, George Albu and James Gray among others. Unfortunately, he also adds that "for reasons of discretion" he had changed the names of those who appear in the story. Alas, this small admission detracts from historical veracity and usefulness of the book. As in the case of so many other Rosenthal books, there is not a single footnote, end note or even bibliography. There is no index. It's thin on research and long an anecdote. 
The appeal of the book is the recounting of first hand, eye witness, contemporary commentaries on Johannesburg's high moments. For example, one of the most interesting is the vignette on the Chinese Labour experiment on the Rand, when between 1904 and 1919 indentured labourers were contracted to work on the Witwatersrand mines such as Simmer and Jack.  According to Rosenthal some 50 000 recruits (the figure was closer to 64 000) arrived and fell under the oversight of the Chinese Consul General, Taotai Law Yuk Lin who himself lived in fashionable Johannesburg close to the Wanderers Sports Ground. Despite the dramatic increase in gold won from underground efforts, it was an experiment that failed in the face of political opposition both locally and in Britain. All the prejudices and attitudes of the era have been captured by Rosenthal in quoting a Miss Caroline Kirkland, an American woman who visited the Simmer and Jack mine and did not like the look and lawlessness of Chinese immigrants. It's a somewhat hysterical view of the Chinese contribution to the new social mix on the Witwatersrand. But Rosenthal fails to tell us where he sourced this opinion. So I must go in search of Caroline Kirkland.
Postcard of Chinese Miners (via A Johannesburg Album)
I had hoped that this title would provide some useful early material on Johannesburg's buildings and its architecture but again there is very little of substance. The sketch of Johannesburg in 1910 name drops the movers and shakers of the mining industry in the skyscraper offices of the city and large mansions of Parktown. By 1910 there had been a shift northwards from Saratoga Avenue in Doornfontein (already at that date the grander homes were being engulfed by neighbouring slums). By 1910 Johannesburg had indeed transitioned from temporary camp to permanent town with horse drawn trams giving way to electric trams. Suburbs had proliferated around the old inner city. Telephones and motor cars complemented the convenience of a choice of department stores and an impressive new stock exchange had been elected on Hollard Street (the second one). The Rand Club, in its third iteration, was the bastion of capitalist enterprise. Rosenthal quotes William Charles Scully, magistrate and author, who visited Johannesburg in 1910 and who left his impression of the town in the year of South African political union. Scully had this to say: "The size of this Golden city, the mass of this Titanic aggregation of marts and dwellings, which has, within a quarter of a century, been piled on what I remember as the lonely silent Ridge of White Waters, fills me with something like dismay". In 1910 Scully was still pondering whether Johannesburg as gold mining wonder would last or would just pass into "monumental futility". One grabs such snippets and contemporary wisps, to feel what the city was like 100 years ago. But Rosenthal does not mention the original Scully book ("The Ridge of the White Waters: "Witwatersrand", or, Impressions of a Visit to Johannesburg: with some notes of Durban, Delagoa Bay and the low country. "London: Stanley Paul, circa 1912).
An old postcard of the Stock Exchange on Hollard Street (via A Johannesburg Album)
Rosenthal in fact stops short in telling the Johannesburg history in 1922 with the turmoil of the 1922 general strike, the heavy-handed state response under Smuts to suppress and crush the unrest as it was called.
The book is illustrated with 16 contemporary, early black and white photographs, many of which I have not seen reproduced elsewhere but again there are no sources and few dates for the photographs. 
After my last review of another Rosenthal book, "Girders on the Veld" (click here to view), I received an email from Professor Peter Spargo who informed me that the Eric Rosenthal papers were bought by the University of Cambridge from the Rosenthal family and that filing cabinets and voluminous cuttings are to be found in the Cambridge library in England. He highlighted that Rosenthal did document his work and recorded his sources. These are in files and folders and neatly arranged. The pity remains that a lifetime's legacy of research should survive only in an archive in England and not have been an integral part of his books. That archive should have remained in South Africa.
Rosenthal 's book for its era and period revealed that the 60 year old city had a history but it needed more mature and penetrating research to sweep up these musings to write the city's history in a far more professional way. Instead this is a book that drops into the category of ephemera and anecdote. The final positive is that one then wants to track Kirkland and Scully oneself. What else did they say about Johannesburg? There are other books on Johannesburg. Other options are the Leyds and Neame histories but there are limitations to these books. The closest we have of modern city histories are the substantial and important architectural histories by van der Waal and Chipkin, the history of Beavon with a geographical emphasis and the rather dry city sponsored commemorative fat large volumes by  John  Shorten and Chris Van Rensburg (these two official volumes published in both English and  Afrikaans). Shorten is heavy on details. For the social history of the Witwatersrand one turns to Charles Van Onselen or Luli Callinicos. I think it is time for a thorough and comprehensive city history as the 130th birthday is celebrated.  Johannesburg is worthy of a new critical, proper history.
Kathy Munro is an Honorary Associate Professor in the School of Architecture and Planning at the University of the Witwatersrand. She enjoyed a long career as an academic and in management at Wits University. She trained as an economic historian. She is an enthusiastic book person and has built her own somewhat eclectic book collection over 40 years. Her interests cover Africana, Johannesburg history, history, art history, travel, business and banking histories.  She researches and writes on historical architecture and heritage matters. She is a member of the Board of the Johannesburg Heritage Foundation and is a docent at the Wits Arts Museum. She is currently working on a couple of projects on Johannesburg architects and is researching South African architects, war cemeteries and memorials. Kathy is a member of the online book community the Library thing and recommends this cataloging website and worldwide network as a book lover's haven.
Wednesday, November 30, 2016 - 07:32