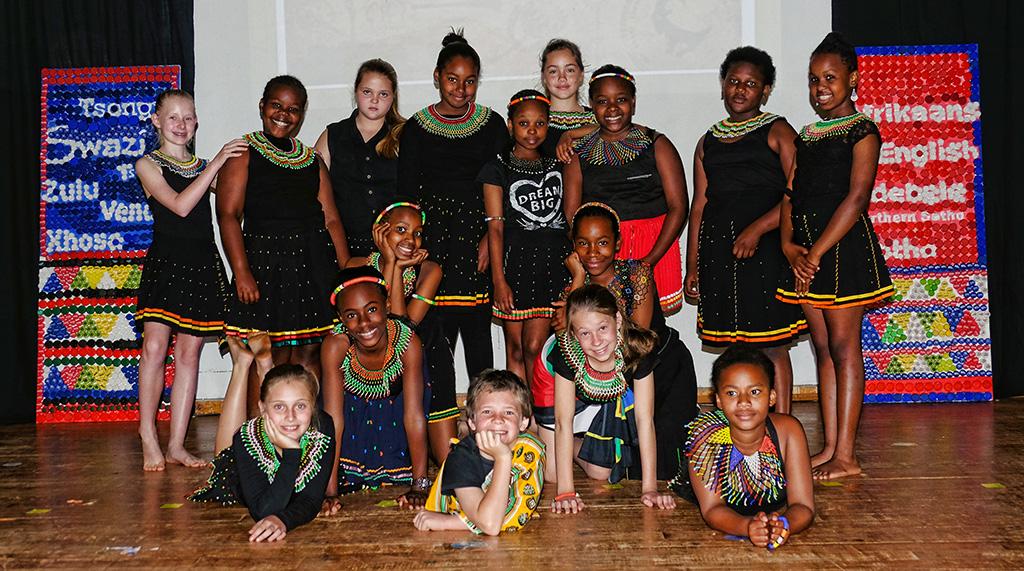 Expiry:
Wednesday, October 21, 2015 - 15:00
One of the themes laid out in the Eco-schools Guidelines is 'Community and Heritage'.  With Heritage Day at the start of the school holidays, it was fitting to present a special 'Heritage Assembly' as the last assembly of the term.
One of the projects this year of the Middles GreenUPS Enviro Club was to collect, sort and create something meaningful with plastic tops. The Uplands community is able to recycle plastic, tins, paper and glass at the recycling centre on campus. The concept of 're-using' things has proved worthwhile yet again.  To add to the heritage boards in the A.V. Room depicting South Africa's national symbols, two boards were created showing our national languages.  Instead of just merely creating the boards, the GreenUPS team were part of a theme programme to make others proud of their language, culture and heritage.  Amid the singing and dancing three poems from an anthology of young children's poetry were recited. Being proud of our rainbow nation was the essence of this.  The advert entitled "South Africa – inspiring new ways" was played out as a conclusion to make us all wholly proud of our beautiful country.
Sue Kloeck
Created
Wednesday, October 21, 2015 - 14:58
Disclaimer: Any views expressed by individuals and organisations are their own and do not in any way represent the views of The Heritage Portal.