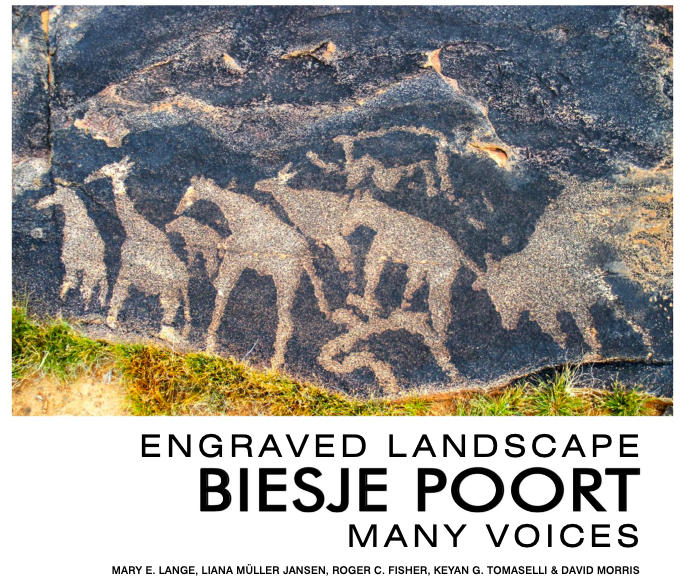 The National Heritage Council has made the book Engraved landscape - Biesje Poort : Many Voices available free online. This is part of the Council's mandate to reach as broad an audience as possible. Click here to start reading. Thanks to the good offices of Pieter Mathews and MAAA Architects (and in particular Eunese Beukes there).
About the project:
The National Heritage Council provided the bulk of funding for the recording of the rock engravings at Biesje Poort farm, north of the Orange River, in 2010-2011 and also for the 2012-2013 project that resulted in this publication. Due to a lack of accessibility to the Biesje Poort rock engraving site, and the extreme nature of the terrain and climate, a book of this nature is important for public communication and education on these examples of our rock art national heritage. Rock engravings form part of South Africa's national treasured heritage. This project builds on new approaches to the recording of rock engraving sites such as that found at WildeBeest Kuil and Driekopseiland whereby a 'palimpsest' or 'multi-vocality' approach is used which not only incorporates a multi-disciplinary team but also includes both past and present heritage layers in the record of the site (Morris: 2008). The approach used extends to the reception of rock art beyond the text. This approach has not been applied to a rock engraving heritage site before in the region of this project. The project is innovative in that, in line with a participatory communication approach, there was a concerted involvement by local Kalahari people than has occurred in other rock art site developments. Kalahari descendants were included throughout the process of recording the rock engravings and the writing up of the experience as reflected in this book.
Created
Wednesday, September 11, 2019 - 09:41
Disclaimer: Any views expressed by individuals and organisations are their own and do not in any way represent the views of The Heritage Portal.