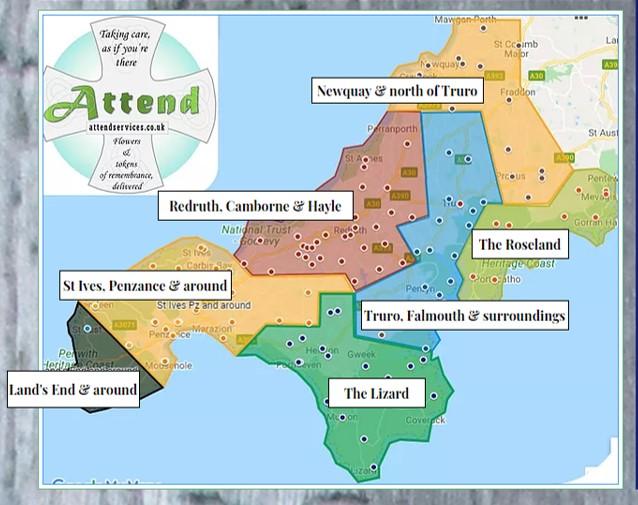 Expiry:
Thursday, June 30, 2022 - 00:00
Press release from Attend Serivces - December 2021
An innovative service - delivering tokens of remembrance to burial sites in mid and west Cornwall - has recently launched. Online since early 2021, the business-owner, Louise, who lives close to Redruth, tells us more.
"The idea came whilst tending the graves of neighbours who have passed away, and sharing images of these visits with their relatives who live far away" begins Louise, "And I quickly realised that the satisfaction and reassurance it gave meant that this could be a worthwhile service to offer more widely. Lockdown provided the spur to get the website online, as I realised that there was a real need to help those who were unable to travel very far."
"I'm excited to make this service available" says Louise, "and I hope it will bring satisfaction and reassurance to those who can't visit the resting-place of their loved-ones".
Delivery is arranged through the website (www.attendservices.co.uk): the customer specifies the location, choice of gift and the week of delivery. "After receiving instructions, it's my pleasure to visit the site when requested, and take photographs with the flowers or gift in place. I send the photographs to the customer – either by post or e-mail - along with a letter describing the visit:  it's the 'next best thing' to going there in person." Options include flowers, potted plants and hand-painted stones, with a simple bunch of flowers costing £8, and delivery prices starting from £15.
Louise admits that the part of the process she enjoys most is visiting the peaceful settings of Cornish churchyards and cemeteries, and escaping from the speed of modern life. "I tend to linger a bit – wipe down the headstone I've come to visit, trim and place flowers, and pick up any litter that's blowing around - and absorb something of the atmosphere on the particular day that I visit. Then I feel ready to write a nice descriptive piece about my visit, which I send along with photographs, so that the friend or relative I'm sending it to can feel involved in the process, too."
A donation of £1 is made for each delivery, either to the funds of the church (if the resting-place is in a churchyard) or to Cornwall Hospice (if the setting is one managed by Cornwall Council). In addition, the travel to and from the site is made carbon-neutral via an appropriate amount of donation to a charity planting trees on Dartmoor.
"I hope that my small business can make a real difference to the connection that people feel with the heritage here in Cornwall" concludes Louise, "and bring satisfaction to those living far away that the resting-places of their forebears are well-tended".
Visit our website for more details - https://www.attendservices.co.uk/
Created
Tuesday, December 14, 2021 - 14:21
Disclaimer: Any views expressed by individuals and organisations are their own and do not in any way represent the views of The Heritage Portal.