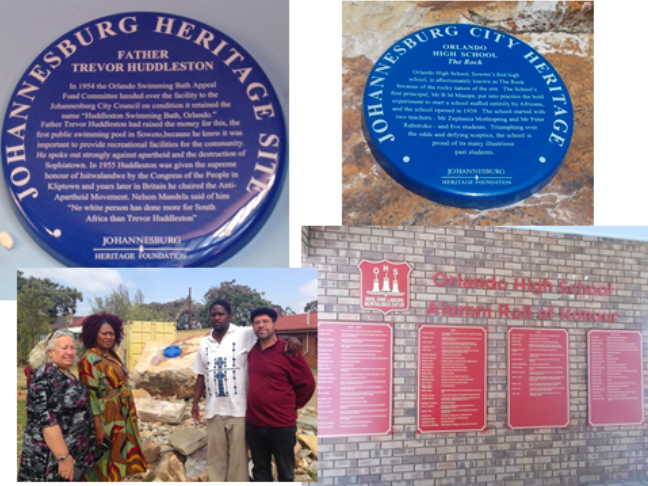 Flo Bird has been active and energetic in Johannesburg with the unveiling of Blue Plaques in Soweto remembering Trevor Huddleston at the Orlando Swimming Pool and at the Orlando High School. The  JHF also funded Honours Boards for Orlando High School remembering the distinguished graduates for the Rock as this School is known.
Johannesburg Heritage has cooperated with the James Mpanza Sofasonke Foundation in compiling the list of distinguished alumnae for the Honours Board at Orlando High. We are always delighted when unveiling one blue plaque gives rise to another opportunity. Earlier this year we unveiled a blue plaque at Riviera Mansions in Killarney and this led to another when Roseinnes Phale asked us to follow up on the Trevor Huddleston swimming baths. The blue plaque detailed some of Huddleston's deeds. Flo comments: "Blue plaques are creating memories for the next generations who have no personal experience of the very stirring events in our not so recent past". 
In September a Blue Plaque was unveiled at the august venerable Rand Club on Loveday Street (Did you know the Rand Club is modelled on the Reform Club in London?).
Rand Club Blue Plaque (Brian McKechnie)
Brett McDougall worked with Museum Africa to mount an exhibition of the photographs of A D (Kin) Bensusan (who was both a benefactor of the city with the gift of his photographic collection and a former mayor of Johannesburg. We also unveiled a plaque to Kin Bensusan (his nick name) in Oakland Road, Orchards  in September. 
In early October Flo Bird brought social and working class, underbelly type of history to life with the unveiling of two blue plaques at 22 Solomon Street, Braamfontein. These plaques mark the earlier presence of the municipal sanitary workers compound and nearly 104 year engineering workshops. The unveiling was an opportunity to celebrate our City's 133rd birthday. This is part of our campaign to save the Smit Street Compound and workshops. We have many more blue plaques in the pipeline for unveiling and positioning this year: Jeppe Girls and Boys schools, the Lion Shul in Doornfontein, Forest High school. The momentum builds up as the blue plaque is such a visible and clear signal of civic pride and a popular marker of heritage.
The  Solomon Street Plaque unveiling with Flo Bird, Luli Calinicos and Raymond Cardoso (Di Steele)
Created
Thursday, October 24, 2019 - 09:44
Disclaimer: Any views expressed by individuals and organisations are their own and do not in any way represent the views of The Heritage Portal.