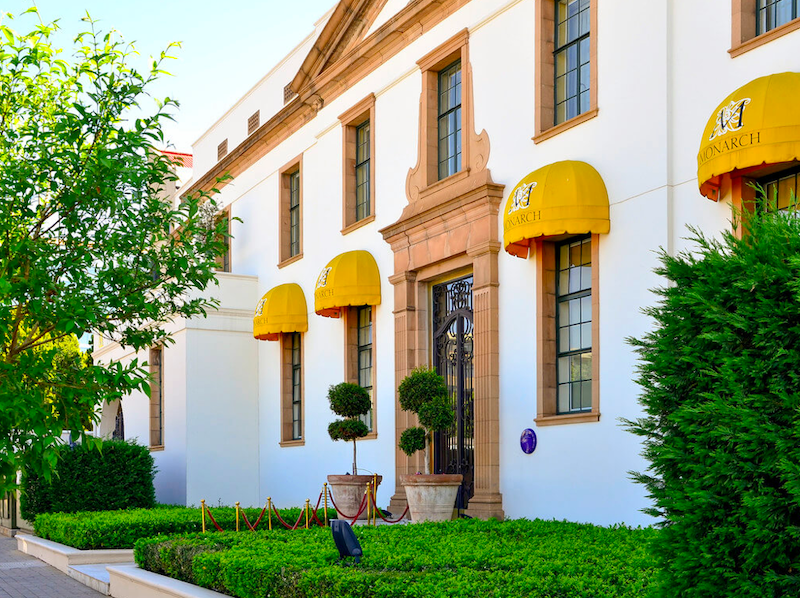 The property currently comprises a 5-star, 12 room Boutique Hotel known as the Monarch Hotel. The building was originally constructed in 1924 and was the original telephone exchange, which was later converted into the Saxonwold Post office in the 1930s. The building was finally converted into a boutique hotel in the mid 2000s.
It is improved with a U-shaped plastered and painted brick structure that is covered with a part pitched, part mono-pitched timber framed Harvey and cement tiled roof. Internal fittings and finishes are of high quality, comprising tiled and carpeted floors and modern bathroom fittings.
Site from above (WH Properties)
The building is constructed over three floors, offering the following accommodation:
a) Basement – this part of the building offers a strong room, staff ablutions, offices, linen storage area, cold storage area and staff bathrooms. Finishes are basic.
b) Ground floor – this floor provides direct access to Oxford Road as well as the garden area. Accommodation on this floor comprises the main entrance / reception, 7 hotel multiple rooms/suites inclusive of bathrooms, pubic ablutions, lounge/bar, restaurant area with industrial kitchen, coffee station, cigar lounge, boardroom, offices and passages / stairs.
c) First floor – this level is smaller than the ground floor and offers 5 hotel rooms/suites, a kitchen, server room and house-keeping areas.
d) Additional site improvements comprise the following:
- Back-up generator
- Shaded parking bays
- Perimeter fencing
- Paved areas with demarcated parking bays
e) Site access & parking – Road access to the property is good and the road infrastructure is well designed and properly maintained. It is however important to note that access onto the subject site is behind the Gautrain bus terminus. There are not sufficient on-site open and covered parking bays available to guests and additional parking is available at the Rosebank Mall parking lot / garage (at a cost).
Auction Date & Time: Wednesday 5 February 2020 – 12h00
Auction Venue: Live On-site at 167 Oxford Road, Rosebank
Webcast bidding available
Auctioneer: Joshua Pelkowitz/Tim Varenzakis
Viewing: By Appointment and on the Auction Day
Contact Joshua Pelkowitzfor further info: Cell: 072 536 5482 | Email: joshuap@whauctions.com. Click here to view listing.
Created
Thursday, January 2, 2020 - 07:58
Disclaimer: Any views expressed by individuals and organisations are their own and do not in any way represent the views of The Heritage Portal.