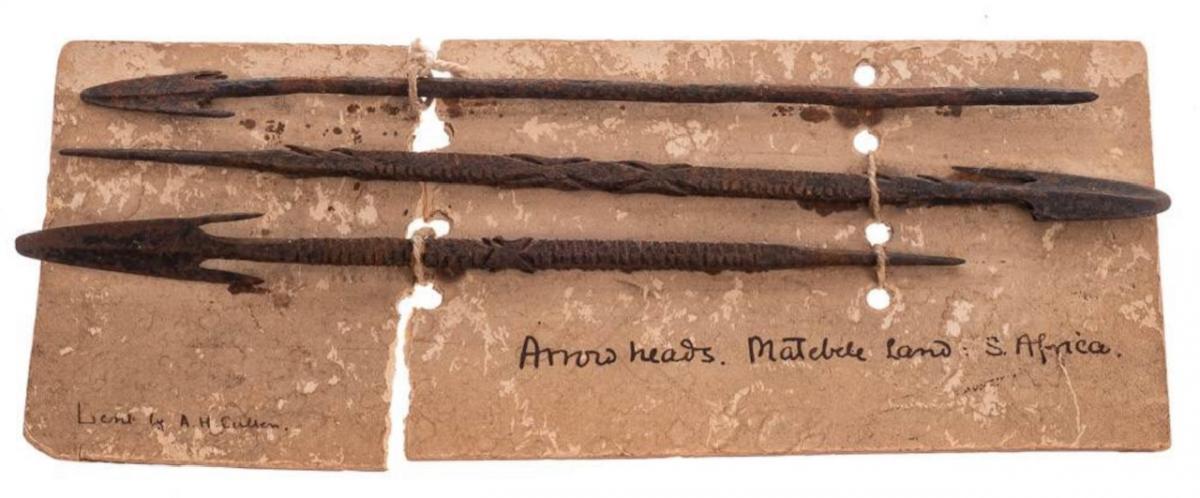 Expiry:
Wednesday, March 31, 2021 - 00:00
Any information from the community on the arrows above would be welcome. The research journey has been fascinating so far.
There were apparently two AH Cullens in South Africa in the time period, and both were evangelical! One became a Bishop in the Eastern Cape, but I believe we might be closer so far (with travel histories being assessed) with the other: Augustus Henry Cullen of the London Missionary Society who was a wide traveler across the right regions, at the right time, for the arrows and was also instrumental in taking Khama and two other Bechuanaland Chiefs on a speaking tour to England to protest the expansion of Rhodes and the BSA. He is obviously referenced in the book: King Khama, Emperor Joe and the Great White Queen.... It gets more and more fascinating. LMS of course was the 'head office' of Livingstone and Moffat as well, who must have been contemporaries of our man, Cullen!
Furthermore, a Prof of Anthropogy at Wits - Prof Robert Thornton has looked at the pic and determined they are definitely arrow heads, 18.5 cm long, and 'hand forged in a way to break away from the wooden shaft once striking an animal' and 'they are early 19th century and their decoration represents Central African origin, which means the smith was probably from the northern parts of then-Rhodesia'.
Please let me know if you have any additional details.
Michael - michael@theothermichaeljackson.com
 
Created
Wednesday, December 23, 2020 - 13:48
Disclaimer: Any views expressed by individuals and organisations are their own and do not in any way represent the views of The Heritage Portal.