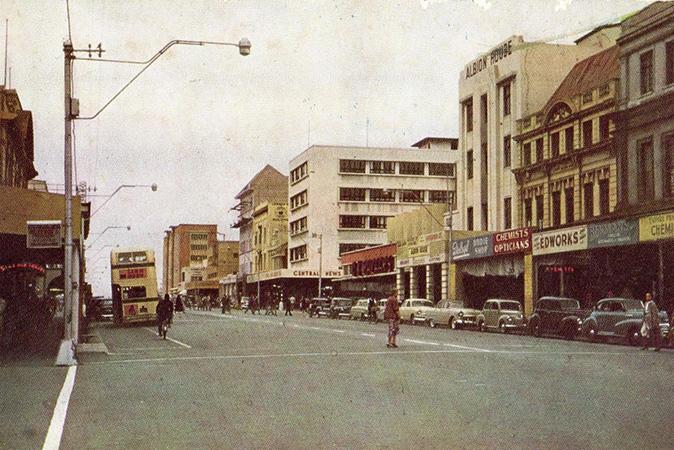 Expiry:
Tuesday, February 15, 2022 - 00:00
Some fine examples of Art Deco style buildings exist in East London. An initial survey has been conducted in the East London CBD and the adjacent areas and a selection was made of particular examples of public and private sector buildings constructed in the Art Deco and Deco-Moderne Style.
It is generally accepted that the name Art Deco originated from the International Exhibition of Modern Decorative and Industrial Arts (Exposition Internationale des Arts Décoratifs et Industriels Modernes) held in Paris in 1925. To set the scene some examples of the buildings constructed for the exhibition and the details and definitions associated with a typical Art Deco building will be provided.
The establishment of East London as a river port and the trade generated by the port was to be the primary driver of the development of the city of East London and in turn of the new buildings that were constructed. 
The Art Deco buildings in East London do not generally exhibit the flamboyant and exuberant styling of the landmark Art Deco architecture found in Durban, in Johannesburg, and elsewhere. 
East London tends to have a regional Art-Deco architecture with a restrained budget, less decoration and the designs possibly constrained by a more conservative client base.  
The location of the selected buildings within the townscape of East London will be presented, as will the details of the interesting façade treatments. The use of rounded bays, horizontal string courses, portholes and flagpoles, vertical fins, face brick panels and other such architectural details will be described in detail. Where the name of the architect is known a brief biography will be provided.
About the speaker: William Martinson is an architect employed by Osmond Lange Architects in East London. He has an ongoing interest in the built heritage of the Eastern Cape.
The talk will be held on the Google MEET platform - see clickable video link below:
Tuesday, 15 February · 19:00 – 20:00
Google Meet joining info: Video call link: https://meet.google.com/xna-omzc-tut
For more information - border.historical.society@gmail.com
Created
Tuesday, February 8, 2022 - 09:40
Disclaimer: Any views expressed by individuals and organisations are their own and do not in any way represent the views of The Heritage Portal.