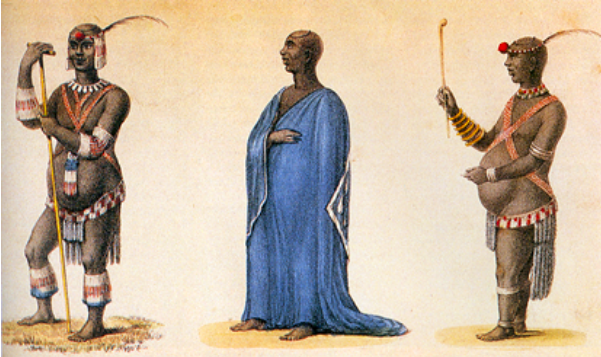 The scope of The Zulu Wars exhibition at The Brenthurst Library in Parktown, Johannesburg covers the period between 1816 to 1910, addressing interactions between the Zulu, British and Boers from first contact to the formation of the Union of South Africa.
A contemporary report of the Battle of Blood River in 1838 can be seen in a letter from Major Charters, in charge of the British garrison at Port Natal, to Sir George Napier, Governor of the Cape of Good Hope.
The principal part of the exhibition depicts the Zulu War of 1879, when the legendary battles of Isandhlwana and Rorke's Drift occurred. The tribulations of this period are brilliantly captured in an autographed letter from Lieutenant-Colonel Arthur Harness to his sister Caroline, describing the carnage of the battlefield at Isandhlwana, and in a letter from a survivor of Rorke's Drift to his relatives, describing the action of the previous night. The capture and imprisonment of Cetshwayo ka Mpande, as well as his voyage to England to plead his cause with Queen Victoria, features. The impact of the death in Zululand of the Prince Imperial, the heir of Napoleon III of France, is evident in a letter from Queen Victoria to Lady Frere. Viscount St Vincent's diary describes the retrieval of the prince's body from the site of the attack.
The tragic aftermath of the Zulu War is revealed in sections on the Zulu Civil War and the Usuthu Rebellion, which followed so soon after the more famous event, and the Bambatha Rebellion of 1906.
The exhibition will be on until November 2019 and may be viewed by appointment only between 09:00 AM – 16:00 PM weekdays.
To make an appointment, please contact Fylyppa Meyer (fylyppa.meyer@brenthurst.co.za) 011 544 5400
Image: Llithograph of Dingaan ka Senzangakhona, King of the Zulus, 'from sketches taken on the spot', first published in Narrative of a Journey to the Zoolu Country in South Africa undertaken in 1835, by Captain Allen F. Gardiner (William Crofts, 1836)
Created
Wednesday, July 17, 2019 - 06:18
Disclaimer: Any views expressed by individuals and organisations are their own and do not in any way represent the views of The Heritage Portal.