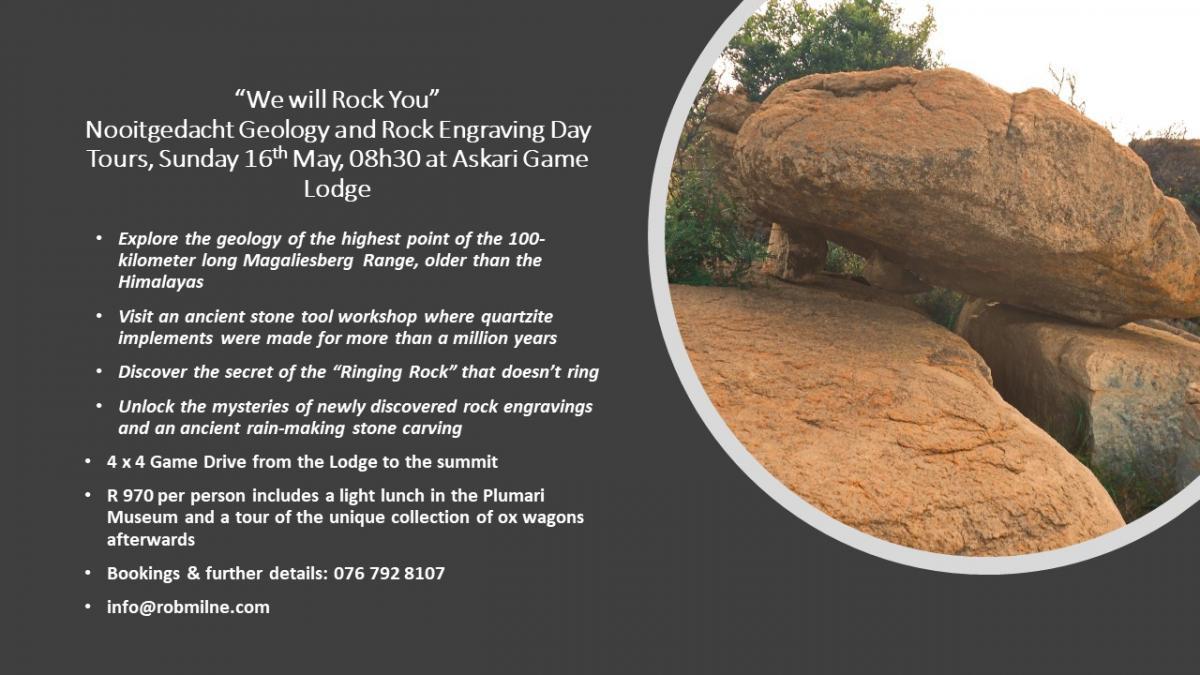 Zoom on the image above for all the details and check out the programme below:
Meet at Askari Lodge Reception at 08h00 for 08h30. Briefing on the geology of the Magaliesberg and how the range was formed at the Fireside next to the Reception. We explore the two distinct landscapes and engraving styles of the San and the much earlier rock engravers.
Brief stop at the 1838 Pioneer Farmhouse. How the San and earlier Magaliesberg people were displaced by farmers migrating from both the north and south.
Short walk to "Trig Beacon Fort" on the summit. See how the ripple rock of the ancient sea bed was built into this unique Anglo-Boer War fort.
Walk towards the Stone Tool Workshop. If the light conditions are favourable, we will observe the emergence of the "Magic Crystal Apparition" at the giant quartz boulder where the cores for the ancient tools were struck off.
Stone tool Workshop. Here the techniques of stone tool manufacture will be explained, using examples of the tools on the site. The evolution of stone tool technology will be discussed: from the huge crude hand axes of the early stone age to the small and multi-purpose "Leatherman" of the late stone age.
The "Ringing Rock" that does not ring. A demonstration of its secret and why this is a unique discovery in Africa.
Explore the pre-San rock engravings at the workshop site. Numerous snake engravings were made by ancient Shamans to conjure up early spring rains. We also see how boulders with the fossil ripple marks from the ancient inland sea were highly polished to release the power of the underworld beneath them.
On the way back to the vehicle, stop at the "Gallery". Here we see a boulder carved into the shape of a rain-making bull with its smoothed and polished back mirroring the emphasis placed on animal's backs by later San paintings. There are numerous hewn and polished surfaces in this gallery which include two highly polished fossil ripple rocks. We also see the remains of an ancient structure and a possible ancient carved map.
Return to Askari Game Lodge, viewing game along the way.
Enjoy a light lunch of burgers and chips in the Plumari Museum, followed by a tour of the unique collection of ox-wagons in the Lodge gardens.
Email Rob to book - info@robmilne.com
Created
Tuesday, May 4, 2021 - 08:38
Disclaimer: Any views expressed by individuals and organisations are their own and do not in any way represent the views of The Heritage Portal.