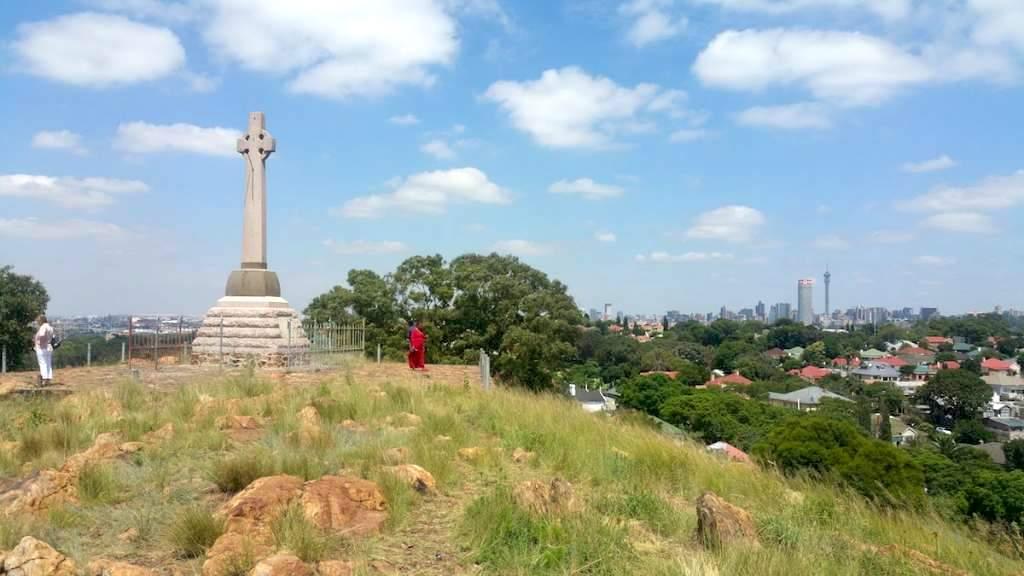 Observatory, Bezuidenhout Valley and Kensington, three suburbs to the east of Johannesburg, possess some of the city's most interesting and important monuments to the victims of war. 
Forgotten men of the Indian Army left their imprint in Observatory, Johannesburg during the early 1900s.  Although their story has been largely lost to public memory, a monument at the summit of Observatory Ridge honours their contribution.  This Indian Monument stands as a memorial to Indians who fell in the Anglo-Boer War/South African War of 1899-1902, overlooking the valley where Indians served at a remount camp during the War. The Scottish Horse Memorial on Caledonia Hill in Kensington honours victims of the Scottish Horse regiment, who perished in the same conflagration, and was erected in 1905. The Bezuidenhout Valley War Memorial is situated on a small triangle of land on the corner of Bez Valley and Kensington, and honours Bez Valley residents who died in the First World War.
Two of these memorials, the Scottish Horse and Bez Valley memorial, have been caught in a more recent war – a war on colonial-era monuments. Both have been brutally vandalised in recent years, and the City is now following a process to have the Bez Valley Memorial moved to Bezuidenhout Valley Park. 
In a fascinating tour, Head of Heritage in the City of Johannesburg, Eric Itzkin, leads us through this history of conflict, in a sometimes turbulent part of Johannesburg.  
Though this is a bus tour, we will be walking over steep terrain to two of the memorials – wear sensible shoes!
Email mail@joburgheritage.co.za to book.
GUIDES: Eric Itzkin, Prof Katherine Munro and Brett McDougall
PARK: Sunnyside Park Hotel, Princess of Wales Terrace Parktown
TIME: 14h00
DURATION: 3 hours
COST: R300 for members and R370 for non-members
MAXIMUM No: 50
Created
Monday, May 27, 2019 - 20:28
Disclaimer: Any views expressed by individuals and organisations are their own and do not in any way represent the views of The Heritage Portal.