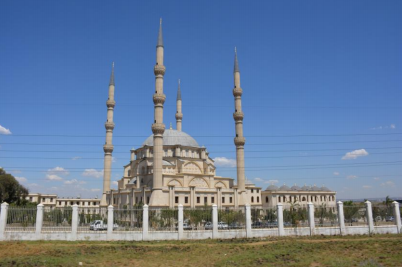 Expiry:
Saturday, March 19, 2016 - 00:00
We have received permission to visit the largest mosque in the southern hemisphere, officially known as the Nizamiye Turkish Mosque, in Midrand. It is a smaller replica of Turkey's famous Selimiye Mosque in EDIRNE which was constructed between 1568 and 1574. 
The visit will take place on Saturday morning at 10:00 on March 19, 2016. Cost R 60.00 pp. Please book with Janine van der Merwe at 082 458 2623 or email: janine@shibbolet.co.za and she'll advise where to meet. The tour should take 1½ hours depending how many questions you have.
Unfortunately the clinic which is situated in the same complex is closed on Saturdays but our tour leader will tell you an interesting story about this. Those who wish can visit the Turkish Restaurant after the tour which is part of the Nizamiye complex.
Ladies please take note to dress according to their custom. Should you not have the proper attire the Imam will kindly open a cupboard for you containing the most beautiful dresses and head scarves such as what my niece is wearing. The caravan, below centre, has a unique story; don't forget to ask about Oom Ali.
Created
Friday, February 26, 2016 - 18:11
Disclaimer: Any views expressed by individuals and organisations are their own and do not in any way represent the views of The Heritage Portal.