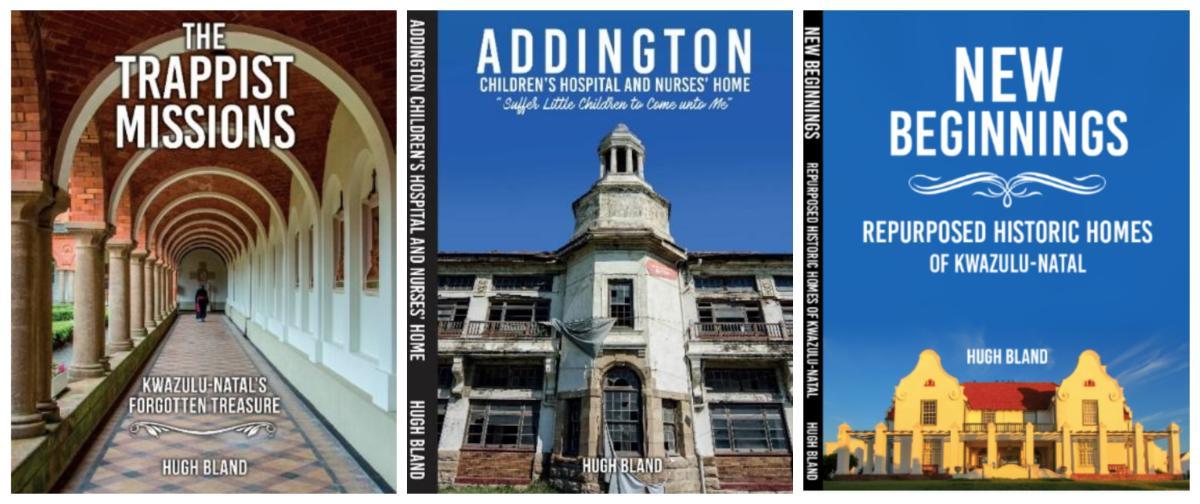 Expiry:
Wednesday, August 31, 2022 - 00:00
Here are details for three books from Hugh Bland. I have just purchased all three – quite specialist subject matter but for anyone from KZN and interested in Natal history they have great images. He is a photographer more than a writer but it is an interesting selection of old homes and  a lot of hard work has gone into getting access to these places and photographing them in great detail for the New Beginnings book.
Hugh worked with Jackie Kalley on the Farm Houses of Old Natal and was the photographer .
The book on the Trappist Monasteries of Natal has some really lovely photos. All round an important record for heritage at a moment in time. I have not realized that the Trappist order spread well beyond Mariannhill. Orders placed through the Johannesburg Heritage Foundation are eligible for a 20% discount. Email mail@jburgheritage.co.za
The paperback version of the Trappist Monasteries book at R300 is good value. If we have a combined delivery to Johannesburg then the courier charge is a lot cheaper.
Kathy Munro
The Trappist Missions - KwaZulu-Natal's Forgotten Treasure
I have been involved in photographing aspects of KwaZulu-Natal heritage for many years and, after stumbling across the first Trappist Mission, I was fascinated by these underrated treasures. The Missions were founded by Austrian Trappist, Francis Pfanner, in the late 1800's. My intention is that this book, using my images, will draw attention to the beauty of these Missions and create renewed interest in their preservation. My full colour publication of some 184 pages (280*210), comprises a short biography of its founder, Abbot Francis Pfanner, the story of Mariannhill Monastery and its twenty-one missions. The text is accompanied by images focusing on the beauty of their architecture, murals, stained glass windows and objets d'art. As much has been written over the years about these Missions, my intention is not to rewrite the history, but to rather draw attention to the Trappist achievement. The extent of this is well illustrated when one considers that in 1906, there were 320 Monks and 275 Sisters at Mariannhill Abbey alone and that 400 children were being educated. In all, a total of 22 missions, all of which are featured in this publication, were founded by members of the Trappist Order.
The Foreword is by heritage architect, Robert Brusse, who has restored many of these missions and has assisted in providing information for the text, and images. 
Price: Soft Cover R300 / Hard Cover R525 (excluding courier)
Addington Children's Hospital & Nurses' Home
My interest in Addington Children's Hospital and the Nurses' Home arose whilst I was assembling my heritage website (www.kznpr.co.za). I was photographing the buildings along the beachfront and my attention was immediately drawn to these two derelict buildings, on our prime beachfront. My work requires me to be inquisitive and an open door of the children's hospital could not be ignored. Little did I know that this open door would introduce me to a long-forgotten world, a time capsule, with a treasure trove of art, decay, dripping walls, stained glass and ceramics. The building had been closed for many years with little interference. It was a profound experience to enter this hallowed space where so many children had been treated with compassion by their devoted carers. This feeling would have been shared by the many mothers, fathers, siblings and family who might have experienced the pain of children's suffering or the joys of birth and healing.
It was, however, the relics of this much-loved institution, that reinforced how special this haven was. I spent hours photographing the ceramics, cartoon murals, stained-glass windows, statues and walls with swathes of peeling paint. These images demonstrated the love and care of the professional people who had established the hospital and continued to care for children for many decades. Much of the artwork was done by Natal's 'Picasso', Mary Stainbank and her life-long friend Florence Wilgeford Van-Hall, as well as other artists. Alongside the Children's Hospital was a similarly decaying structure, the Nursing Home that has shared the same fate of its neighbour. It did, however, share a similar mystery and aura, with its rotten windows, floorboards and yards of peeling paint.
I consider this photo shoot as one of the most meaningful of all my assignments in KwaZulu-Natal and for this reason, I have published my images of this special place. It is not a comprehensive record of all the artworks or intended to be a history but to display the decaying memory of this, once fine, hospital. This 184-page hardcover book, is section bound, stitched and in full gloss. Foreword by Prof. Rodney Harber.
Price: Hard Cover R525.
New Beginnings - Repurposed Home of KwaZulu-Natal
My latest book, with the foreword by Jane Bedford, features the story of forty old, repurposed homes of KwaZulu-Natal.
The message is that once a cherished home has run its course, there is no need to discard it, as it may have a useful 'after-life'. This is especially important for homes having architectural, historical, or cultural significance, such as Rider Haggard's Hilldrop, Sir Liege Hulett's Kearsney Manor, Royston Hall and Fordoun Hotel and Spa, amongst others. They are now offices, guest houses, wedding venues or museums.
My hard-cover book of 288 pages, in full gloss, is section bound and stitched and of a high-quality and describes the history of these homes.  It is illustrated with my photographs along with some period images.
Price Hard cover: R650 (excluding courier costs).
If you would like to secure a copy of any of these heritage books, please email your delivery address and contact details to hughbland031@gmail.com
Payments should be made to: Hugh Bland at Standard Bank – Branch Code 051000 – Account Number 10155226817 – Reference: Your Name
Created
Thursday, July 7, 2022 - 17:26
Disclaimer: Any views expressed by individuals and organisations are their own and do not in any way represent the views of The Heritage Portal.