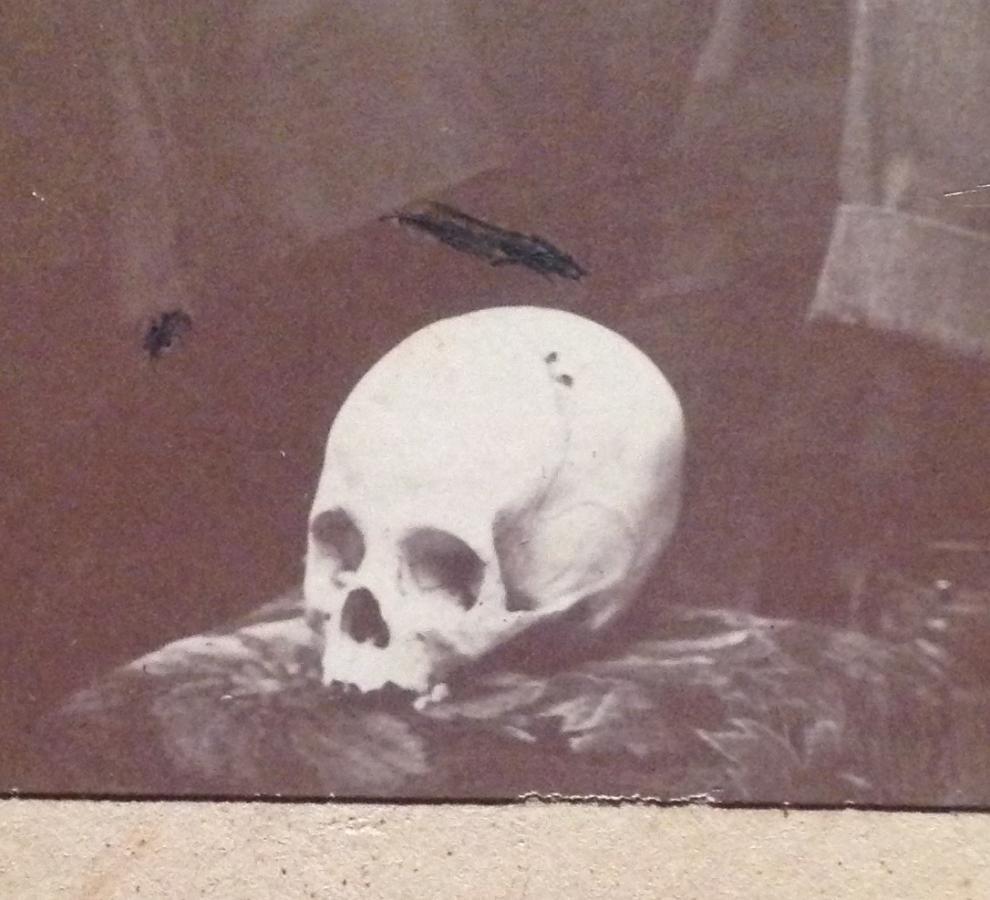 The fascinating photograph below was recently found in a junk shop in a small Free State town. Captured by the Lindley based (Orange Free State) photographer SF Scholtz, this image, dating from around 1906, portrays four unknown young people posing in a photographic studio with a human skull neatly placed on a foot stool in front of them.
Young people with skull
The skull, without jawbone, shows two black dots. It is difficult to determine whether this is just some dirt marks on the photograph or whether it is indicative of a head injury of some sort.
The author has not come across this  type of studio composition before and is hoping that readers may provide some insight on the reasoning for the skull being included.
Photographer's details
Possible questions that arise are:
Is it safe to assume that this is a photograph of siblings with a skull of a parent that passed away? If yes, what would the possible reason be for them posing with the skull in that having such image captured was not the norm?
It is assumed that the individuals that appear on the image are of either of the Afrikaans or English culture. It was not part of these cultures to pose with skulls of loved ones, or was it? 
Which culture or religion would have included skulls of loved ones in post mortem photographs of this nature?
Are these brothers and sisters possibly posing with the skull of a missing father that passed away on South Africa soil during the Anglo-Boer war or at a local or foreign prisoner-of-war camp (post Anglo-Boer war)?
Were the remains of prisoner-of-war soldiers, who passed away abroad, ever returned to South Africa?
Could it be that this was a skull found on a farm (possibly an Anglo-Boer war soldier) and the group found it appropriate to pose with their find?
Is it reasonable to argue that this is not a skull that would have been extracted from a grave?
Is it safe to assume that this is an actual post mortem image or is it simply morbid humour applied by the photographer which the 4 were happy to go along with? Considering the facial expression this version is highly unlikely.
The photographer is assumed to be Stephen F Scholtz who was also in partnership with his brother John F Scholtz in Aberdeen as well as Vrede.
Any views or comments by The Heritage Portal readers will be appreciated. The author is always in search of unwanted South African photographs of this era and invites readers to contact him should they ever want to discard of such material. He can be contacted on Carol.hardijzer@webmail.co.za or 082 495 0030
Carol Hardijzer
 
Created
Friday, May 22, 2020 - 11:33
Disclaimer: Any views expressed by individuals and organisations are their own and do not in any way represent the views of The Heritage Portal.