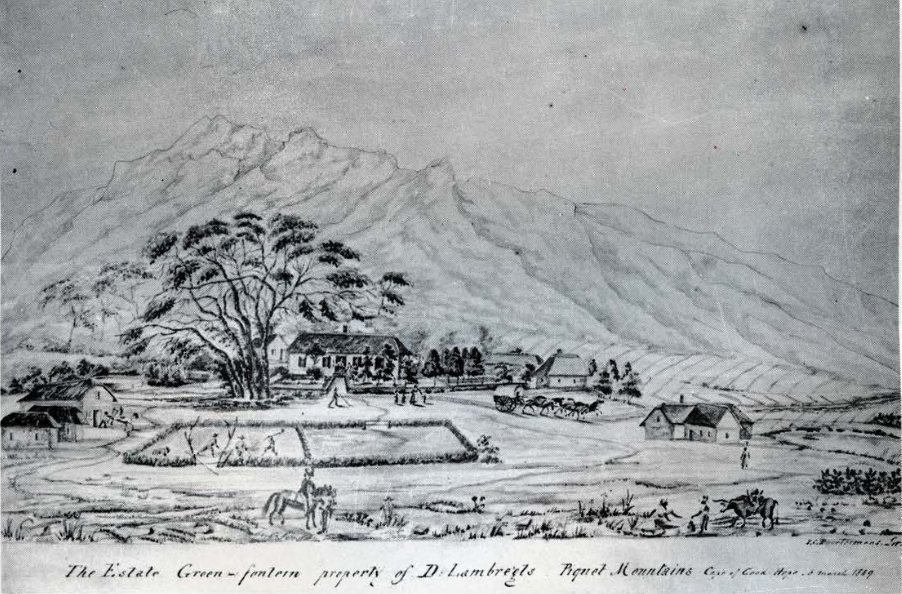 Poortermans was a Dutch lithographer who worked and lived in South Africa until his death in 1870 (he is mentioned as the first lithographer in South Africa). The Heritage Portal recently republished a 1982 article on Poortermans by Walton (click here to view). The attention Poortermans got from Walton and the vernacular architecture community is an exception. There are over 50 publications mentioning Poortermans, but mostly only his name, one of his litho's, a single sentence or at best a paragraph. From Poortermans there are over 100 litho's at museums and archives. An interesting snippet I have found is that he was the first lithographer at the American Military Academy at West Point (before he came to South Africa).
In my research I have traced Poortermans family genealogy. Even in my home town of Delft there are still Poortermans relatives. As Walton mentions, Poortermans died in Paarl in 1870. Unfortunately it is not known what happened to his legacy (he had no children). South Africa's National Archives have Poortermans' will which mentions the names of Anthon Joseph Becker and Abraham Joh. de Villiers as witnesses. Both names are quite common in South Africa.
What I hope to find, and maybe the readers of The Heritage Portal can help me, is if there are family archives of these families and/or local records regarding the Paarl region that could have information about Poortermans' his legacy. Any assistance and guidance would be wonderful.
Hin Oey (Netherlands) - hin.oey@gmail.com
Created
Saturday, January 26, 2019 - 06:48
Disclaimer: Any views expressed by individuals and organisations are their own and do not in any way represent the views of The Heritage Portal.