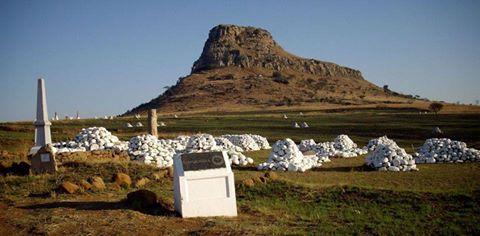 Expiry:
Saturday, January 23, 2016 - 00:00
There will be a re-enactment of the Battle of Isandlwana on 23 January at 10:00 (Zulu time). We are going to use this occasion for a tour guide educational but it will also be open to the public and tourism office staff members who may wish to join us. See the proposed programme below:
8:45 Meet at Talana Museum (there is secure parking if you wish to leave a vehicle under cover for the day) Tour guides who have vehicles that can help with transport please let me know who will attend and can provide seats in their vehicles.
If you are coming from elsewhere meet at Isandlwana in front of the main memorial at 9:45. Please let me know who and how many so that we can make arrangements and also so that we do not start without you.
If you wish to add information or give a talk please contact me to be included in the programme.
Bring chair, shade, drinks and picnic lunch. We will fit lunch in according to timing of the day.
While we wait for the re-enactment or if it is on time then afterwards we will look at the following elements and information of the battle of Isandlwana
The "myth" of the dark sky as a result of the eclipse of the sun Norman Leveridge
A walk along the firing line – what was found in the 2000 dig. Is this the correct position? Does it make military sense? Pat Rundgren
A walk to the Shepstone burial site Pat Rundgren
A look at some of the reminiscences of men who were there (from the archives of Talana Museum)
Dugald MacPhail
John Brickhill
S B Jones
Fred Symons
A look at some of the illustrations from the time - where was the artist when he drew these ?
Carbutt
Crealock
Lloyd
Lay wreath at memorial to British and Zulu soldiers.
Travel to Rorkes Drift hotel for drinks and snacks on the deck overlooking the Buffalo river.
Travel on to St Augustines Mission church with a talk on the history of the building and Archdeacon Johnson of Zululand.
Back to Dundee. 
Timing will be flexible as there is a full moon that evening – depending on the weather.
Pam McFadden
Chairperson: KZN Battlefields Tour Guides Association
Created
Tuesday, January 12, 2016 - 14:11
Disclaimer: Any views expressed by individuals and organisations are their own and do not in any way represent the views of The Heritage Portal.