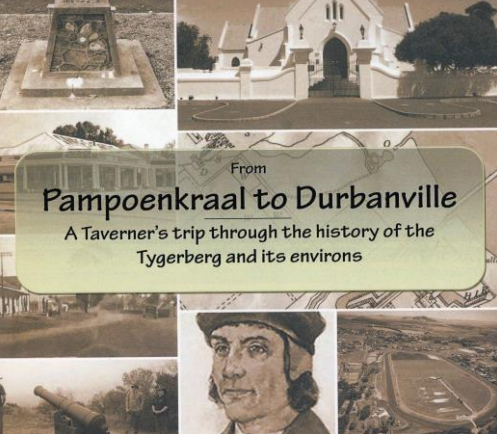 Expiry:
Sunday, January 31, 2016 - 00:00
This interesting book is an entertaining yet accurate overview of Durbanville's history and heritage over the past few centuries. Apart from books like CM Stimie's 'Durbanville—300 Years of Gracious Living', there is, in the words of the author, 'little or no record of the history of the Tygerberg and its environs, or for the village of Durbanville'.
A few of the dramatis personae include Prince Alfred, Bartolomeus Diaz, Rev. James Edgar, Lt. Francis Farewell, John King of King Wagon Works, Count Emmanuel Compte de Las Cases, Elsje van Suurwaarden, Dr Biccard, Gysbert Verwey, Abraham Diemer, JC Häfele, the Walters family, the Parker family, the Schabort family, Dr Philip Blaiberg and Mark Shuttleworth.
At the time of this issue's going to print, the price is R250 per copy, until further notice. If you are interested, please contact Pam Beck by phone on 084 504 0540 or by email at durbanvilleheritage@gmail.com for further information.
Source - DHS December newsletter
Created
Thursday, December 10, 2015 - 16:44
Disclaimer: Any views expressed by individuals and organisations are their own and do not in any way represent the views of The Heritage Portal.