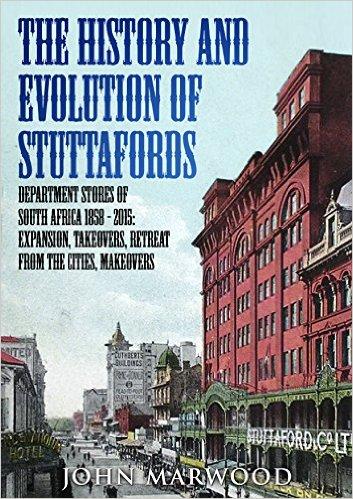 Expiry:
Saturday, April 30, 2016 - 00:00
This book tells the story of Stuttafords from its earliest days until 2015. It starts with Samson Rickard Stuttaford, his journey from Cornwall to Cape Town, his early ventures in the city, his eventual retirement to London, and his imprisonment there. Other chapters deal with the expansion of the business to Kimberley and various deals in diamonds, then the discovery of gold and expansion to Johannesburg. We read about the corsets, millinery and other goods stocked by the Victorian department stores, and the important mail order business. A new Company is floated in 1898, followed by the Anglo-Boer War. The dawn of the 20th century leads to further innovation and property deals. We hear of the formation of the Union of South Africa, the ordeal of World War I and its effects on the Company. The next chapter deals with the Stuttaford family and their contribution to Garden Cities in South Africa. This is followed by inter-war developments: unrest, the new Durban branch, the Company's contribution to the development of radio in South Africa. We learn of Richard Stuttaford's political career, then World War II and its aftermath. There is a chapter on Stuttaford Van Lines, another on the Company's employment ethos, the drift to suburbia (with the new Claremont branch, and the transfer of business from central Johannesburg to Sandton). In 1978 the business falls into the hands of Graham Beck, asset-stripper extraordinaire, which leads to the sale of all its properties. We read of the twilight years of the Cape Town store, and the Company's subsequent owners, the current focus on brands, and a return to relative stability.
This book consists of 19 chapters, approximately 57,000 words [250 A4 pages], together with many illustrations.
The book answers some of the questions about Stuttafords that are often asked:
Why did the wonderful Cape Town department store close?
What happened to the Johannesburg and Durban branches?
Who owns Stuttafords now?
Why have the other branches changed so much in the past three decades? 
The book is now listed on Amazon - as a Kindle Edition. With the free Kindle App you can read Kindle books on a smartphone, tablet, or computer - no Kindle device is required. Click here for more information.
Created
Wednesday, January 6, 2016 - 15:21
Disclaimer: Any views expressed by individuals and organisations are their own and do not in any way represent the views of The Heritage Portal.