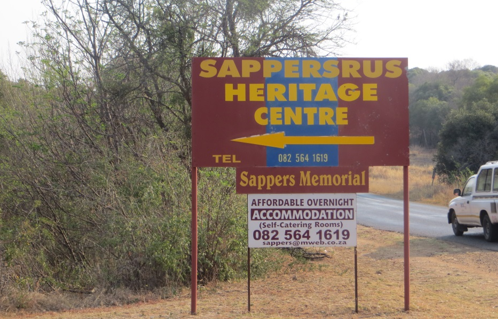 In a talk specially commissioned and written for this year's MACH Armistice Service on 11 November, Peter Terry will focus on how there is still a palpable sense of grief and loss evinced by the tragic conflict called The Great War. Cemeteries sprang up all over the battlefields, but many of the dead literally vanished, as battlefields were churned up by artillery fire. Today, in these cemeteries the missing are recorded and remembered. Everywhere where soldiers came from, memorials were erected, in towns across Britain, South Africa, Canada, New Zealand, and Australia. The men who fought are long gone, and most of today's older generation have only fading memories of the Great War's heroes; yet, across the globe, the Great War is still very much a living entity, and our sense of loss endures and is kept alive worldwide. This talk examines some aspects of this phenomenon, what it meant at the time, and what it still means today.
Great War 1914-1918 Armistice Service
Visit the Sappers Chapel remembering the fallen.
Visit the Gardens of Remembrance
November 11th at 10h30
Directions: R560 next to Magalies Park | Coordinates -25.759103, 27.771350
Payment of R100.00 pp includes Poppy badge & Refreshments. Pay MACH, Standard bank 01 507 402 1. Ref: name 
Bookings.  Mike 071 382 5905 or info@machbookings.co.za
Talk in open Lapa. Chairs spaced & Covid rules apply. 
Speaker bio: Peter has worked in the entertainment industry for nearly 50 years. He worked at the Performing Arts Council Transvaal (PACT / State Theatre) from 1972 to 2000, as an actor, director, playwright, and later Artistic & Administrative Head of Drama. Since 2000, he has continued to freelance in the theatre, primarily as an actor. His one-woman play Immortal was invited to be on the official program of the National Arts Festival in 2016. On television, he has appeared in a wide range of local and international productions. He's probably best known, however (by people with long memories) as Nige in the long-running CTM tile commercials. Peter has also worked extensively as a voice artist during the past 30+ years, specialising in narrating nature and wildlife documentaries, including several award-winning films for National Geographic and Animal Planet.
Created
Wednesday, October 20, 2021 - 21:36
Disclaimer: Any views expressed by individuals and organisations are their own and do not in any way represent the views of The Heritage Portal.