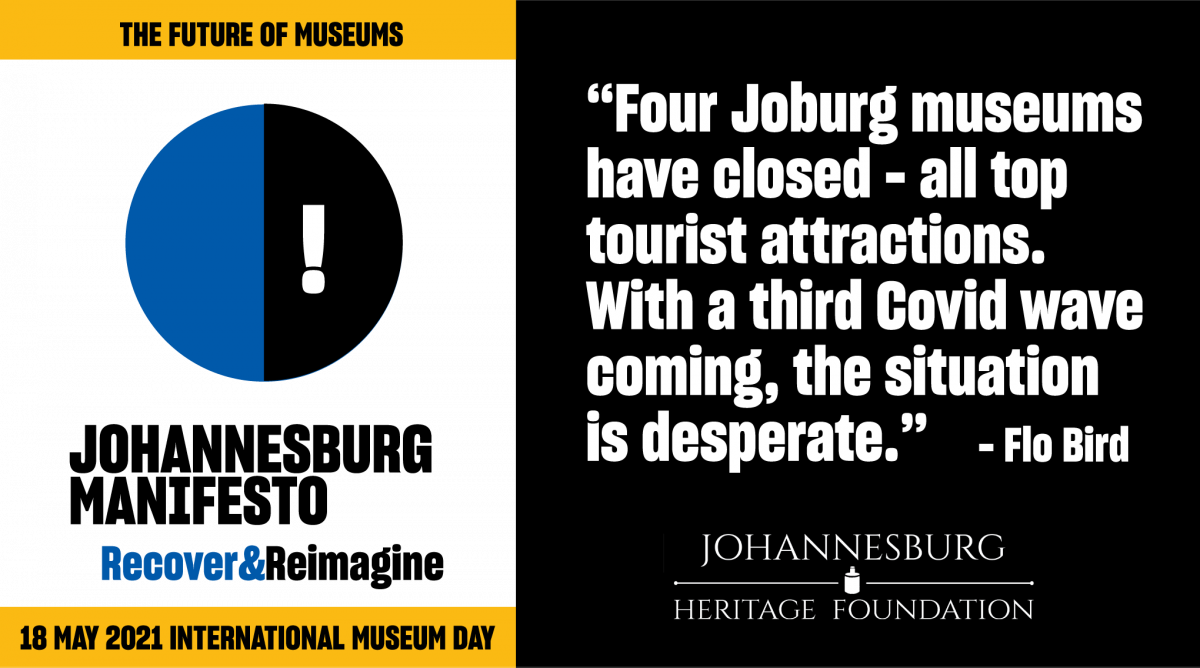 The museums, art galleries, heritage sites, monuments, memorials, archives and libraries of Johannesburg are in crisis. COVID-19 is the immediate cause, but the deeper problem relates to neglect of these crucial public resources over the past decade. A process of recovery and reimagining is urgently required.
This is the International Council of Museums (ICOM) theme for International Museum Day 2021, which is marked every year on 18 May. Recovery and reimagination is the goal of the Johannesburg Manifesto, to be launched on Tuesday 18 May.
You are invited to a Zoom discussion: 
Time: Tuesday 18 May  14h00 – 15h30
A group of experts will present ideas about how to recover our museum and heritage ecosystem. We hope you will participate in the unfolding discussion and support the Johannesburg Manifesto. 
Confirmed speakers:
Annabel Lebethe (CEO of DITSONG: Museums of South Africa)
Brian Mokgaki (The Origins Centre Museum, Head Guide)
Emilia Potenza – (Curator, Apartheid Museum), (Constitution Hill), (Fietas Museum).
Created
Mon, 05/17/2021 - 11:40
Disclaimer: Any views expressed by individuals and organisations are their own and do not in any way represent the views of The Heritage Portal.