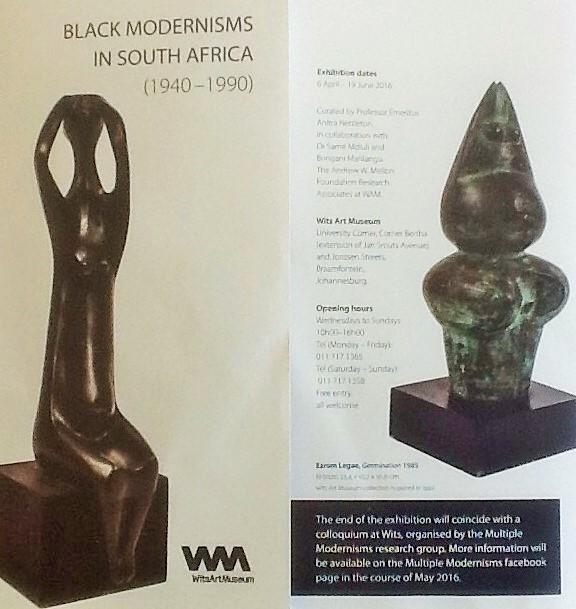 Expiry:
Wednesday, April 13, 2016 - 09:30
Wits Art Museum (WAM) has again given us fortunate Johannesburg people another fine exhibition that educates the mind and delights the senses. About sixty fine works have been selected from Wits' own art collection. The common theme running through the exhibition is that of the interpretation of modernism and modernity by black artists working between 1940 and 1990 in South Africa, when such artists were denied admission to the major art institutions. However, despite the lack of access, many of these artists were able to benefit from the education and training offered first in workshops run by white philanthropists, such as the Polly Street recreation centre and later at the historically black tertiary institutions or via UNISA correspondence. Many of these artists were self taught. We see the work of about twenty artists, such as Sekoto, Pemba, Bhengu, Ngatane, Mongano and Kumalo and so many more. I found myself drawn into the art works and wanting to know more about the biographies of these artists. 
This exhibition takes us beyond what one thinks of as traditional African art and reveals far more complex strands of modernism of both figurative / abstract representations and naturalistic or narrative representations in the art works. Modernism was present in both strands. This raises the question what was modernism? In answering the question this exhibition extends one's understanding of modernity and artistic expressions of modernity in the work of black artists of South Africa. If you thought about modernity as an art movement influencing avant garde European or only white artists, this exhibition throws up questions about where one sees modernity. The diversity of techniques (watercolours, sculptures, etchings, linocuts, ceramics, bronzes) the mix of urban and rural subject matter expose a rich seam. The value of the exhibition lies in the contextual explanations and interpretations offered by Emeritus Professor Anitra Nettleton who curated the exhibition in collaboration with two Andrew W. Mellon Foundation Research associates, Dr Same Mdlulu and Bongani Mahlangu. 
 
An informative, "must read" pamphlet accompanies the exhibition but only a limited number have been printed because of budget constraints. So visit soon to ensure you are given one. 
The exhibition runs from 6th April to the 19th June. WAM (the exhibition is on the mezzanine floor) is located at the corner of Bertha St /Jan Smuts Avenue and Jorrison Streets.
Opening hours are Wednesday to Sunday 10am to 4pm. The end of the exhibition will coincide with a colloquium at Wits organized  by the Multiple Modernisms research group to be held in June. 
Pages from the must-read pamphlet
WAM exhibitions are extraordinary. The Black Modernism exhibition is one of three on offer. The group exhibition, When Tomorrow Comes is offered in the basement gallery and explores the theme of apocalyptic visions. The Alfredo Jaar installation has recently closed but a new exhibition in the Core Gallery, Marcus Neustetter's Into the Light opens on the 26th April. This exhibition explores archaeological and cosmological mysteries in his quest for meaning and premiers Neustetter's newest video work in a series of light interventions and performances. Julia Charlton, curator of WAM comments:
It will be a fun bright noisy space, completely different from the Jaar installation, which I think is one of the exciting things about  the space ; it changes with the different installations."
The Black Modernisms exhibition should be welcomed, frequently visited and celebrated. The term "black modernisms" is thought provoking, as we reflect on art works and whether being black is a defining category. My initial reaction, when I heard the title Black Modernism was to think, why not simply, modernism in South African Art, but viewing the exhibition and being part of a viewing group led by Anitra Nettleton and reading the pamphlet changed my mind. There is a rational context and a history and this led me to conclude that the exhibition is coherent, educative and a delight. 
My thanks to Wits Art Museum for the gift of the pamphlet on Black Modernisms in South Africa. 
Kathy Munro is an Honorary Associate Professor in the School of Architecture and Planning at the University of the Witwatersrand. She enjoyed a long career as an academic and in management at Wits University. She trained as an economic historian. She is an enthusiastic book person and has built her own somewhat eclectic book collection over 40 years. Her interests cover Africana, Johannesburg history, history, art history, travel, business and banking histories.
Created
Wednesday, April 13, 2016 - 09:31
Disclaimer: Any views expressed by individuals and organisations are their own and do not in any way represent the views of The Heritage Portal.