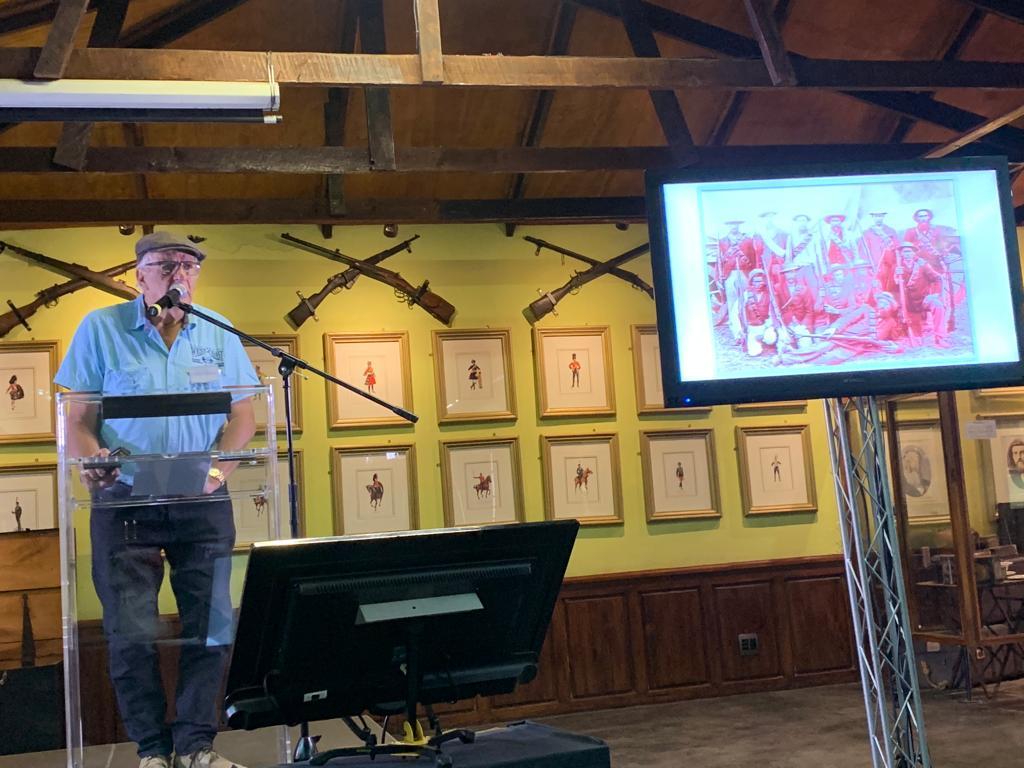 Expiry:
Sunday, December 31, 2023 - 00:00
In October 2023, participants gathered at Kedar Heritage for the HASA symposium. At the gala dinner, the Simon van der Stel Gold Medal was awarded to Petrus (Peet) Coetzee for his lifetime work of creating memorials, recording the history and remembering the losses on both sides. Below is the award citation...
For more than 30 years, Petrus Cornelius Coetzee (Peet) has researched numerous topics and themes relating to the history and events of the Anglo-Boer War. His careful primary research in government archives in Pretoria, together with his compilation of photographic sources, incorporates perspectives from both sides of the conflict and has broadened and deepened our understanding of this period of  military and social history. He understands the critical importance of primary sources to validate interpretations and perspectives.
Petrus Coetzee receives HASA Gold Medal from Kathy Munro
Gold Medal
Petrus Coetzee has produced numerous research publications relating to Anglo Boer War battles and skirmishes. In addition to consulting all primary sources, Peet has also spent large amounts of time walking battlefields and studying the remains of fortifications. The battles researched by Peet include Slypsteenkop, Buffelspoort, Nooitgedacht, Middelfontein, Vlakfontein, Moedwil, and Kleinfontein.
Peet has led many battlefield tours of the highest quality. He was a key guide and interpreter at the time of the centenary of the Anglo Boer War (the South African War of 1899-1902).
Bringing history to life
Books that Peet has authored or co-authored include: "The Eland's River Siege"  and "Trein Vernielers". In addition Peet has also written many smaller  books and booklets.
Peet has been instrumental in placing several memorials. These include a  memorial to General Manie Lemmer, a memorial on the Slypsteenkop battlefield, and a memorial at Bokkraal, the site of the Boer laager before and after the Battle of Kleinfontein. It has been his mission to honour the dead from  both sides of the conflict.
Peet is currently the resident historian at the Eland's River Siege Museum in Swartruggens. He plays a vital role in preserving and raising awareness of this  this important site.  
 
Created
Thursday, October 26, 2023 - 07:48
Disclaimer: Any views expressed by individuals and organisations are their own and do not in any way represent the views of The Heritage Portal.