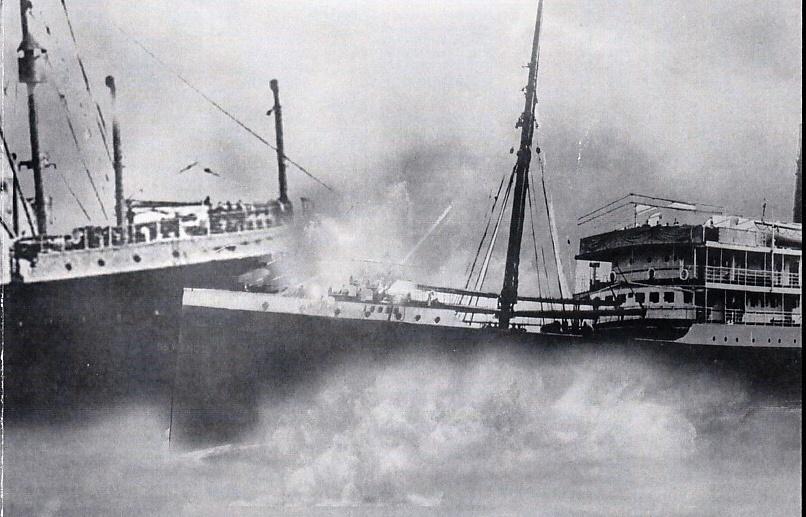 Expiry:
Tuesday, February 28, 2017 - 00:00
The Naval Heritage Trust has managed to negotiate the local South African printing and marketing of a new book on the SS Mendi tragedy on 21 February 1917 when 616 South Africans, who were on their way to the war front in France, died in the cold foggy waters of the English Channel.
The book was written after many years of intense research by Nick Ward who served for 7 years in the British Royal Corps of Engineers and has a deep interest in the history of the Great War, or as it is now more commonly termed, the First World War. The book describes the author's research into the tragedy in some detail with many excerpts from press reports and official documents of the time. He interviewed as many of the surviving descendants of the men on the Mendi as he could identify and the book is published in memory of Joyce Kalaote the granddaughter of the Reverend Isaac Dyobha Wauchope who served as a Minister and interpreter with the SANLC and died with his flock on the night of 21 February 1917. In 1997 the strike craft SAS Frans Erasmus was renamed SAS Isaac Dyobha in his honour.
Book cover
Ian Ward has managed to find and include many details about the ship and the men who died that have not been published before. This includes a complete Roll of Honour of all of the 616 members of the SANLC who died that stormy night. There is also the story of the finding of the wreck in 1974 - now a registered War Grave - and some photographs of items recovered from that wreck. He has also found a number of individual graves of men who died, probably of hypothermia, after being saved by the Royal Navy escort.
Copies are available at the Simon's Town Museum and LARIJ Booksellers in Simon's Town. Copies can be ordered directly from the Naval Heritage Trust at R250 (R150 for paid up members of the Naval Heritage Society) plus R55 postage and packaging to a South African address.
Payment can be made by EFT to our bank account:
Bank: Standard Bank Branch:
Fish Hoek Branch Code: 036 009
A/c Name: Naval Heritage Trust
A/c Number: 072 102 276
If paying in cash or by cheque please add R20 to cover bank charges
Contact Glen for more details or to place your order - online1135842@telkomsa.net
Created
Thursday, December 1, 2016 - 20:01
Disclaimer: Any views expressed by individuals and organisations are their own and do not in any way represent the views of The Heritage Portal.