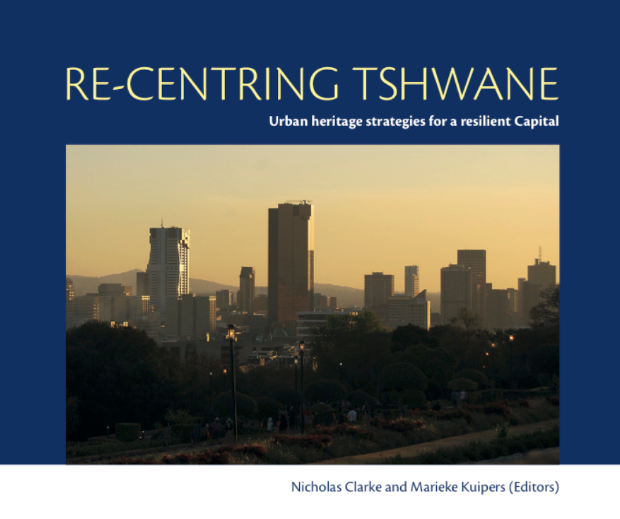 Expiry:
Sunday, January 31, 2016 - 02:00
Tshwane, capital of the Republic of South Africa, is a relatively young city with a colourful but conflicted past. It is now undergoing a deliberate transformation, steered by the City of Tshwane's Tshwane Vision 2055 Remaking of the Capital City. This acknowledges that the city is steeped in cultural history. Three culturally important heritage resources, Church Square, the Old Synagogue and the Old Government Printing Works, formed the focus of an investigative student design laboratory, the Re-Centring Tshwane Lab. The Lab was undertaken in 2014 by the Department of Architecture at the University of Pretoria, supported by the Cultural Heritage Agency of the Netherlands and the University of Pretoria's Capital Cities Programme. 
The Lab explored architectural interventions through which these three historic places could be modulated in service of a liveable, resilient and inclusive city. This richly illustrated publication presents the spatial, institutional and pedagogic context of the Lab; the chosen sites and their unique histories and significances; explores the potential contribution that heritage buildings can make to the Capital City and its resilience; and finally illustrates the lessons learnt from the Lab. These lessons show the potential that urban heritage holds in the fostering of economic development and social cohesion within the transformative Vision 2055. The City of Tshwane's heritage resources can be modulated to be inclusive for all citizens of the multicultural Capital of South Africa.
Eleven scholars and professionals from both South Africa and the Netherlands have contributed doubleblind peer-reviewed chapters to the publication. Their perspectives reflect a wide range of topics around the main central theme: the role that built heritage can play in urban resilience. The publication was launched at the Department of Architecture on 16 September 2016. At this event the first copy was presented to Prof Thinus Pretorius, who accepted it on behalf of the Dean of the Faculty for Engineering, Built Environment and IT (EBIT), Prof Sunil Maharaj.
The publication is available as a free pfd e-book download from the University of Pretoria Digital Repository, UPSpace. 
The editors can be contacted at: Nicholas Clarke: nicholas.clarke@up.ac.za Prof. Marieke Kuipers: m.c.kuipers@tudelft.nl
Category:
Announcements
Objects Artefacts Books
Created
Monday, October 12, 2015 - 06:17
Disclaimer: Any views expressed by individuals and organisations are their own and do not in any way represent the views of The Heritage Portal.