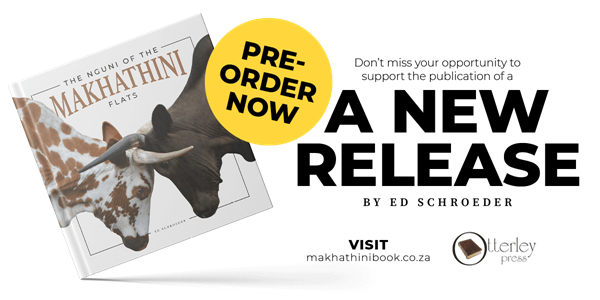 Expiry:
Friday, September 30, 2022 - 00:00
The history of the Zulu people, their culture, and their Sanga-Nguni cattle have been well documented in Dr Marguerite Poland's book, The Abundant Herds (A celebration of the Nguni Cattle of the Zulu People), and in her doctoral thesis, Uchibidolo: The Abundant Herds (A descriptive study of the Nguni Cattle of the Zulu People). Research for her book and dissertation started in 1994. The book was published in 2003 and the dissertation was submitted in 1996.
Almost a quarter of a century later, a great deal has changed and the purpose of this book is to document and preserve what remains of a particular ecotype, namely the Makhathini Nguni.
In a world which is fast polarising, it is seldom one finds something that is unifying. The breeders involved with the Makhathini Nguni come from diverse cultures, religions and races across the whole spectrum of South African society. 
Despite their different customs, languages, values and faiths, all are bound by their passion for the humble Makhathini cow.
The stories related in this book are their stories. They have first-hand experience of the Makhathini Flats, the people that live there and their cattle.
Click here for more information and to order your copy.
Created
Wednesday, July 6, 2022 - 15:07
Disclaimer: Any views expressed by individuals and organisations are their own and do not in any way represent the views of The Heritage Portal.