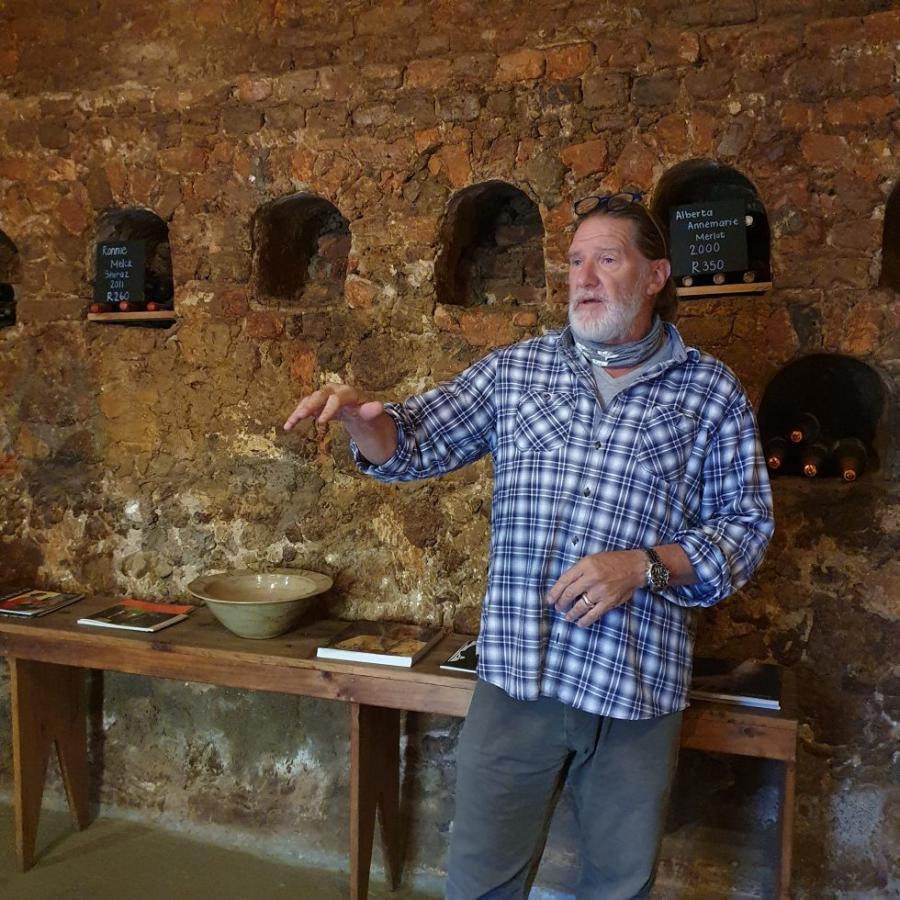 Chuffed that owner, enthusiast and brilliant story teller, Dr Rijk Melk, will be hosting us for our first event at his family home and farm. It was one of the first areas developed for agriculture in the winelands – Simon van del Stel wanted the land to be used to grow grain – not grapes! The first 'owner' in 1685 was German soldier and Dutch East India Company employee, Laurens Campher. Unusually for the time, he married a slave, Ansela van de Caab, as soon as she was freed. The house they lived in here still exists – it is the now the art gallery and shop (see picture above I took when Rijk showed me round). Rijk named a wine after her, like the lady pictured below who has lived on Muratie since the late 1940s; Johanna (Dry Rosé 2021).
Rijk will weave the Muratie's history, into his talk and tour for us. Some describe it as real life fairy-tale and movie material. It is brought to life not only by Rijk, but also old photo's, artefacts and the wine itself. Yet the whole place is refreshingly down to earth, apt for a working farm, making it "one of the most characterful visitor venues in the winelands" (Platters, 2021 South African Wine Guide).
Art is very much part of the story and experience, plus wine. Pinot Noir was first planted in South Africa here, thanks to the owner at the time, George Paul Canitz, and his mate, chemist and viticulturist, Dr Abraham Izak Perold, best known for developing the Pinotage grape variety in 1925 (Canitz was figurative artist of local landscapes, considered bohemian at the time; his daughter inherited the farm).
Many of us are familiar with the name Melck because of the historic, "Cape Dutch", beautiful Martin Melck House, 96 Strand St in Cape Town. It is next to one of the most striking old buildings in Cape Town's centre, the Lutheran Church – the oldest church building in South Africa, dating back to 1792 (unsurprisingly a National Monument). Martin Melck, a very effective businessman ifunded this. He lived on this farm 1763 – 1781, followed by his daughter (Anna Catherina) and her family.
Lutheran Church (The Heritage Portal)
Rijk is a descendent, but the farm belonged to many others before his father bought it back in 1987. At the time Rijk was a GP in Stellenbosch but it time gave this up to run the farm. (If it wasn't for Covid, Rijk would be in Europe in Sept, marketing Muratie's wine.)
Sunday 19 Sept 2021 (South Africa's Heritage Month) – a Sunday lunch, a first for Culture Connect
12 noon to 3pm – but do arrive early, or stay on, to look round and soak up the atmosphere
Cost per head: R750 pay before Sept, then R900. This includes two course lunch, coffee and wine tasting of four wines, plus tour, talk and info pack send in advance (and 10% off wines bought at the event – Guy please don't go mad!)
Address: Knorhoek Rd (R44), Koelenhof, Stellenbosch, 7605
Driving: just under an hour from central Cape Town (45 mins from our place in Rosebank); let me know if you would like to lift share or have a driver/guide
Pre-booking absolutely essential, with me: kate@cultureconnectsa.com WhatsApp/phone 072 377 8014
Treat yourself? Give as a gift?
Group size between 10 – 20 people. Covid protocols
You could arrange to stay the night in their cottage – it is exceptional nicely and comfortably furnished – with antiques and mod cons (like wifi)
Mountain biker and runners – there's the Simonsberg Trail
Created
Friday, July 23, 2021 - 12:39
Disclaimer: Any views expressed by individuals and organisations are their own and do not in any way represent the views of The Heritage Portal.