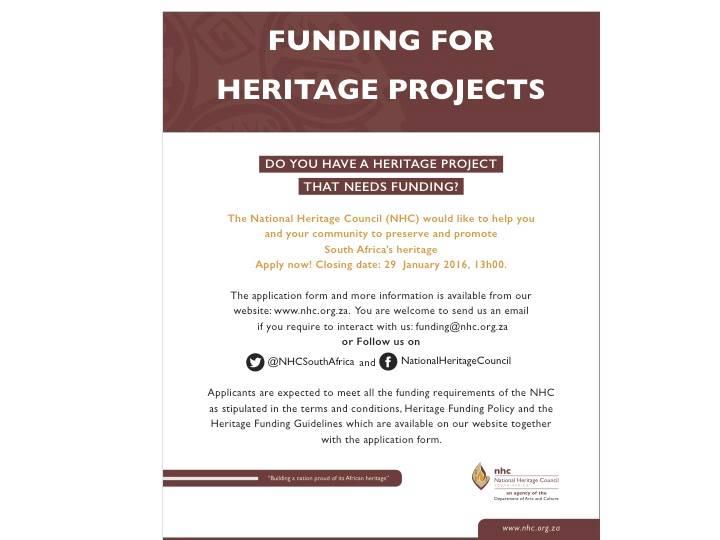 Expiry:
Friday, January 29, 2016 - 13:00
The National Heritage Council (NHC) is a statutory body established in terms of Section 3 of the National Heritage Council Act No. 11 of 1999.  It has, as one of its key mandates, a responsibility of disbursing funds focusing on heritage related projects.  In allocating these funds, the National Heritage Council aspires to expand the base of participation by heritage organisations in the country.
DO YOU HAVE A PROJECT ON HERITAGE AND NEED FUNDING? THE NATIONAL HERITAGE COUNCIL WOULD LIKE TO HELP YOU AND YOUR COMMUNITY SUBJECT TO MEETING ALL NATIONAL HERITAGE COUNCIL'S FUNDING REQUIREMENTS.  APPLY NOW! CLOSING: 29 JANUARY 2016, 13H00. 
Applications are invited from the following:
Educational institutions participating in heritage projects
Non-profit making organisations (NPOs)
Non-governmental Organisations (NGOs)
Community based Organisations (CBOs)
Associations
Individuals who are involved in heritage projects/programmes  must be willing to partner with credible institutions for their project implementation and financial reporting
Foundations
Trusts
Section 21 companies not for gain.
NB: Organisations that qualify for funding but do not have the necessary compliance documents must be willing to be administered or partner with qualifying organisations or institutions.
Exclusions:
Close Corporations (CC companies)
(Pty) Ltd
Section 21 for gain
Cooperatives
Employees of the National Heritage Council, their spouses and their immediate families are not eligible to apply for funding with the NHC;
National, provincial and local Government  including their agencies and entities cannot apply;
Beneficiaries of the Department of Arts & Culture Department cannot apply for funding or be in partnerships with applicants.
REQUIREMENTS:
Funded Initiatives:
Projects must have been initiated and implemented in South Africa and support the National Heritage Council's Strategy initiatives with preference given to projects that respond to the government's national imperatives and be heritage focused as listed below.  Research projects must commission work required on the project if it is to be done outside the SA borders and be costed on the project plan budget
Special attention will be given to the following categories:
Heritage Research and Publication
Liberation Heritage
Education/Training in Heritage
Indigenous Groups Initiatives in the Country
NB: Rural based heritage projects will be given priority
Important Application Guidelines:
Applicants must use the National Heritage Council Application Form available on the websitewww.nhc.org.za or can be requested through our e-mail address: funding@nhc.org.za or telephone number (012) 348 1663
How to submit your application:
By Registered Post: The National Heritage Council, P O Box 74097, Lynnwood Ridge, 0040.
By Hand delivery: Office No. 16, Domus Building, No 57 Cnr Kasteel and Ingersol Roads, Lynnwood Glen, Pretoria.
a)    No faxed or emailed application forms will be accepted.
b)    Organisations that submit more than one application per financial year will be DISQUALIFIED.
Applications received without the following documents will not be considered:
a)     Those not on NHC provided application form
b)    The company/organisation's registration certificate/Deed of Trust/Articles of Association; and
(i)   A certificate of the organisation's registration status with the registering body i.e Dept of Social Development; CIPRO, Magistrate Courts etc.
c)     The Organisation's Constitution
d)     Fully completed declaration forms (SBD4 and SBD8)
e)     Current Tax Clearance Certificate valid for at least twelve (12) months,
NO TAX EXEMPTION CERTIFICATE ACCEPTED.
f)     Latest financial statements for new organisations and a letter from an Audit firm confirming their obligation to audit your books for NHC funding; and
(i)  in case of organisations that are registered for more than one year, Audited financial statements are required.
g)    Certified identity documents of authorised persons
h)     A detailed Business Plan
i)      Proposal with Itemised budget and a Project Plan
How will you know if your proposal was successful:
Successful applications will be contacted directly. Should applicants not hear from the NHC within 90 days after the closing date, they should consider their application unsuccessful.
NB: Successful applicants will be subjected to verification prior to official notification and contracting.
Funding ceiling:
Projects operating in more than one province will be assumed as having National impact and may apply for funds up to a maximum of R500 000.00
Closing date: (Friday) 29 January 2016 at 13h00.  Late applications will not be considered.
Created
Wednesday, December 2, 2015 - 15:19
Disclaimer: Any views expressed by individuals and organisations are their own and do not in any way represent the views of The Heritage Portal.