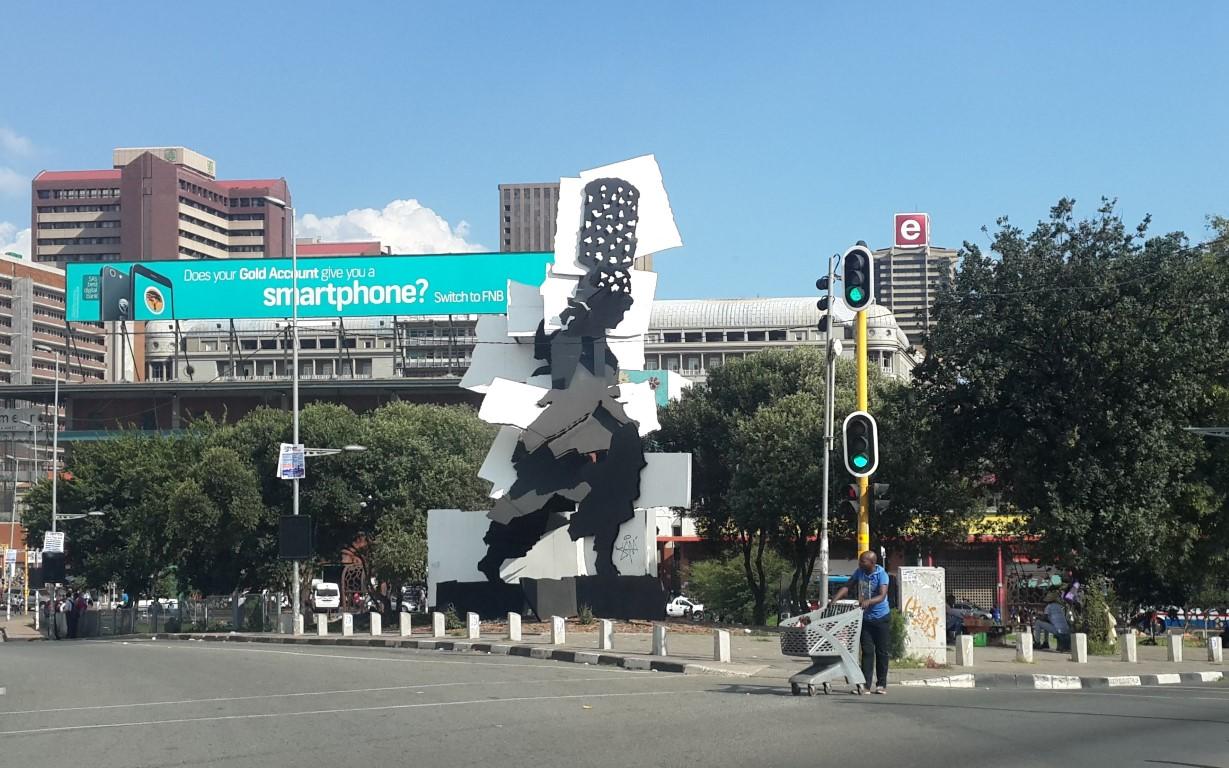 A giant ten-metre high steel sculpture, the Firewalker, celebrates women street-traders who carry the mbawula - lit braziers - on their heads, to sell roasted mealies across the city. Commissioned as a major public artwork by the City of Johannesburg in 2009, the Firewalker was developed as a collaboration between artists William Kentridge and Gerhard Marx.
After going into a downward cycle of deterioration and urban decay, the artwork has most recently been dramatically rescued and rejuvenated. In a specialist restoration project driven from the City Directorate of Arts, Culture and Heritage, the once-ailing Firewalker has been given a new lease of life, and the site has been upgraded. Structural repairs were done to the steelwork, and a new concrete base developed. New signage has been installed to promote local awareness and appreciation of the artwork.
Firewalker at night (City of Joburg)
The women on whom this sculpture is based, are part of Johannesburg's street culture. Selling roasted mielies and smileys, their survival is dependent on their moving and travelling through the city, following its economic and human activity from one place to the next. They carry their mbawula, filled with coals on square slabs of concrete on their heads and once they have reached their trading destinations, they roast mielies and meat over the coals.
Nora Mashale lives in Soweto and has been a fire walker in Johannesburg since 2001. She is the only breadwinner in her immediate family. (City of Johannesburg)
Through the figure of a woman, the sculpture pays homage to the city's migrant working-class history.
Made up of 150 monumental pieces of metal, the steel plates look like fragments until you find the right viewing position, and the pieces resolve to conjure the silhouetted image of a woman street vendor. The public sculpture is a visual game inviting the viewer to participate in the making of the image. And as you move, the sculpture changes and just as quickly as you found it, the image of a woman travelling through the city disappears, fragmenting into other, more abstract forms and possibilities.
The Fire Walker sculpture stands at a major gateway to the city centre, and towers over  a major transport hub.  Visit the artwork across the road from the new Johannesburg International Transport Interchange (JITI), and close to Metro Mall.
City of Johannesburg - October 2021
Created
Friday, October 1, 2021 - 17:16
Disclaimer: Any views expressed by individuals and organisations are their own and do not in any way represent the views of The Heritage Portal.