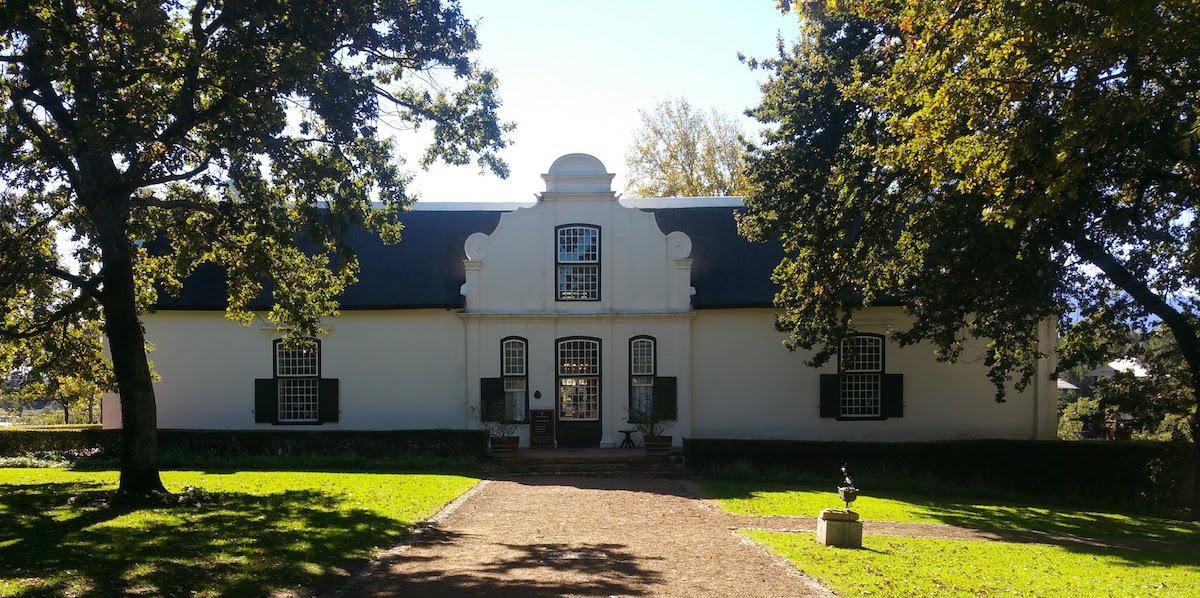 Our tour is led by Tracey Randle, heritage consultant and archivist, who was employed by Boschendal 2017 – 2018 to find out about the farm's rich and diverse cultural heritage, in particular the people who lived and worked there. What do the shape of the buildings and kraal tell us? Why the delicate, bronze birdcage in the main house? Who made the Dutch longcase, "grandfathers" clock? Why are Anna Susanna's initials on a gable? Tracey's research reveals fascinating stories.
Tracey will guide us around the buildings, mostly erected 1738 – 1807. But we will spend most time inside the Manor House which was built in 1812 and has been a National Monument since 1976. Our 'journey' includes Indonesia, French soldiers stationed in Cape Town and the Regency England. However, our walkabout is in a small area – in and around the Manor House ie where most of us go when we visit this beautiful wine farm.
It is great to be working again with Tracey. Her speciality is uncovering stories from the archives, typically about workers and women, often ignored by previous historians and owners. Her doctorate is about Solms Delta where she worked as the resident historian 2004 – 2015, just down the road from Boschendal. She lead a Culture Connect tour there in 2013. She also led our tour at the Huguenot Memorial Museum in 2019 just after its permanent exhibition had been radically updated largely based on her research and curation (2016 – 2019). Her archival discoveries around Lady Anne Barnard at the Vineyard Hotel were part of her lecture series at UCT's Summer School 2021. She is currently consulting for Spier where we had a tour recently – the strong matriarchal lines of both the owners and slaves there we'll definitely be including in future visits.
Please join us on Wed 22 Sept 2021, 10am to noon (also available as a private tour)
Cost: R300 each, R250 per person if you pay at least one month in advance
Booking essential, especially as it is a small group: kate@cultureconnecta.com WhatsApp/SMS/phone 072 377 8014
This is a Culture Connect first; we'll repeat depending on demand. (We last were at Boschendal in 2015 hosted by curator, Marianne Gertenbach, who has since retired. So high time for another Culture Connect here)
We recommend arriving early for a coffee (and brunch). Do join me afterwards for a light lunch in the werf from the Deli, at your own expense (a lot of the food is from the farm and very fresh).
Address: Boschendal Wine Farm, Main Road, Pniel, Groot Drakenstein, 7681. It is is 51km from Cape Town, just under an hour's drive, in the valley between Franschhoek and Stellenbosch – a map and other finer details will be sent in advance, along with a brief history.
Here's to Sept, South Africa's Heritage Month. Boschenal will be doing their own special heritage events around 24 Sept public heritage holiday, usually a long table of heritage food in the middle of the werf and live music – more info will be posted on their events' page on their website in due course.
All dependent on Covid regulations (watch this space)
Created
Friday, July 23, 2021 - 12:44
Disclaimer: Any views expressed by individuals and organisations are their own and do not in any way represent the views of The Heritage Portal.