Wednesday, September 20, 2017 - 09:03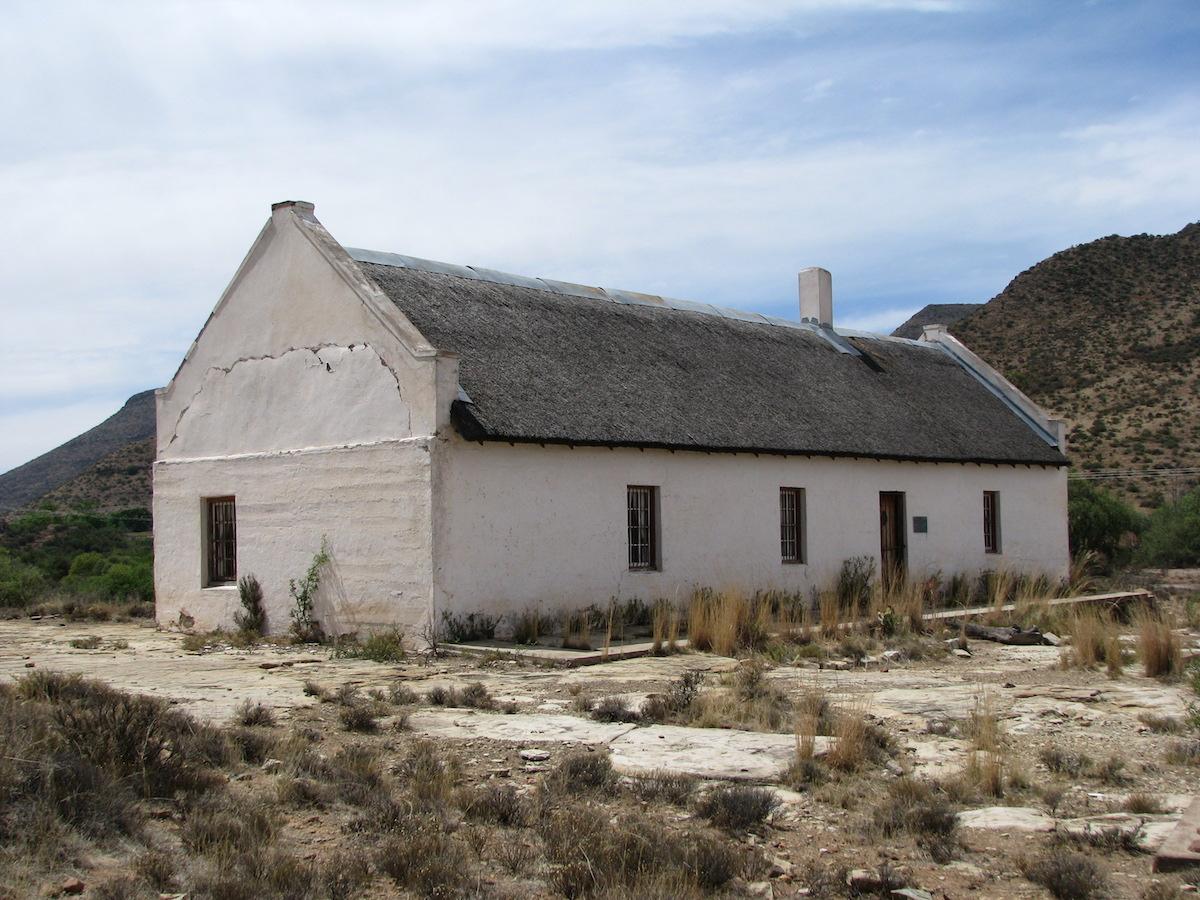 Thread Categories:
Endangered
2017 campaign nomination
Local Champion:
Vriende van die Steynsburgmuseum en Bulhoekvereniging
The first owner of Bulhoek was Douw Gerbrand Steyn, born in 1777 (son of Douw Gerbrand Steyn and Catharina Maria Potgieter). He married Alida Barendina van der Walt on 19 April 1795 (daughter of Tjaart van der Walt and Anna Martha Venter). She was born in 1780 and died on 2 August 1850. Douw Gerbrand Steyn and his wife had thirteen children. The sixth child, Elsie Francina, born in 1806, married Casper Jan Hendrik Kruger on 3 September 1820. They are the parents of old president Paul Kruger. The youngest child, Andries Petrus Johannes Steyn, born in 1823, is the founder of the nearby town called Steynsburg, established in 1872.
Bulhoek from a distance (Gerda Coetzee)
Bulhoek was first granted as a loan farm to Douw Gerbrand Steyn. An engraved stone with the initials of Douw Gerbrand Steyn and the date 1809 can still be seen on the site not far from the house and close to the ruins of an unidentified structure. In 1838 the farm was surveyed and in 1839 registered in his name. In 1932 portion 11 of the farm Bulhoek no. 78, was bought and transferred to Die Komitee van die President Kruger Geboorteplekfonds. Due to the historical importance of Bulhoek the people of Steynsburg made use of the site for the celebration of historical events. The biggest festival that ever took place at Bulhoek was the 100 year celebration of the Great Trek in 1938. The festivities took place at a structure, erected for this purpose in 1938, at the house itself, as well as at the remains of an unidentifed structure situated behind the house that was later demolished.
Bulhoek is part of a research project registered at the National Museum, Bloemfontein. This project is now evolving into a PhD in Historical Archaeology through UNISA. The project is focusing on the material culture of the Dopper trekboer and his descendants. A report about the eld work conducted at Bulhoek is available on the SAHRIS website (click here to view).  
The Steynsburg museum is a private institution with no income at all. The only people involved are getting old and they find it difficult to keep things going with issues such as maintenance and cleaning. The roof of the house at Bulhoek is starting to fall apart, with water leaking, walls cracking etc. If something is not done very soon, it might be too late. 
Bulhoek Roof (Gerda Coetzee)
Festivities are not taking place at Bulhoek due to a lack of water. That means no water for toilets, drinking etc. If the water problem could be overcome, then there would be no excuse not to implement annual festivities and getting people involved in their heritage. If we could find a sponsor(s) for the drilling of a borehole and the installation of the necessary infrastructure needed to get access to water, then Bulhoek could be saved. Festivities could be arranged in cooperation with other cultural groups such as the Trekboervereniging to create an awareness of our trekboer heritage, as well as that of Steynsburg.
Another shot of Bulhoek (Gerda Coetzee)
Source: 2017 Endangered Heritage Sites Nomination Form.
Please use this thread to add background and updates. Click here to view location on google maps.
Comments will load below. If for any reason none appear click here for some troubleshooting tips. If you would like to post a comment and need assistance click here. Irrelevant and inappropriate comments will be removed by the moderator. Only add background and updates to the tracking threads.