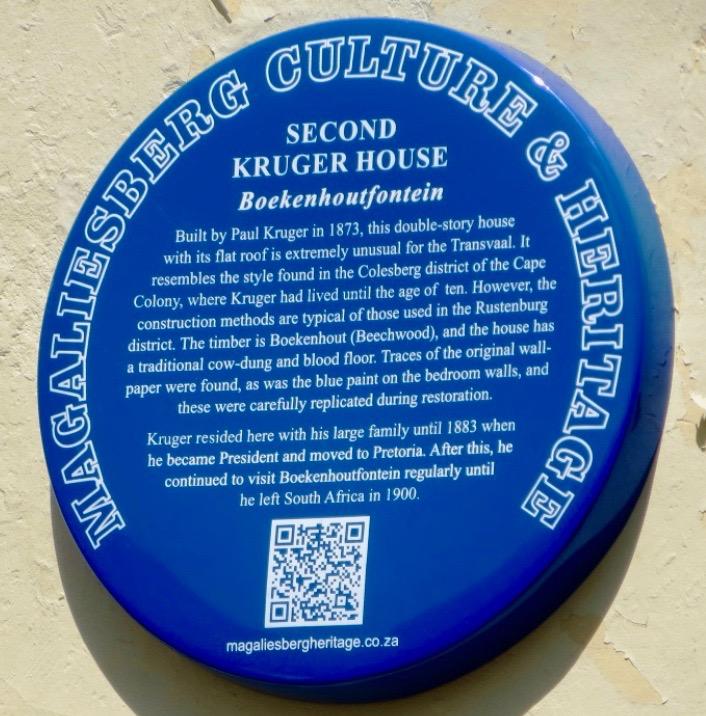 Built by Paul Kruger in 1873, this double-storey house with its flat roof is extremely unusual for the Transvaal. It resembles the style found in the Colesberg district of the Cape Colony, where Kruger had lived until the age of ten. However, the construction methods are typical of those used in the Rustenburg district. The timber is Boekenhout (Beechwood), and the house has a traditional cow-dung and blood floor. Traces of the original wall-paper were found, as was the blue paint on the bedroom walls, and these were carefully replicated during restoration.
Kruger resided here with his large family until 1883 when he became President and moved to Pretoria. After this, he continued to visit Boekenhoutfontein regularly until he left South Africa in 1900.
Plaque Address:
Take the N4 west through Rustenburg and take Exit 169 to the Ottoman Highway north. After 10km take the 1st exit at the roundabout onto the R565. After 2.3km the entrance to Kedar Heritage Lodge is on the left. Enquire at reception for access to the Kruger houses.
Main house at Boekenhoutfontein built by Paul Kruger in 1872-73 (Vincent Carruthers)