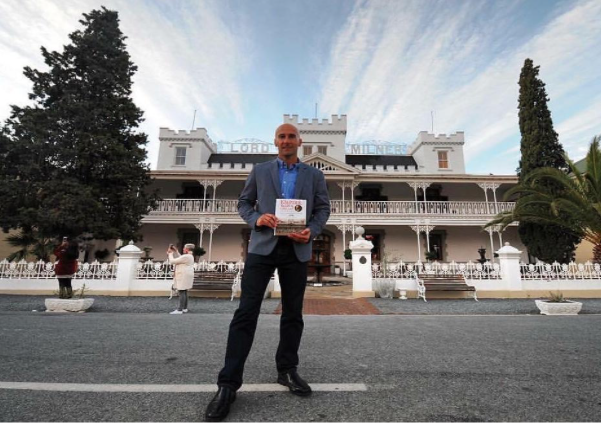 Cecil Rhodes is on record as saying he had only met two creators in South Africa, one being himself and the other James Douglas Logan. Born in Reston, Scotland in 1857, Logan immigrated to South Africa at the age of nineteen. Based upon years of research in South Africa and the United Kingdom and using original archive material (including many unseen photographs), Dr Allen's fascinating talk is based upon his best-selling book and explores how James Logan made his fortune in late nineteenth century South Africa through business, politics and a high profile association with the British Empire's favourite sport – cricket.
James Logan became known as the 'Laird of Matjiesfontein' after the Karoo town he had developed. This famous town is today a heritage site and a popular tourist destination for South African and international visitors. This talk will explore how Matjiesfontein was created and how James Logan developed this little town in the Karoo into a renowned health resort attracting the rich and famous of the late nineteenth century. The talk will also explain how James Logan was instrumental in developing the game of cricket in South Africa and examine the controversial but little-known 1901 South African cricket tour to England – a venture funded by Logan himself in the midst of the Anglo-Boer War. Matjiesfontein's pivotal role in the war is explored alongside James Logan's exploits during this time. It is a truly amazing story that has had many British and South African audiences enthralled. 
Lecture: Wednesday 27 March 2019 
Speaker: Dr Dean Allen
Title:  Empire, War and Cricket in South Africa: Logan of Matjiesfontein.
Venue: Iziko South African Museum, 25 Queen Victoria Street, Cape Town 
Time: 18:00
Cost: Members on presentation of valid 2019 membership card – free of charge, Non-members: A donation of R30.00
Email: samfriends@iziko.org.za
For further information visit Dean Allen's website: www.deanallen.co.za
Image: Dean Allen outside the Lord Milner Hotel Matjiesfontein
Created
Thursday, March 14, 2019 - 05:25
Disclaimer: Any views expressed by individuals and organisations are their own and do not in any way represent the views of The Heritage Portal.