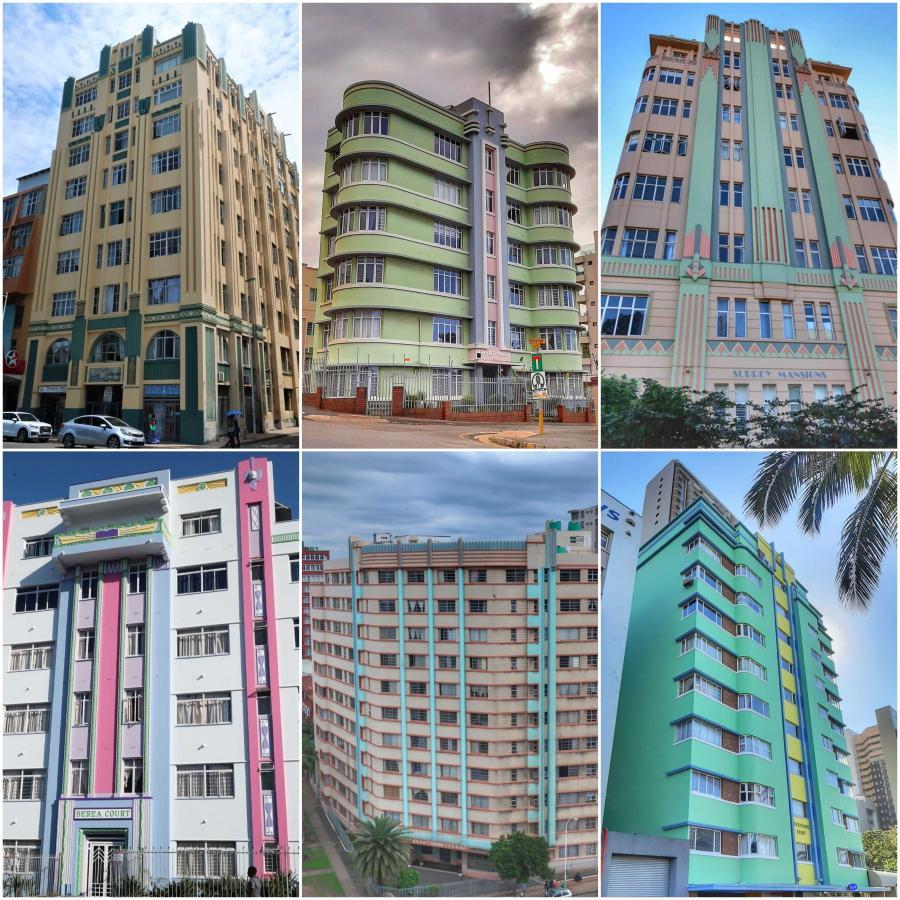 Expiry:
Monday, January 31, 2022 - 00:00
The AGM of the Durban Art Deco Society was held at the Phansi Museum, Glenwood, Durban on 21st November. Chaired by Donald Davies, together with an active Committee, this is a small but enthusiastic society that punches well above its weight. It was my pleasure to head to Durban and enjoy a weekend of heritage bonding and celebration with the Society. It was all the more special because everyone is now emerging from their Covid hibernation. It was a chance to be sociable and much news to exchange.
Carol Allan, Hon Secretary of DADS (Kathy Munro)
The Society has recently published a delightful book on Durban's Art Deco heritage, wonderful illustrations and an excellent guide to exploring the many Deco buildings of the City. The Society is to be warmly congratulated on this achievement. Copies are currently available but will quickly run out as it is a fairly small print run. Contact Johannesburg Heritage for a copy if you are in Jhb – email Johannesburg Heritage Foundation (mail@joburgheritage.co.za). Price is R270
The New Book
Donald Davies delivered the Chairperson's address and covered the recent work of the society with their enthusiastic tours of Durban Art Deco and their now warmly embraced advice about colour schemes and paint to enhance and stress the decorative streamline lines and ornamental features of an art deco building. Durban is recognized as one of the ten top Art Deco cities of the world and the focused effort of DADS to conserve, advise and preserve has won recognition.
Saturday evening dinner at the Durban Country Club with some of the members of the Art Deco Society. (Front from left) Carol Allan, Franco Frescura, Lesley Frescura, Kathy Munro. (Back) Mike Mulholland, Graham Allan, William Martinson, Donald Davies and Boaz Chaves.
The key note address was delivered by William Martinson, heritage architect from East London. His topic was the Art Deco buildings of East London. We were introduced to a range of hotels, industrial buildings, garages all in the functional Art Deco style but mixed with the flamboyant flourishes from the period - 1920s to 1940s.
Donald Davies and William Martinson at the Phansi Museum (Kathy Munro)
Leonard Rosenberg gave a short presentation on his photographic exhibition and new book, The buildings of the 'Durban System': the Architecture of Social Control (available at R150 from Leonard) – a fascinating talk on Durban's apartheid period beer halls and how this constituted a system of social control in Durban African society with pernicious consequences.
Book Cover
DADS society has recently joined the Heritage Association of South Africa –a warm welcome to the society in the wider heritage family.
Kathy Munro - November 2021
Created
Thursday, November 25, 2021 - 08:27
Disclaimer: Any views expressed by individuals and organisations are their own and do not in any way represent the views of The Heritage Portal.