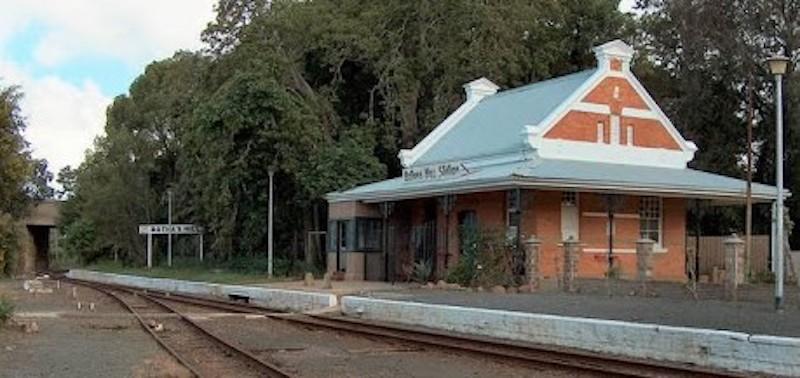 Botha's hill was a railway station on the line from Durban to Pinetown. During the Anglo Boer War it was one of the responsibilities of the Indian Railway Works to check the line for damage or sabotage by the Boer forces. One night near Drummond, a party of British soldiers guarding the line opened fire on them. They mistakenly believed them to be saboteurs. Fortunately there were no casualties - doesn't say much for the soldiers marksmanship – although Mr Jaggernath, removed a bullet from his turban.
It was probably about this time, but no-one knows for certain, that a tin trunk was left on Botha's Hill Station. For many years this strong, military-looking trunk stood on the station next to the weighing machine. It was stepped over, dusted off, sat upon, but never really noticed. Occasionally it was dragged and used to keep a door ajar. It had just become part of the furniture.
One day in the late 1940s, a new stationmaster demanded to know whose trunk it was and why it had been left at the station. After 45 years the answer to whose trunk it was, what it contained and when it had been left at the station was about to be answered. He forced the lock open with a crowbar and with difficulty lifted the lid. It was full of documents, and bags of silver and gold coins destined for the payment of British troops in Ladysmith during the Anglo Boer War.
Apparently the money had been recorded as "having gone astray." And then the trunk disappeared and nobody knows what happened to the trunk or its contents – definitely "gone astray."
Pam McFadden has spent many years researching the battlefields of KwaZulu-Natal. She has been interested in them since a young child. As a registered specialist guide on these battlefields for the past 40 years her knowledge about events and the people involved is considerable. Since 1983 as curator, Pam McFadden has developed the Talana  Museum in Dundee into one of the finest in the country. As part of the museum collections she has collected and created an extensive museum archive, that holds many treasures.
Created
Tuesday, April 20, 2021 - 14:02
Disclaimer: Any views expressed by individuals and organisations are their own and do not in any way represent the views of The Heritage Portal.