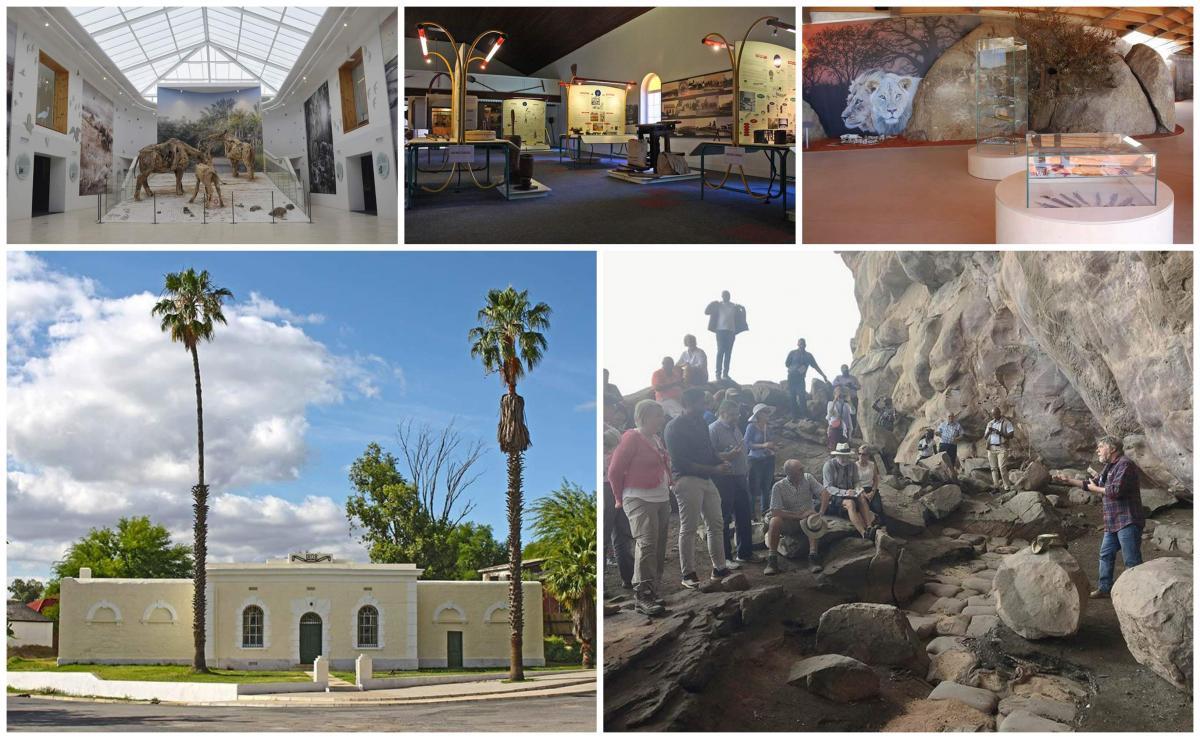 Expiry:
Tuesday, May 31, 2022 - 00:00
The West Coast Museum Forum was created in 2016 as a representative body of museums located in the west coast region of South Africa. The primary concept is to pool ideas, learn from one another and promote the museums, both to local communities and visitors to the area.
The focus of the museums is very diverse, from those representing local records (Darling, Malmesbury, Riebeek Valley, Hopefield, Citrusdal, Clanwilliam, Lamberts Bay, Piketberg, Porterville), to agricultural (Wheat Industry Museum), aquaculture (SA Sea Fisheries Museum), farm (Willem Loock), mission village (Goedverwacht), palaeontology (West Coast Fossil Park) and San culture (!Khwa ttu).
Wheat Industry Museum, one of only two in the world dedicated to this subject
West Coast Fossil Park, exhibiting fossils of extinct species dating back 5 million years, along with this depiction of some of the animals
!Khwa ttu San Cultural Centre
In this mix are museums that receive support from municipalities, some are provincial whilst others are private. A few are maintained with extra activities such as hiking or walking trails, restaurants, etc. Extra revenues are sometimes driven from other sources, such as membership or events, functions, exhibitions. Ultimately we all strive to be part of our communities and environs.
The structures they inhabit vary considerably too, amongst them synagogues in two towns (Malmesbury and Piketberg, both coincidentally designed by the same architect), a previous town hall, early church, prison, mill, to purpose built.
Clanwilliam Ou Tronk Museum
Beneficial to the focus on the museums has been the interest in the Diepkloof Rock Shelter, with its early illustration of human development in the form of decorated ostrich egg shells. The possibility exists that this will ultimately be listed as a World Heritage Site with an associated museum at Elands Bay.
The official launch of the Diepkloof rock shelter, with Prof Parkington here explaining the relevance of the site, in the presence of Premier Winde and the US Consulate General, in 2019
Check out these links for more information:
www.facebook.com/wcmuseumforum
www.weskusheritage.org/museums
www.weskustourism.org/museums-2
www.cradleofhumanculture.co.za
The Artist's Journey, part of the Cradle of Human Culture; the museums are highlighted on this route
Created
Monday, February 7, 2022 - 11:38
Disclaimer: Any views expressed by individuals and organisations are their own and do not in any way represent the views of The Heritage Portal.