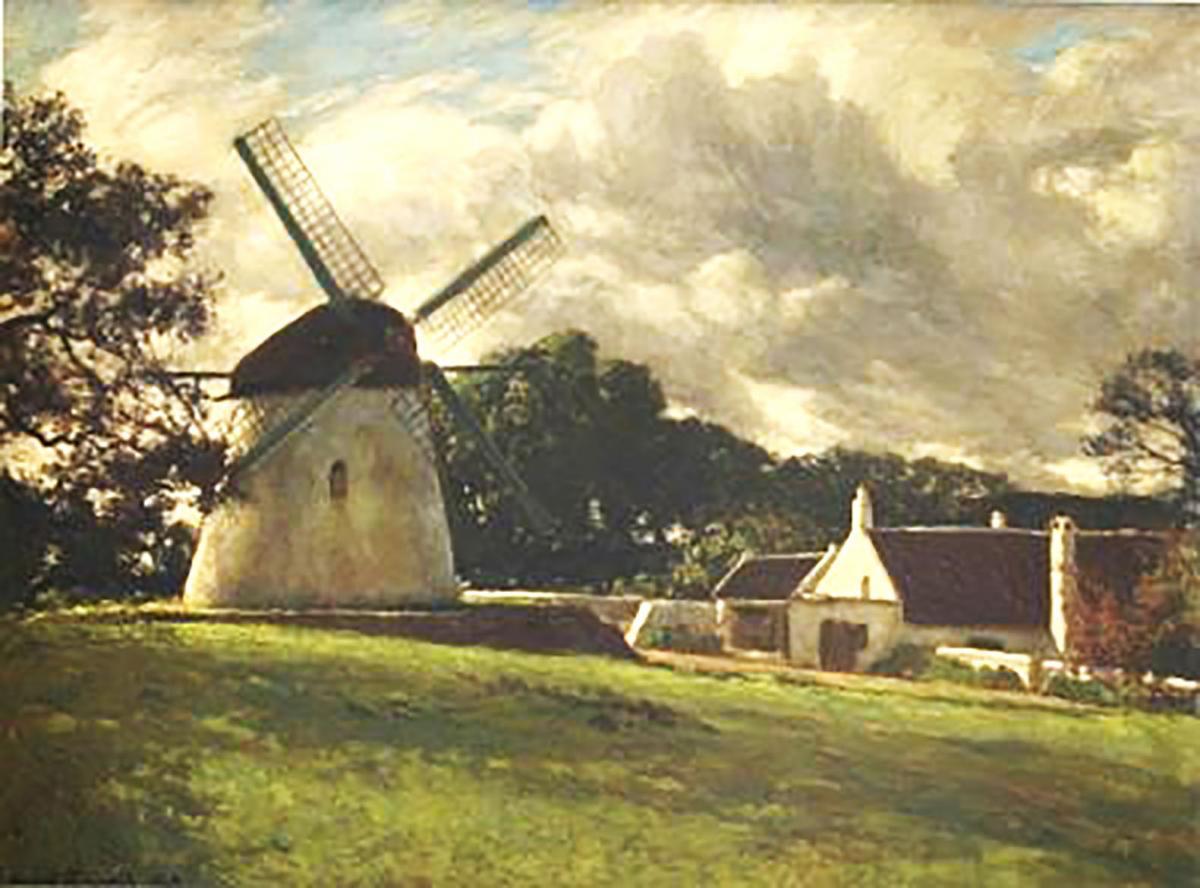 With all the understandable press and social media attention that has been given to fire-damaged Cape Town landmarks like Mostert's Mill, the Rhodes Memorial restaurant and UCT's Jagger Library from last week's devastating blaze, De Meule, an important heritage site has been left out in the cold.
Press comments have glazed over the fire-gutted De Meule's importance with statements like: "The thatched house behind Mostert's Mill", if it is mentioned at all).
The burnt-out remains of heritage site De Meule, the mill house next to Mostert's Mill, which predates the mill and according to the late Hans Fransen may be one of the oldest surviving houses at the Cape. Will it survive the fire damage? (Jim Hislop)
De Meule gable: Beautiful old mud bricks need protection from the rain to preserve them before they dissolve (Jim Hislop)
But De Meule is so much more than that. It forms an integral part of a surprisingly largely intact werf that belonged to the large Welgelegen estate, once owned by the intermarried Van Reenens and Mosterts. Although now mostly on separate properties, the buildings of this large werf include the Welgelegen homestead itself (rebuilt by Herbert Baker after a fire), Mostert's Mill, the Mostert/Van Reenen graveyard, De Meule (the mill house for Mostert's Mill), the mill's threshing floor (very rare now in the Peninsula) a thatched stable (also now gutted) between De Meule and Welgelegen House and many beautiful old werf walls and entrances, including the fine Cape Dutch entrance gates facing Rhodes Avenue. Collectively, this complex forms a rare example of an 18th and 19th-century werf that survives in the Southern Suburbs.
The threshing floor and burnt-out ruins of De Meule, once the mill house, but older than Mostert's Mill. (Jim Hislop)
The property is ancient. Late Hans Fransen tells us that Welgelegen dates back to a land grant in 1676 to Cornelis Stevensz Botma. In 1756 Jacob van Reenen took ownership. Fransen goes on to say that De Meule, which stands on part of Welgelegen, and predates the current Welgelgen homestead "is likely to be one of the earliest surviving houses in the Cape", due to its look of age already when it was depicted in a c.1800 Barrow artwork, its soft-burnt clay brick walls and surviving casement windows that were "decidedly smaller than was usual in the second half of the 18th century". (The Old Buildings of the Cape, 2004: 96.)
The Welgelegen homestead once faced this way (east), and looking from this side, the facade still bears a strong resemblance to the pre-Baker house (Jim Hislop)
He also explains that the building of Mostert's Mill (1796 or earlier*) in its current position was likely influenced by the pre-existing De Meule house, which could be adapted as a mill house. De Meule has also been painted by numerous artists over the years, but since it ceased to become a private home in the 1980s (it became a minister's residence after the last Mostert family member to live there sold it), it was fenced off with high-security walls and fencing, which visually separated it and the beautiful entrance gates from Rhodes Avenue, and it has since been somewhat forgotten.
The swift action of the Friends of Mostert's Mill in covering the damaged mill tower has probably ensured that it will be rebuilt much as it was before (though without its old timber and beams). But what about De Meule? Currently owned by the Department of Public Works (DPW), the entire complex (De Meule, the stable and the entrance gates), which was declared a National Monument under old National Monuments Council legislation in 1993 (along with the threshing floor, ring-wall and entrance gates), is now at risk of dissolving in the coming winter weather. As has been proven time and again (for example with Newlands House after the 1980s fire), exposed mud-brick walls must be covered with plastic sheeting to protect them from rain damage, which dissolves the old mud bricks. Bearing in mind that this is a minister's house, hopefully swift action will be taken to rebuild it.
Mostert's Mill is just one part of a large complex of important buildings, all previously part of the extensive Welgelegen complex. De Meule at right.
Please share and spread the word. We need to save De Meule.
*Author/historian Dan Sleigh is of the opinion that Mostert's Mill is older than 1796, as it appears on an earlier map in his possession, although a beam in the mill was dated 1796.
If you have access to more information (heritage reports and studies would be great) about De Meule please share with me at wheatfields.windmills@gmail.com - Thanks.
Jim Hislop - May 2021
Created
Monday, May 10, 2021 - 20:26
Disclaimer: Any views expressed by individuals and organisations are their own and do not in any way represent the views of The Heritage Portal.