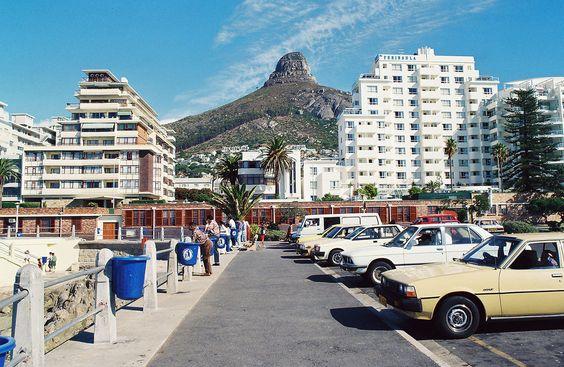 Expiry:
Sunday, June 12, 2022 - 00:00
On Sunday 12 June 2022 at 14h00 we're going to spend two-hours-and-change in wandering Cape Town's very own Sunset Strip, launching from the quaint shade of the old Round Church intersection and the mid-afternoon snacks of the Atlantic Express to absorb everything in our path before making landfall by the candy-cane stripes of the Green Point Lighthouse near the back of the Breakwater.
In the meanwhile we'll traverse more than five centuries of the tidal swell of humanity upon these granite shores, swapping sights and seeing stories of the Flying Dutchman and the shipwreck capital of the world, tracing the lineage of mariner families from every ocean, comparing starkly beautiful landscapes of the first great seaside estates in the country's history, revealing the military sagas of our private modernity in the shadow of Fort Wynyard, showing off the tracks of the old tramways that used to be as synonymous with the city as the Noon Gun, and paying homage to the Khoisan, Greek, Italian, Portuguese, Cape Malay and Hebrew ancestors who first bestowed the space with its world-class cosmopolitan credentials.
With the Atlantic Seaboard gentrifying quicker and quicker by the hour, there's no better time to grab a pair of my patented nostalgia-busting goggles and come down to see this iconic quarter as if for the first time, in its entirety.
Remember your sun-screen, your flip-flops, your towels, your curiosity, your open-mindedness, your bookings, your invites for your friends and your love for Cape Town's potential!
We'll be starting by the Atlantic Express and finishing by the Green Point Lighthouse so perhaps organise a two-car solution or come join via the MyCiTi.
We used to be donation-based but to secure our future we're now doing a pre-booking system whereby you can guarantee your tickets beforehand at R100pp, or you can join the tour on the day for R150pp in cash or EFT et al. Simply WhatsApp on 076 033 8164.
This is a consistently well-reviewed heritage-focused walking tour; which is to say that all you'll need to enjoy yourself is curiosity about Cape Town's past (and History in general) and enough stamina to walk just less than 2km in one afternoon (with stops and snacks).
Created
Wednesday, June 8, 2022 - 09:14
Disclaimer: Any views expressed by individuals and organisations are their own and do not in any way represent the views of The Heritage Portal.