Q&A with the Heritage Association of South Africa (HASA)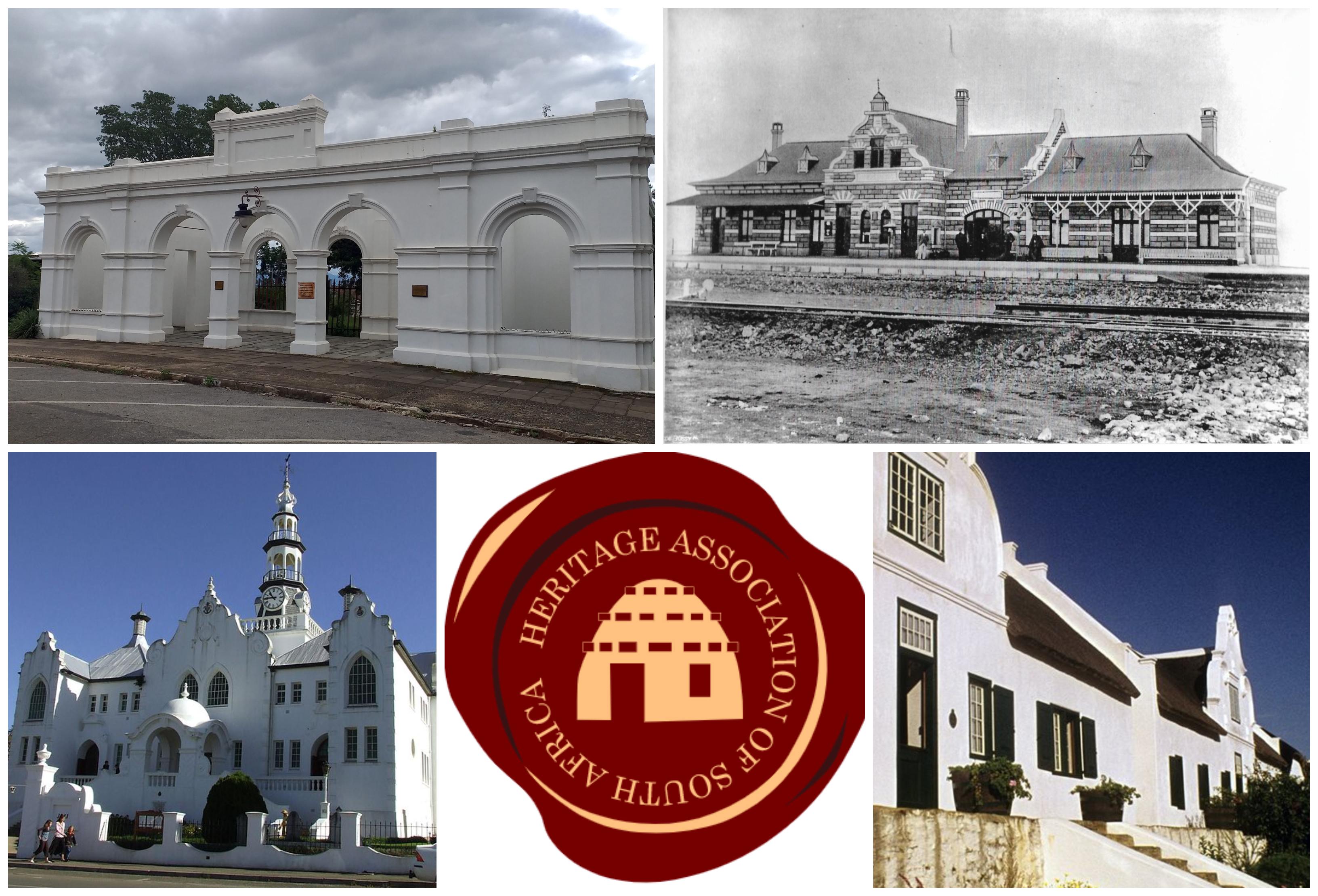 What role does your organisation play in the sector? HASA provides a national heritage voice and a point of cooperation and cohesion for its 24 associates, located in eight of the nine provinces. Our national symposium is a major annual event hosted by one of our associates. As associates volunteer to host symposia, an attempt is made to locate the symposium in a different province each year.
HASA is an umbrella organisation dedicated to upholding the principles embodied in the National Heritage Resources Act of 1999, the National Heritage Council Act of 1999, and the National Environmental Management Act of 1999.
Our goal is the protection of heritage, both tangible and intangible, at grassroots level, through local associations many of them located in non-metropoles and smaller rural towns. HASA is a platform for local bodies, and we welcome associates who work as local heritage bodies and share common heritage interests and concern.
What is heritage to you? Broadly speaking, heritage is that which is inherited, acquired from, or transmitted by our predecessors from past generations, especially those things that are acknowledged as being worthy of preservation for future generations.
There are many definitions of heritage and heritage can mean different things to different peoples and cultures. In South Africa, with its multiplicity of cultures, heritage can be a fraught subject. Heritage encompasses both intangible and tangible elements, and in many cases is irreplaceable. It can be tangible (such as buildings, artworks including rock art and monuments) or intangible (such as folklore, music, cooking traditions, a ritual, a language). 
Heritage differs from history in as much as history is as comprehensive account or narrative about what happened in the past, whereas heritage is about a present and contemporary approach to celebrating, saving, and preserving diverse cultural survivals from the past.
In its management, heritage is considered a 'provincial competency' and associates that are registered with their provincial heritage structures, as defined in the NHR ACT as 'Conservation Bodies', are mandated to comment on plans to demolish, alter, restore, or in any way affect the heritage value of a landscape, streetscape, building, heritage item or site with tangible or intangible heritage significance.
What are the objectives of HASA?
Advocacy and raising awareness about the importance and challenges of heritage conservation, which includes both tangible and intangible heritage.
We liaise and cooperate with other heritage and conservation bodies and discuss mutual problems and possible solutions relating to heritage issues.
We provide a national perspective and a collective opinion on the conservation of heritage resources.
Recent issues have included the removal and vandalism of historical and political monuments for example the Rhodes statue at UCT and at Rhodes Memorial and the destruction by fire of the Houses of Parliament in Cape Town.
We recognise the contribution of individuals and associations and collective action committed over a lifetime to conservation and heritage, making an annual award of a Gold Medal. A Gold Medal is awarded for individual lifetime achievement and work in heritage. In addition, Certificates of Merit, and hence great recognition, are awarded for individual efforts for a particular project or for group endeavours.
We respond to appeals to help, endorse or comment on local issues.
We share information via newsletters and freqent Council meetings.
In a nutshell, we raise awareness about heritage, pinpoint concerns, educate, inform and promote heritage.
Parliament (The Heritage Portal)
What is your biggest achievement over the past year? The hosting by the Magaliesberg Cultural and Heritage Association of the 2022 HASA symposium and conference at Hartbeespoort at the Cableway conference centre. Three days of superb talks / lectures in the conference venue and during excellent outings to local heritage places of interest... with visits to the Preller farmhouse, the Schoeman Cross, Sappers Rus. Plus a cable way trip up to the top of the Magaliesberg with a walk and talk on the  geology of the Magaliesberg  and a guided  route around two key Boer war battle sites at Skilpadnek. A gala dinner celebrated the work of HASA and the award of the two gold medals to Vincent Carruthers and Franco Frescura. It added up to a rich and fulfilling programme for the 100 plus people who attended. It was superbly organised by Mike Benn and Vincent Carruthers and team.
The Schoeman Cross (Mike Benn)
  
A second achievement was installing a HASA blue plaque at Val near Greylingstad at the Val Hotel in April 2023 at their Annual Boer and Brit Day, a cultural celebration of Anglo Boer War history and the political accommodation that followed. The blue plaque is a distinctive circular blue circular disc, a permanent marker and a celebration of heritage or an event or a person. South African blue plaques have a nearly 40 year old history, and were introduced in the 1980s by the Simon van der Stel Foundation, the Geological Society of South African and the Johannesburg 100 landmark 1986 initiative. The model was the British blue plaque system in London and elsewhere.
Val is a small hamlet with a big heart. As it was on the main railway line between Durban and Pretoria, it had a railway station, and it was here that Louis Botha halted to inform and listen to his commando leaders when the question arose as whether to make peace with the British or continue to fight on in 1902: a strategic moment in history for the hotel where the key discussions took place.
What about the biggest challenge for a Heritage advocate? There are many challenges including:
Invisibility and insensitivity to heritage in the 'public psyche' of the average South African.
Lack of awareness of heritage and heritage issues. The lack of heritage awareness and know-how also extends to local municipalities, especially in non-metropolitan areas, and particularly those in provinces with no or weak government heritage structures. The neglect of heritage by the state and a simplistic lumping of heritage into a single Ministry of Sports, Arts and Culture. Heritage tends to then slip to last place on the public agenda. To be truthful, Sport is usually allocated the better budget and the remaining Arts and Culture budget must fund Arts (including performing), Archives, Libraries, Museums, Galleries, Geographical Place Names Committee, and Heritage Resources, all of which seem to be under-funded.
No state financial support to protect, maintain, or even stabilise already declared monuments of national and provincial importance, those that happen to be on privately owned land. Undeclared heritage is equally vulnerable, as is heritage of local importance to communities.
Recognising a diversity of heritage terrains, the diversity of history and the often-controversial interpretations.
There are often complex problems at local level. Local is where the battles are fought. Rural communities are particularly at risk as they have under-qualified officials such as building inspectors and committees authorised to give planning approvals. In such communities, property owners do largely as they please. Even in the larger cities, owners, developers and architects may ignore legislation and procedures; the unethical may demolish despite threat of legal action, or the ignorant arrive with "as built" changes and ask for forgiveness. Local heritage stakeholders are advised to organize Joint Plans Committees and work with town or city authorities to ensure building plans for changes first past muster over heritage before that rubber stamp for approval, taking note of the  60-year rule.
Inadequate funding for heritage; lack of resources and too much neglect.
At grass roots level, municipal structures are often under-skilled in heritage matters and lack political will to enforce standing legislation. This is certainly true of some of the provinces in South Africa where the Provincial heritage structures are absent or very weak.
Variable performance of the provincial heritage resource authorities... often performance at government level is very dislocated from the citizen backed heritage bodies.
Lack of synchronisation of national, provincial and local (city or town or rural heritage).
Very Limited funding for HASA itself… it operates on a tiny budget.
 
What are your top priorities for the year ahead? Hosting of the 2023 symposium at Kedar Heritage Lodge near Rustenburg in October 2023. Connecting, corresponding with, and meeting heritage players. To improve media visibility.
 
What excites you and the team? Attending, learning and sharing with one another at the annual symposium. An attempt has been made in the past to have different venues for the Symposium each year, and to give each of the associates an opportunity to showcase its local heritage resources and to discuss its problems with regard to their protection with their heritage colleagues.
To date, Western Cape, Eastern Cape, Mpumalanga, Northern Cape, Gauteng and Northwest provinces have all hosted symposia in places such as Barberton, Swellendam, Paarl, Genadendal, Heidelberg (Gauteng), Richmond (Northern Cape), Johannesburg, Tulbagh and Clanwilliam.
Barberton Geotrail (Mpumalanga Heritage)

Anticipation of the symposium planned for Kedar Heritage Lodge with its many attractions. This fine country retreat established some 20 years ago on the Boekenhoutfontein (the family farm of Paul Kruger) by the late Robert Forsyth. It is a fine place with fascinating 19th century Transvaal vernacular architecture, a series of dwellings/farmhouses, a grand collection of Anglo Boer War memorabilia assembled by Robert, a celebration of heritage figures chosen by Robert through the years. You will encounter figures such as Prime Minister Jan Smuts, passive resistance campaigner Mohandas Gandhi, author Sol Plaatje, ZAR President and South African War leader Kruger, diamond magnate and Cape Prime Minister, Cecil Rhodes, the Boy Scout founder and military fugure Baden Powell, General Koos de la Rey, British War time leader and Prime Minister, Winston Churchill, the Bafokeng King Kgosi Mokgatle, and also a Boer War heroine Emily Back. They are something of an incongruous mix, but the person is remembered with a sculpture, memorial and some history. It's a fun place with added assets of game conservation and proximity to the Royal Bafokeng centre at Phokeng.
Sol Plaatje Memorial (Gail Wilson)
 
Tell us more about your team? A Council comprising representatives and players in heritage in places as diverse as Johannesburg, Nelspruit, Durban, Magaliesberg, Heidelberg, Prince Albert, Alberton, Middelberg, Elandskop / Petrus Steyn. We work as a team.  
 
Tony Burisch is the Secretary and the man who manages our meetings and correspondence; Tony is Mr Heritage in Heidelberg and is to be credited with the superb line up of blue plaques in Heidelberg. He was a key person in the Heidelberg  symposium of 2017.
Heidelberg Station (Horst Muller)

Petronel Fourie has taken on the social media portfolio and is from Middelburg with its heritage interests of the Botshabelo Fort and Museum. 

Mike Benn founded and headed MACH and was the stalwart and key person organizing the 2022 symposium / conference. Mike is known for running heritage talks monthly at Hartbeespoort and organizing the MACH publications.
Magaliesberg Mountains (The Heritage Portal)

Daniel Smit and Lauren Buchanan are the HASA Council Reps on the HASA Reserve Fund (the previous Simon van der Stel Trust) and are from Drakenstein and Stellenbosch. Lauren is the fundi on Stellenbosch heritage. Donald Davies has relocated from Durban ( is the Chair of the Durban Art Deco Society ) to Rustenburg and is working with local new links to Rustenberg )  but Donald offers a splendid Art Deco tour of Durban. Judy Maguire keeps an eye on Western Cape Rural Karoo Interests. Twin Mosia keeps our flag flying in the Free State as a museum curator and fighter for environmental heritage. Duncan Ballantyne does so in Mpumalanga and played a big part in the 2018 Barberton symposium. Bev Small bats for Alberton Heritage with a distinctive past and engaged with the Heidelberg symposium.
The people who preserve memory and the legacy of Simon van der Stel are Carol Ann Podd who manages the archives and was the convenor of the excellent Swellendam 2021 symposium (our first post Covid effort) and Len Raymond, an original signatory of the Simon van der Stel Trust who is a key figure in Paarl heritage and preserves their archive. Both are always ready with advice and direction. Another keen heritage person in the past was Colleen Noble in Plettenberg Bay. The late Herbert Prins was also a dedicated heritage person at local and national level.
 
How did your organisation get started? The heritage lobby has had a voice going back to the mid-20th century. HASA's origins go back a few years to 2015 when a new constitution was adopted. It is the successor body to the earlier Simon van der Stel Foundation which was formed in 1959 and lasted until 1998.
The name Heritage South Africa was tried. HASA made a fresh start with a wider appeal, but with none of the resources of the old organization. Old and new  people came together to plan a new way forward, open to new ideas about heritage and adopt a broader definition of a more inclusive heritage. We are an NGO and not for profit… entirely voluntary, we employ no staff.
The new organization aimed at a wider geographical reach and a sharpened recognition of the diversity of heritage in South Africa. We wanted to promote a broader view of South African heritage. The key people were the late Herbert Prins and Len Raymond who had been active players in the Simon van der Stel Foundation. Jacques Stoltz took over the reins in 2019 and led the body until the Swellendam gathering in 2021.
Herbert Prins
The old Simon van der Stel Foundation saw itself as a sort of National Trust of South Africa. It was well supported by establishment figures of the time and produced a wonderful journal (Restorica - all 30 volumes are available in the University of Pretoria's online archive). The journal was discontinued in 1998 with issue 30. That series has become most collectable as it contained much solid information although it was a journal of and for its time.
The history of the Simon van der Stel Foundation has been captured in a speech of Hans Fransen and republished on the Heritage Portal. It was founded in 1959 and had a very specific view of heritage – with a focus on architecturally  and historically important heritage buildings of colonial South Africa. It was strongly Cape based.
The demise of the National Monuments Council and the replacement of old approaches with a three-tier heritage system saw so many national monuments downgraded to provincial classification. Organized heritage needed to modernise, adapt, change, stretch and be challenged and yet also find a place in the new dispensation where heritage is far too low down on the list of priorities, and we need the energy and resources to fight for every inch.
An old National Monuments Council plaque (Kathy Munro)

What has been the easiest thing to say yes to in recent months? Switching the venue of the 2023 symposium to Kedar Lodge and opting for a Rustenburg flavoured event rather than the Midlands of Natal. One needs a level of flexibility and optimism and cooperation between many players and we embrace new connections and friends in Rustenburg at Kedar and at Phokeng.
 
What advice would you give someone starting out in the heritage world? Join or start a local heritage body, volunteer, become an active and passionate player, become a local history expert and choose a subject for research. Start an inventory of the heritage resources in your area - across all the fields: objects, buildings, places or geological features of interest in the contextual landscape, sites of archaeological interest, historical places, rock art, structures including buildings, graveyards and local oral traditions including those that reference intangible heritage.
What are your favourite articles / authors on the Portal? Vincent Carruthers, S J De Klerk, Lucille Davie, Duncan Ballantyne, Carol Hardijzer. They write well researched articles on places, the unknown or little known.
 
What resources would you recommend to the heritage community? Download heritage legislation. Books and articles by James Walton, Andre Pretorius, Gawie Fagan, Hans Fransen, Karel Schoeman, Antonia Malan, Brian Kearney. An excellent New History of South Africa by Hermann Gilliomee, Bernard Mbenda and Bill Nasson (2022, Tafelberg). Check what's available in your local Museum and Library. Join 'The Friends of the Museum' organisation or a local Friends of the Cemeteries (an option in Johannesburg). Draw on The Heritage Portal for advice and rich information. Network with local players: museums, libraries, schools, local storytellers, building inspectors and resident architects. Collect local stories and traditions from the elderly in Old Age Homes - they are a vulnerable and irreplaceable repository of memory - once lost gone forever.
What in the sector makes your blood boil? Ignorance and greed and politically driven new development that thinks solely about demolition or neglect. Property companies (and sometimes these are public bodies that belong to cities) that fail heritage.
In fact, the biggest drama and neglect in our opinion has been the decision by AMAFA in Natal to permit the demolition of the Ocean Terminal Complex and the Durmarine Building, destroying a centuries old harbour essence.
Durmarine Building (Kathy Munro)
Another disappointment this year was the demolition of the Crown Mines Head Office. Here it would appear that the permit to demolish was obtain based on the submission of a plan for a security addition dating from the 1980s and on this basis PHRAG permitted demolition without checking the validity or authenticity of the applicant nor the state of the building.
Crown Mines Head Office
  
What would you recommend right now to make a positive change in the sector? Cohesion and cooperation, publicity, a focus on what each local society does best namely a protection and preservation of town and country heritage, sharing approaches and knowledge. Using The Heritage Portal and the HASA website to promote your cause and your heritage… write, campaign, educate and share.
Answers compiled by Kathy Munro and Judy Maguire on behalf of the Heritage Association of South Africa.