Saturday, July 14, 2018 - 12:52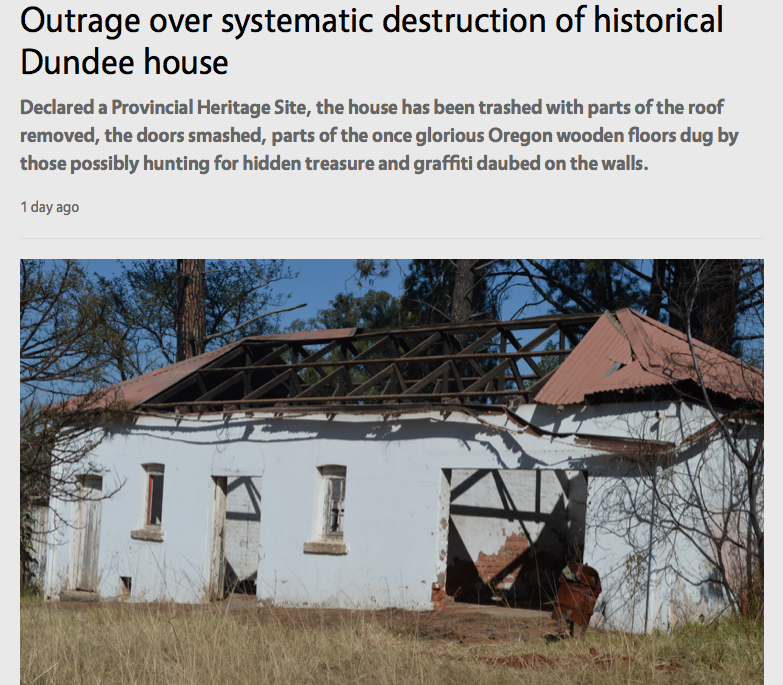 On 13 July 2018 the Northern Kwazulu-Natal Courier reported that Symonsdale House has been abandoned, neglected and vandalised (click here to read article). The house is owned by the Department of Public Works and is a Provincial Heritage Site. The Dundee Heritage Trail provides the following historical details of the site:
This home, built by Edward Ryley, Minister of Agriculture in the Natal Parliament in 1903, stands on the position of the British camp at the time of the battle of Talana. The bricks for the construction of the house were supplied by Dundee Brick & Tile. The floor and verandah tiles were all imported from Holland. The rise on which the house stands and the land extending to the east, (Across the present road that enters Dundee) known as Ryley's hill, was the tented British camp. The small stream below the house was where the horses were watered. 
Please use this thread to add background and updates.
Comments will load below. If for any reason none appear click here for some troubleshooting tips. If you would like to post a comment and need assistance click here. Irrelevant and inappropriate comments will be removed by the moderator. Only add background and updates to the tracking threads.