Khoisan Rock Art Centre Project, Joubertina
Friday, November 18, 2016 - 12:14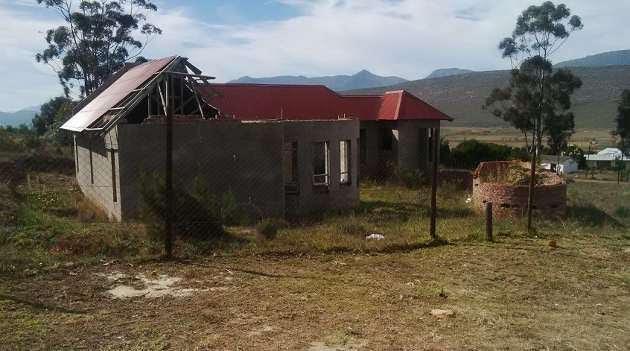 The Khoisan Rock Art Centre is located at the entrance to Joubertina. The centre is in a dilapidated, vandalised state. Local community members have tried to engage with the tourism minister and other officials but have yet to receive a response to their emails. The PE Herald published a powerful piece on the sad state of the centre (12 November 2016). Below are a few key details:
The controversial R4.5-million Khoisan Rock Art Centre project in Joubertina is still in shambles – more than 10 years after construction started. While the centre was meant to celebrate the Khoisan community, it has now been vandalised, with roof timbers stripped and parts of the fencing stolen.
Construction was started in September 2006 and was to be completed by March 2009, according to the construction schedule. But the centre – once touted as a future Langkloof tourism hotspot – has become a white elephant after construction stopped six years ago.
The project was managed by the national Tourism Department and allegations of fraud and corruption surrounding the centre emerged in 2010.
The department is yet to finalise the forensic probe commissioned by the department, according to Koukamma municipal spokeswoman Siphokazi Nonyukela.
Former worker Evelyn Salmons, 56, said 65 residents employed as general workers had lost their jobs after the project was halted.
Joubertina ANC councillor Fundiswa Herman said: "Most people had depended on the project to feed their families, now they are sitting at home without jobs."
DA Koukamma constituency leader Malcom Figg said he was disgusted by the state of the project. "This is such a waste of public funds. The community is suffering because this project was meant to create jobs for them. It is totally unacceptable," he said.
Please use this thread to add background and updates.
Comments will load below. If for any reason none appear click here for some troubleshooting tips. If you would like to post a comment and need assistance click here. Irrelevant and inappropriate comments will be removed by the moderator. Only add background and updates to the tracking threads.