Ganzekraal Homestead, Western Cape
Tuesday, March 7, 2017 - 17:01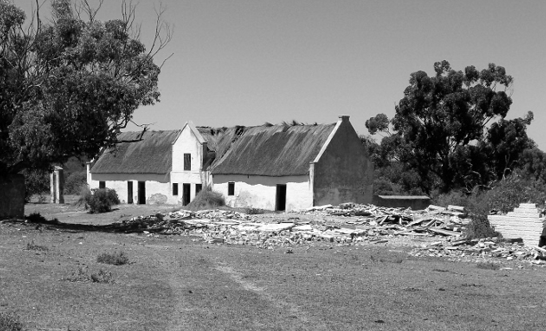 Thread Categories:
Endangered
2017 campaign nomination
Ganzekraal is a farm dating back to the early 1700s. It was a key farm in the Groene Kloof (as the area north of Rietvlei and all the way to Geelbek on the Langebaan Lagoon was referred to in the time of the VOC) and is significant as part of the network of farms and buiteposte that stretched the VOC influence all the way from the Castle to Saldanha Bay (click here for some more history). Lady Anne Barnard, visited and painted the farm in 1798/9 and the owners Van Reenen were part of the expedition to find survivors of the wreck of the Grosvenor. 
Painting of Ganzekraal by Lady Anne Barnard
Today all that is left is the old Schoolroom/Stable, Dovecote, outbuildings (pig sty, cart house, cowshed) and whilst there have been attempts to restore this valuable example of a bygone error, these efforts have come to naught.
Aerial view of Ganzekraal
This site could be renovated into a working museum/farm (say with a restaurant cooking local fare) and would provide job opportunities as well as becoming a valuable tourist attraction for the West Coast. 
Source: 2017 Endangered Heritage Sites Nomination Form.
Please use this thread to add background and updates.
Comments will load below. If for any reason none appear click here for some troubleshooting tips. If you would like to post a comment and need assistance click here. Irrelevant and inappropriate comments will be removed by the moderator. Only add background and updates to the tracking threads.