Bay View House Simon's Town
Tuesday, September 19, 2017 - 16:56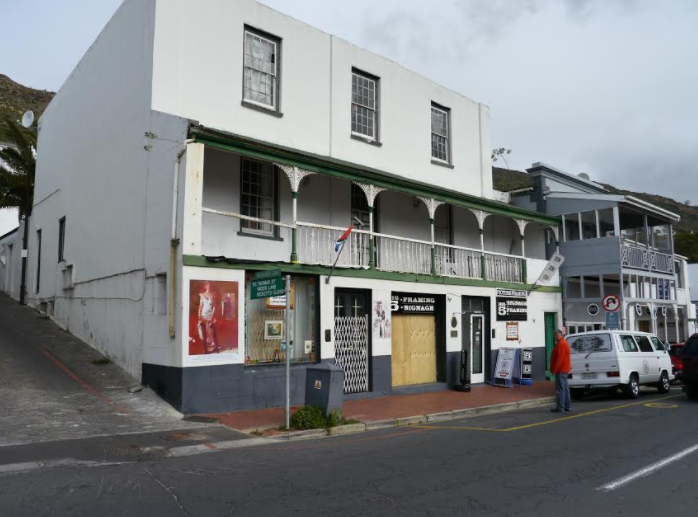 Thread Categories:
Endangered
2017 campaign nomination
Thread Location:
Western Cape
Cape Town
Simon's Town
Local Champion:
Simon's Town Historical Society
Bay View House is a Provincial Heritage Site located at 34 St. George's Street Simon's Town (click here for a map). It dates from 1803 and has Georgian and Victorian features. It stands on a portion of an estate called Constantia which dates backs to 1749. The building is comprised of rubble stone construction, the stones being held together by a clay/mud mortar and interspersed with small sun baked bricks. This, coupled with minimal foundations, makes the building very vulnerable to traffic-induced vibration and also any water ingress.
In 1977 a large part of the eastern side collapsed into Wickboom Lane. This was repaired and a 5 tonne limit placed on vehicles entering Wickboom Lane. This is routinely ignored, most recently by contractors carrying out illegal works with heavy machinery on a nearby vacant plot. As a result, Bay View House is again showing signs of instability. There is also a clear need for a long overdue general maintenance of the overall fabric, repairs to rotten woodwork and the rst oor balcony and other elements. 
Underpinning of the walls facing St. George's Street and Wickboom Lane would provide stability, however the very significant expense is probably beyond the resources of the current owner. Immediate action to alleviate the stability problem would include a reduction in the 5 tonne gross laden weight limit in Wickboom Lane to 2 tonnes - and to have this rigidly enforced. A housing development proposed for the nearby Erf 4053 is currently predicated on the use of Wickboom Lane for access, despite alternative access being available. This development proposal must therefore be closely reviewed by the City of Cape Town Council planners, and the use of Wickboom Lane must be avoided. The underpinning and maintenance aspects clearly need external financial support - a fund-raising activity is probably necessary, to examine possible sources such as grant aid, sponsorship, donations etc. 
Source: 2017 Endangered Heritage Sites Nomination Form.
Please use this thread to add background and updates.
Comments will load below. If for any reason none appear click here for some troubleshooting tips. If you would like to post a comment and need assistance click here. Irrelevant and inappropriate comments will be removed by the moderator. Only add background and updates to the tracking threads.