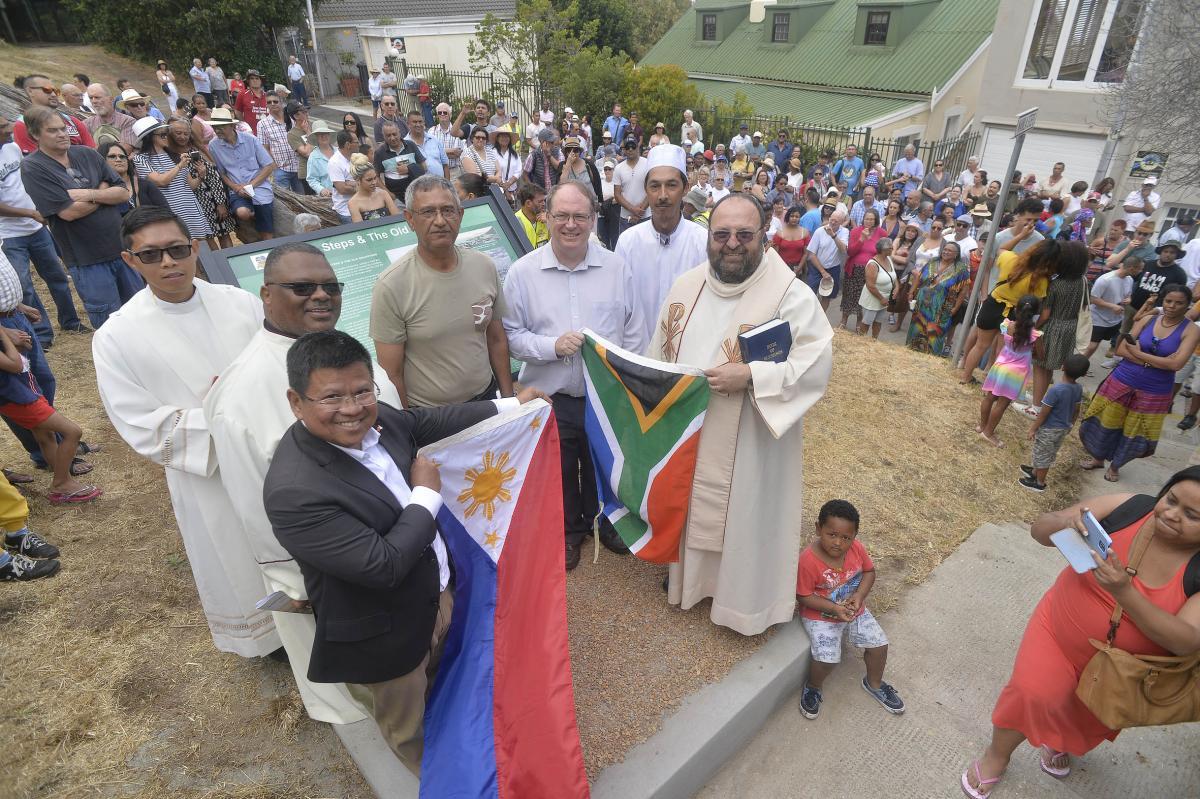 A very special event took place in Kalk Bay on Sunday 28th. More than 300 hundred people – most Filipino descendants, walked along Gatesville Road to the old graveyard at the end of Upper Quarterdeck Road where many of their ancestors were buried up until 1903.
The clerics who took part. From left to right - Fr Mark Pothier (RC), Fr Wilfred Meyer (Anglican), Imam Shafiek Ariefdien and the Filipino priest Fr Rico Talisic behind (Bruce Sutherland - City of Cape Town)
The occasion was the celebration of the naming of the Manila Steps and the atmosphere was one of happiness and good spirits that the 'Manilas' as Filipinos were commonly called had finally received the recognition they deserved.
At the old graveyard Fr Mark Pothier of St James' Catholic Church stood on what was known in old times as the Pulpit Stone and blessed the people who had been buried there all those years ago. Imam Shafiek Ariefdien of the Kalk Bay mosque then said a prayer for all assembled for the event. Fr Wilfred Meyer of Holy Trinity Church Kalk Bay blessed the steps.
Most moving of all was the prayer said by Fr Rico Talisic a Catholic priest based in District Six. As a Filipino himself Fr Talisic prayed in his native Tagalog, a language last heard in Kalk Bay 100 years ago when the last Filipino settler died.
The ceremony was completed when the information board erected by the Kalk Bay Historical Association was unveiled by the Philippines Ambassador Mr Joseph Angeles.
Information board designed by the Kalk Bay Historical Association. Click here to download.
All then returned to the Holy Trinity Church Hall where a wonderful spread was laid out for an hour or two of family reunions and reminiscences
For more information contact Steve Herbert from the Kalk Bay Historical Association - 073 0606 287
Main image: Unveiling of the historic information board. Mr Joseph Angeles, Philippine Ambassador, holding the flag, Tony Trimmel in T shirt, a Filipino descendant who worked on this project with Steve Herbert and Ian Neilson, Deputy Mayor of Cape Town. Image via Bruce Sutherland, City of Cape Town
Created
Wed, 10/31/2018 - 16:09
Disclaimer: Any views expressed by individuals and organisations are their own and do not in any way represent the views of The Heritage Portal.