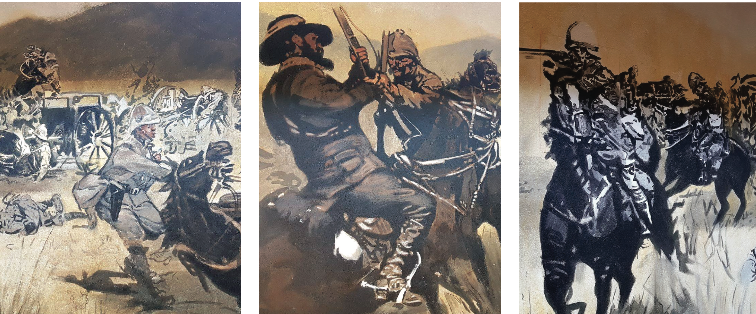 Kedar Heritage Lodge, Conference Centre & Spa (Kedar) is excited to announce the completion of a South African war mural at Kedar in Rustenburg. The artwork was produced by the renowned South African War artist, Dean Kelly, well-known for painting battle scenes. Dean was commissioned by Kedar Heritage Lodge to do a very large wallscape of one of the South African War battles.
War art is well represented around the world – Gettysburg is known for its fantastic panorama and, of course, the British and French are well-known for memorializing their many war efforts in art. South Africa has lagged behind and this new work will prove to be popular with both locals and foreign tourists. It is a wonderful opportunity to show off our rich history, using art as the vehicle.
The artwork is now complete and Dean, together with Robert Forsyth (the Executive Chairman of Kedar Heritage Lodge will be hosting a Press Conference on Thursday 5 April 2018 at 11:00 at Kedar to launch the artwork and discuss the opportunities for Heritage Tourism in South Africa.
The story of the battle in the mural (the battle of Buffelspoort) will also be told by Roger Webster. Roger Webster is a well-known voice to South African Audiences – he has been broadcasting his "Fireside Chats" on SAFM for the last 15 years. Roger's historical and anecdotal tales based on the true history of South Africa, and not what we were taught in school, have made him a controversial and sought after speaker on the South African circuit.
Kedar Heritage Lodge is South Africa's premier history venue. Being home to the Paul Kruger Country House Museum and displaying one of the world's largest collections of South African War memorabilia, Kedar is a great attraction to both local and international visitors.
For more information, visit www.kedar.co.za or contact Business Development Manager Themba Mahleka on +27 11 950 6192 or 076 586 0774 or themba.mahleka@rali.co.za
Created
Sat, 03/10/2018 - 06:16
Disclaimer: Any views expressed by individuals and organisations are their own and do not in any way represent the views of The Heritage Portal.