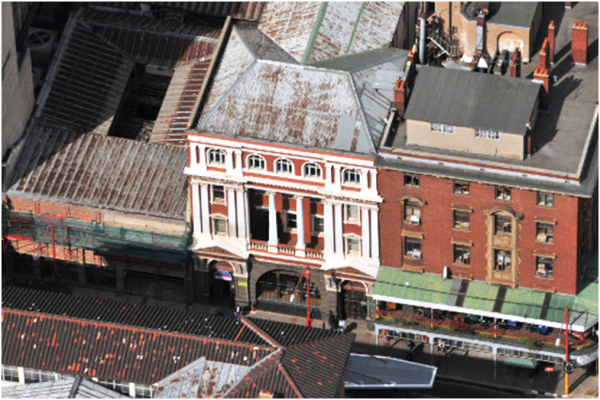 The Natal Bank is Johannesburg's oldest bank building, and one of the most beautiful. It was designed by Carter and McIntosh in 1899, but the South African War interrupted building, and in 1903 McIntosh and a new partner, Moffat, redesigned elements and completed the building. It has a fine classical revival façade, with rusticated granite detail at ground level, topped with white plaster Ionic columns that culminate in French Renaissance pediments. The interior is equally impressive, particularly the banking hall where classical columns draw the eye to the sombre and dignified ceiling detail, and the semi-circular window draws in glorious light and life from the street.
But its history is even more fascinating, having been used as bank, as a rehearsal space by a theatre group, a museum, and as the headquarters of the nascent Bureau of State Security (BOSS) during the politically fraught 1960s.
And now it looks set to have a bright future. Oresti Patricios, CEO of Ornico, a brand and media intelligence company, is passionate about the energy and soul of Johannesburg's historic inner city and has restored the building.
Explore the magnificent Natal Bank and other historic bank buildings on this not to be missed tour! Email Eira to book mail@joburgheritage.co.za
Guides: Brett McDougall and Eduan Naude
Park: As close as you can to 90 Albertina Sisulu Street, but mind the bus lanes! Or use the Rea Vaya or Uber to town.
Time: 14h00
Duration: 2 hours
Price: R90.00 for members and R150.00 for non-members 40
Created
Wed, 10/10/2018 - 15:43
Disclaimer: Any views expressed by individuals and organisations are their own and do not in any way represent the views of The Heritage Portal.