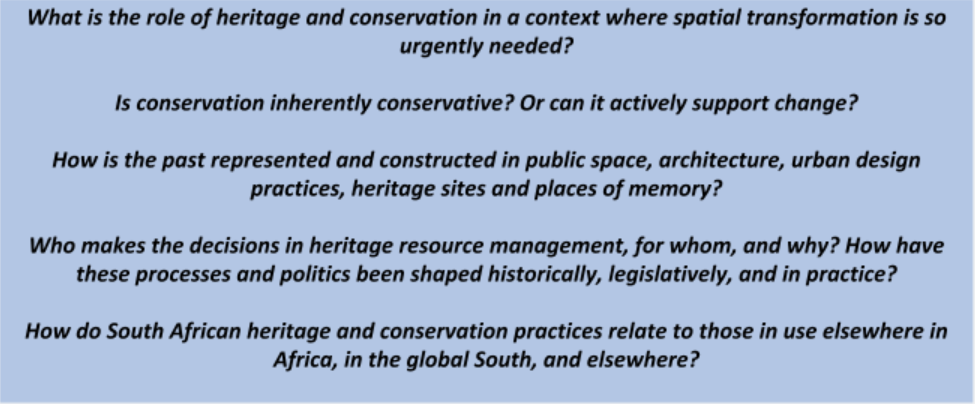 Join us in 2019 for the new intake of the MPhil in Conservation of the Built Environment, based in UCT's School of Architecture, Planning and Geomatics. The two-year part-time interdisciplinary programme will tackle these and other questions, equipping graduates with a strong critical foundation for professional heritage practice or for further study.   
 
We welcome applications from students with diverse disciplinary and professional backgrounds, including those already working in built environment practice as well as those who wish to develop their skills and qualifications in the field. Past students have included those with qualifications/experience in architecture, planning, urban design, heritage, archaeology, history, visual and performing, education, and the humanities. Teaching takes place in one-week blocks, designed to allow students who work full-time or who do not live in Cape Town to participate. 
For more information, or any questions about applications, course outlines, fees or anything else, please contact us.
Programme administrator: Mcebisi Mdluli | 021 650 2374 | mcebisi.mdluli@uct.ac.za
Programme convenor: Naomi Roux | 021 650 3879 | n.roux@uct.ac.za
Application deadline: 30 November 2018
Category:
Announcements
Events Exhibitions Tours
Opportunities
Created
Wed, 08/29/2018 - 16:15
Disclaimer: Any views expressed by individuals and organisations are their own and do not in any way represent the views of The Heritage Portal.