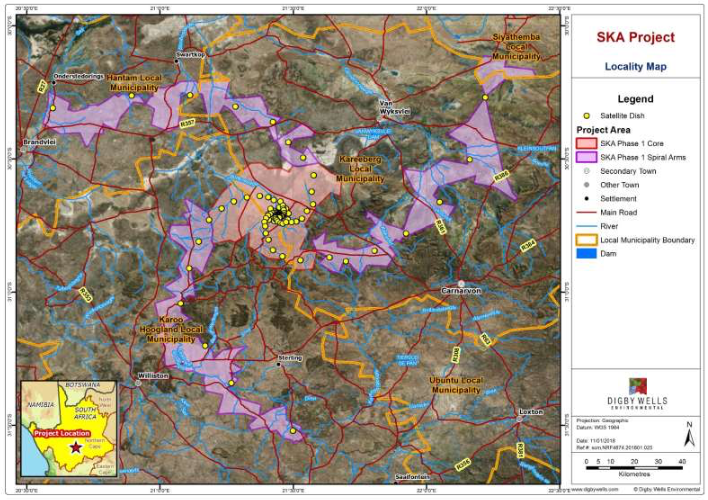 The Square Kilometre Array (SKA) Project ("the Project") is located in the Northern Cape Province of South Africa. In support of obtaining environmental exclusion in terms of Section 24(2)(e) for the Project, the Department of Environmental Affairs (DEA) commissioned the Council for Scientific and Industrial Research (CSIR) to complete a Strategic Environmental Assessment (SEA) (CSIR, 2016) in accordance with the principles of the National Environmental Management Act, 1998 (Act No. 107 of 1998) (NEMA).
The SEA included a strategic level assessment of the heritage resources within the area under consideration to determine potential impacts (Almond, 2016; Bluff, et al., 2016). The results of this assessment included the identification of 105 heritage resources. These were categorised according to the recommended grading as outlined in Section 7 of the National Heritage Resources Act, 1999 (Act No. 25 of 1999) (NHRA), as well the heritage resource type as defined by Sections 27, 28, 31, 34, 35, 36 and 37. This, however, was not exhaustive.
The strategic level assessment of the heritage resources was submitted to the South African Heritage Resources Agency (SAHRA) via the South African Heritage Resources Information System (SAHRIS) (Case ID: 10314) digital portal 27 October 2016 . The assessment was submitted to SAHRA and the provincial heritage resources agency, Ngwao Boswa jwa Kapa Bokone (NKBK), to comply in part with the requirements encapsulated in Section 38 of the NHRA and Section 24 of the NEMA.
SARAO appointed Digby Wells Environmental to undertake an HRM process as required in support of the requirements stipulated by SAHRA in terms of Section 38 of the NHRA. The HRM process comprises two primary components, a Heritage Impact Assessment (HIA); and Conservation Management Plan (CMP). Comments raised by stakeholders will assist in informed decision-making for authorities and provides information to be considered by the project team and specialists conducting studies. Stakeholders affected by or who are interested in the proposed project are invited to register as an I&AP to become involved in the Stakeholder Engagement Process (SEP). Download full details below this notice.
To register and for more information contact Ms. Nondumiso Gwala: Tel (011) 789 9495 | Fax: (011) 789 9498 / (011) 069 6801 | Email: nondumiso.gwala@digbywells.com
Digby Wells Environmental PO Box 10046, Randburg, 2125 | Website: www.digbywells.com
SAHRIS Case ID: 12292
Created
Tue, 03/06/2018 - 14:23
Disclaimer: Any views expressed by individuals and organisations are their own and do not in any way represent the views of The Heritage Portal.